We have now reached the first half of the Indian Food Odyssey with this post.15 days already! Hard to believe for me!!
Today's post is on Madhya Pradesh.The name literally means 'The Central State'.Madhya Pradesh or MP, has a large tribal population and is cut off from the mainstream.Hence this is one of the least developed states in the country.
Archaeological findings and the Mesolithic paintings uncovered in this state say that this place was inhabited as back as 500,000 years ago!
MP is a home to 11 National Parks and 3 bio reserve sites.
Food in MP is parallel to its tradition and culture.It has both Vegetarian and Non vegetarian dishes.Mostly these dishes retain their traditional aspects and there are very few variations in them.
The cuisine of MP has an influence of both Gujarati and Rajastani foods.Within the state itself there are different types of cuisines.Like in the Northern and Western part of this place Wheat based foods are predominant and in the Southern part of this state, Rice and fish are predominately consumed.
Today I am presenting to you a very colorful poori served with a simple Potato and peas curry….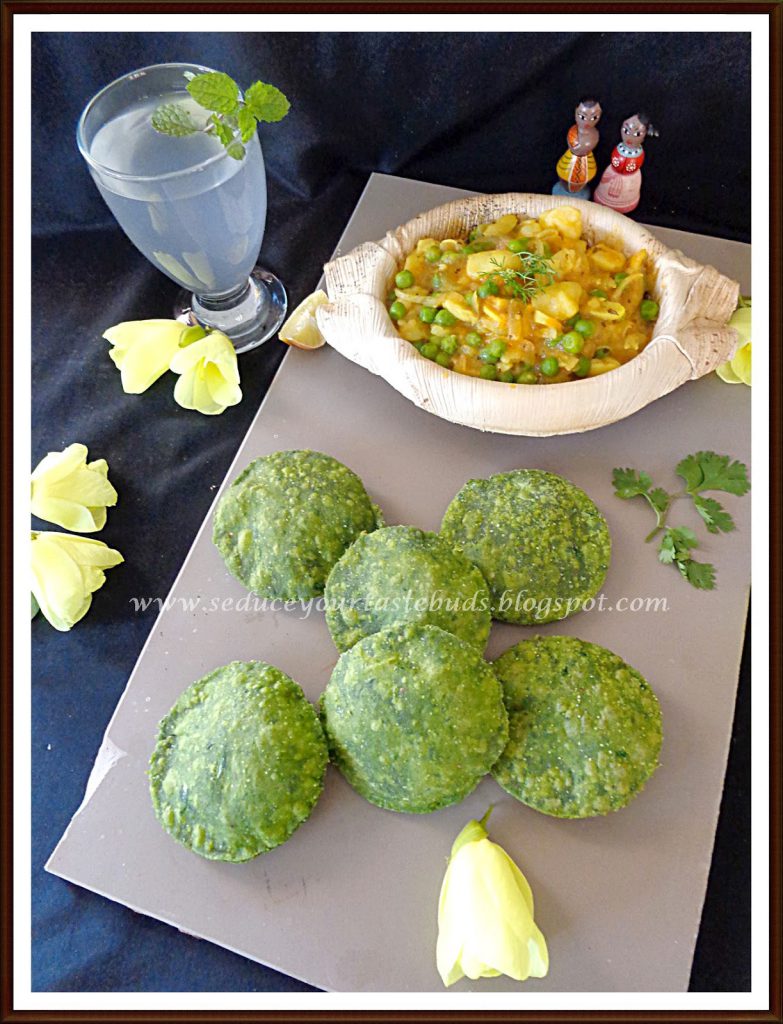 Behind the scene:
The very moment I set eyes on Jaya's
Indori Poha
recipe, which might be four years ago, I have been wanting to make it. And that is what I wanted to make for this state too.But somehow, this one got done!!
The Indori's[people of Indore] are supposed to be very, very fond of food and when I was searching for this recipe, I found this post that was so well written and clearly tells you their association with food.
This is yet another recipe that was consumed by hubby as soon as I finished the photo shoot!Actually he was impatient to get to the dish!And the pooris he picked right off the set-up and everything disappeared in a minute.
Luckily, the children and MIL had finished this breakfast!I had to make some for myself.I took home some curry for mom to taste and she had it with Roti and gave a thumbs up..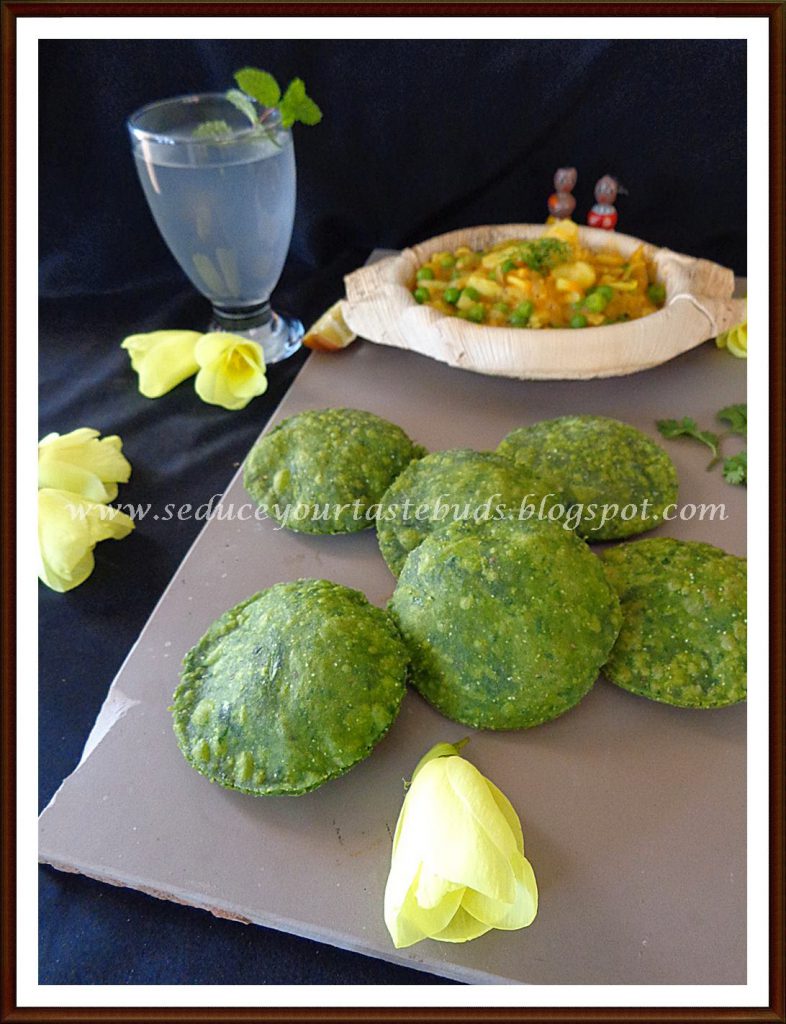 I used:
Palak leaves-10
Wheat flour-2 cups
Green chili-1
Ginger- 2″ piece
Ajwain – 1/2 teaspoon
Salt to taste
Oil to deep fry
Clean the palak leaves and put them into a bowl of hot water.After 2 minutes transfer the leaves into a bowl of chilled water. This helps to retain the color. Remove from water fro 5 minutes and let in drain in a colander.In a blender jar take the palak leaves, ginger and green chilies and grind to a paste without adding water.
In a bowl, take wheat flour, ajwain[lightly crush between your palms and add.This increases the flavor of ajwain].Add the palak paste into it and knead to a smooth elastic dough adding little water.
Pinch out small balls and flatten them into small circles. Heat oil and deep fry each poori till small brown spots appear on both side.
Remove with a slotted ladle and serve with a side dish of your choice.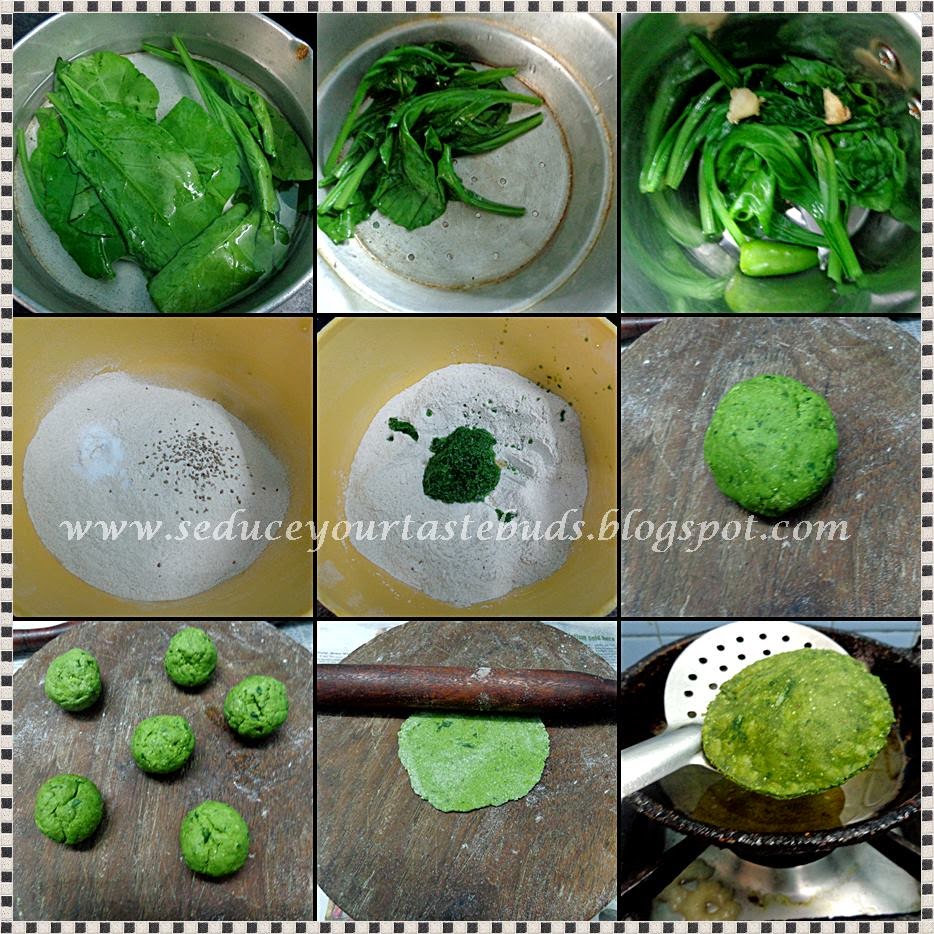 Tasty and puffed up poori's ready to be served…..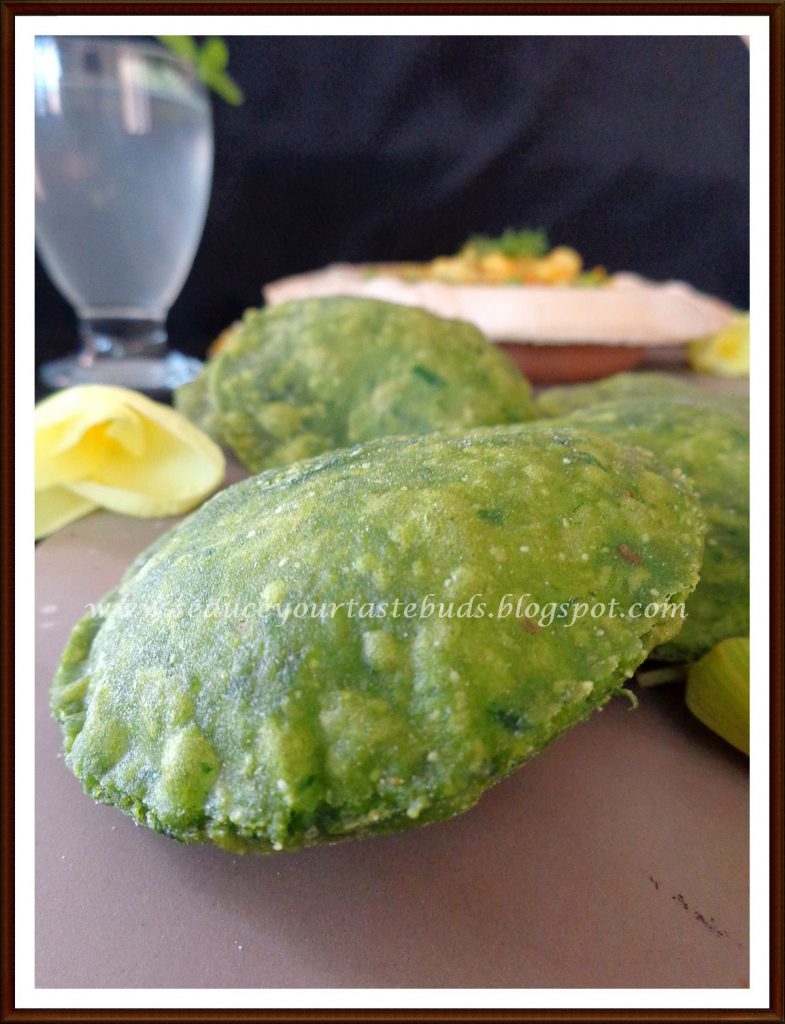 The side dish not not an authentic curry from this state but was a good accompaniment to the palak poori.
I used:
Potato-2 , peeled and boiled and roughly mashed
Parboiled Peas- 1/4 cup
Onion-1, thinly sliced
Red chili powder- 1 teaspoon
Ginger- 1/2″ piece minced
Besan-1 tablespoon
Salt to taste
Oil- 1 teaspoon
Cumin seeds -1/2 teaspoon
Mustard – 1 teaspoon
Heat oil in a pan and add the mustard and cumin seeds.
When it crackles, add the onion and ginger and saute till onion is soft.
Next put in the potato, peas, red chilil powder,salt and mix adding a cup of water.
After 2 minutes, mix besan in 1/4 little water and add to the pan and mix well so that there are no lumps.
The gravy will thicken.Add more water if needed.
When the raw smell of besan goes off,[ about 8-10 minutes on simmer] remove from heat
Serve as an accompaniment to poori / Roti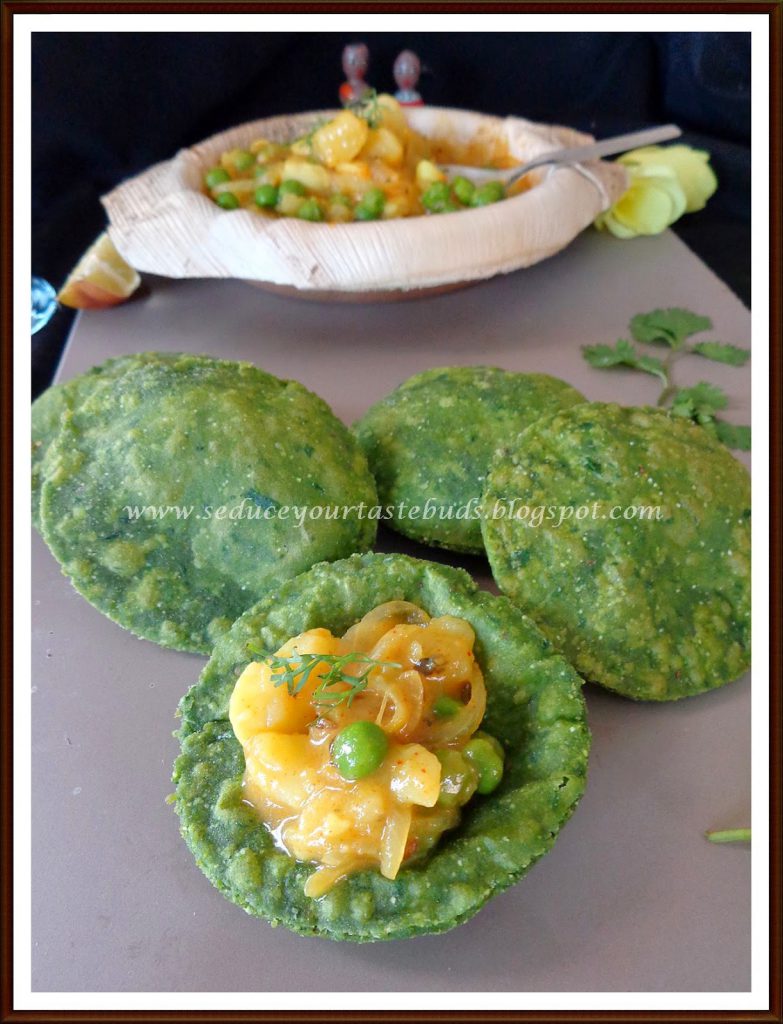 Bon Appetit…