I don't know if I am elated or depressed while writing this post! I may feel elated that we have completed this month long Indian Food Odyssey and that it was a great learning and cooking experience. On the other hand the euphoria of waiting to post on the dot on 12 am and the researching and breaking our heads to transform dishes into something vegetarian and edible, waiting to see the reaction on the face of my guinea pigs is over! So I really can't express how I am feeling today!
Well, for the final day, we are in West Bengal which is the fourth most populous state in the country.This is an age old state and there are evidences that show that this place was inhabited even in the Stone Age!You can read more about it here…
Coming to the cuisine, Fish,lentils,vegetables with rice are the staple here.And as we all know, milk based sweets are also very famous here.
The medium for cooking is mustard oil and it adds its own pungency tot he dishes. The Bengali's are very fond of food and hence spend considerable amount of time, money and effort to prepare a meal.The meal has several courses and ends off with a dessert,mostly milk based, made with paneer.
Read more on their cuisine here…
Today's post has is a Misti and Jol Khabar – Sweet and Snack from West Bengal.Since I started this culinary journey with a dessert, I thought I will end it on a sweet note as well….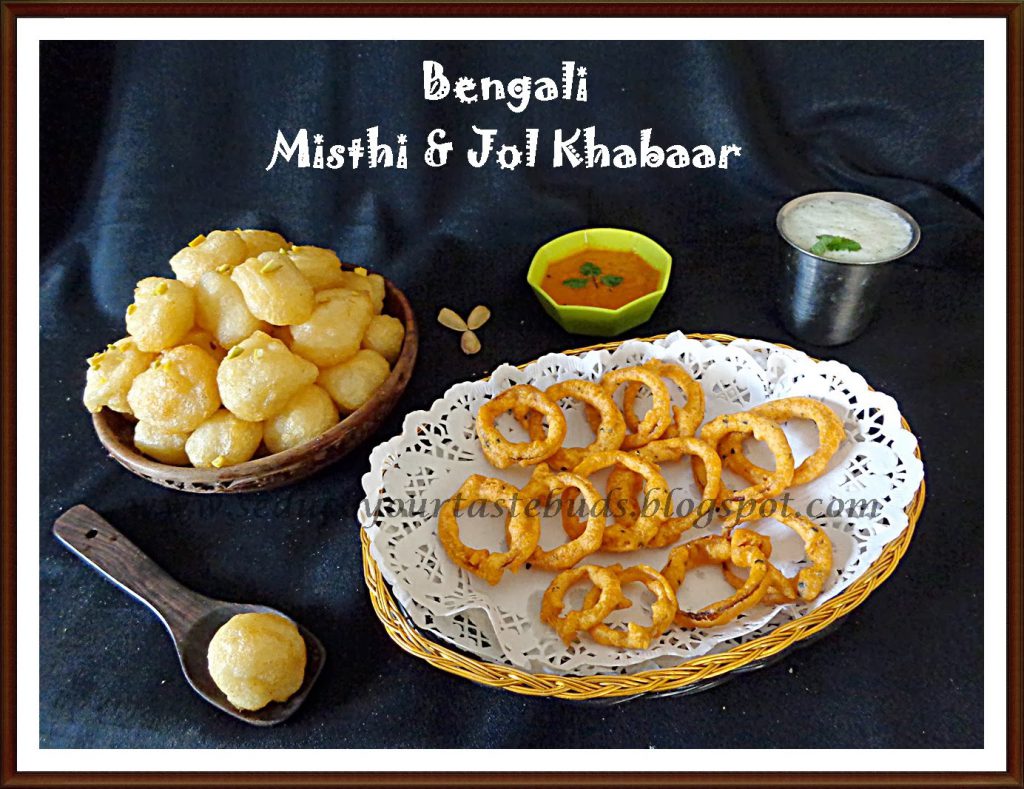 Featured here –
Behind the scene :
Both the dishes were declared to be yum!The kids loved the sweet and we loved the snacks!
Rosh Bora is one of the lesser known desserts from the West Bengal Cuisine.Though this is said to be popular within the state,it is not seen sold in the sweet shops.It more of a home style dessert.It is a succulent dish that you will surely fall in love with!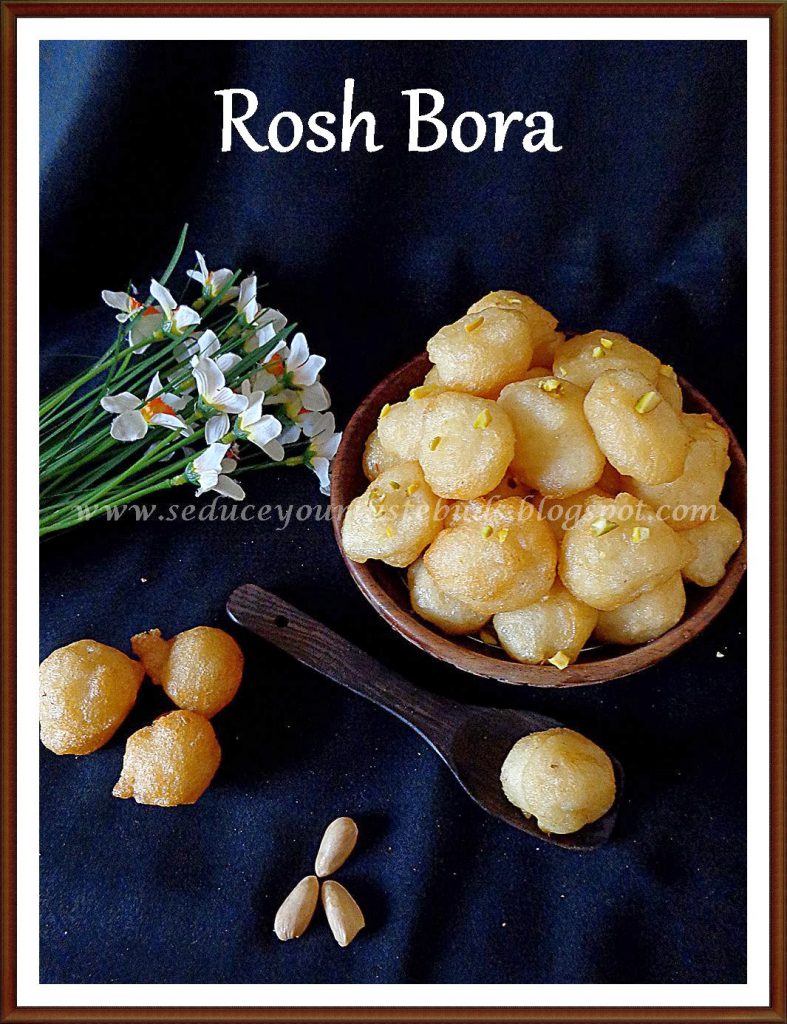 I used:
Urad dhal-1/2 cup
Oil for deep frying
Sugar-1 cup
Water- 1 cup
Cardamom powder- a pinch
Nuts to garnish
Prepare sugar syrup by heating sugar and water.Let it come to a sticky consistency but it should not thicken. Keep aside once it is ready.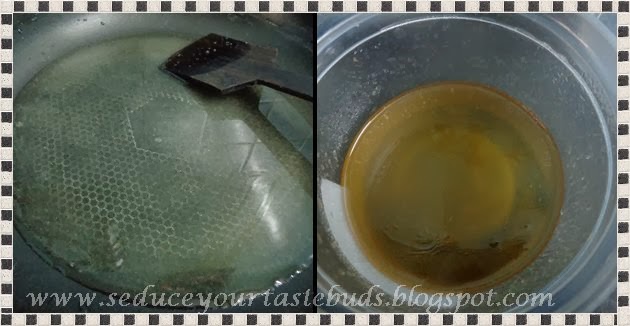 Soak urad dhal for 5 hours.Drain and grind to a fine paste.Do not add too much water while grinding.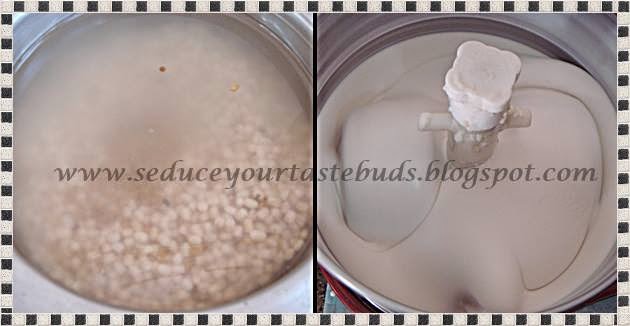 Add cardamom powder and whisk well so that the batter becomes fluffy . Heat oil for deep frying and drop teaspoon fulls of batter into the oil and fry on medium heat till it turns golden brown.Drain and add to the sugar syrup. Let it soak for a while before serving.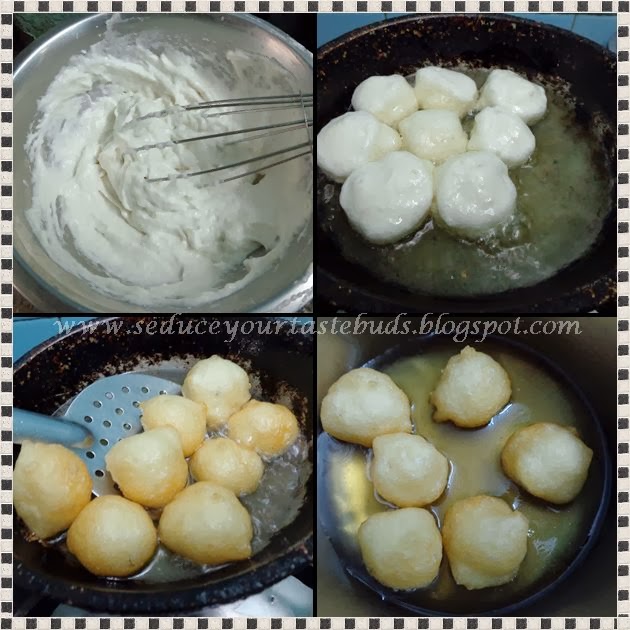 Serve Rosh Bora garnished with nuts…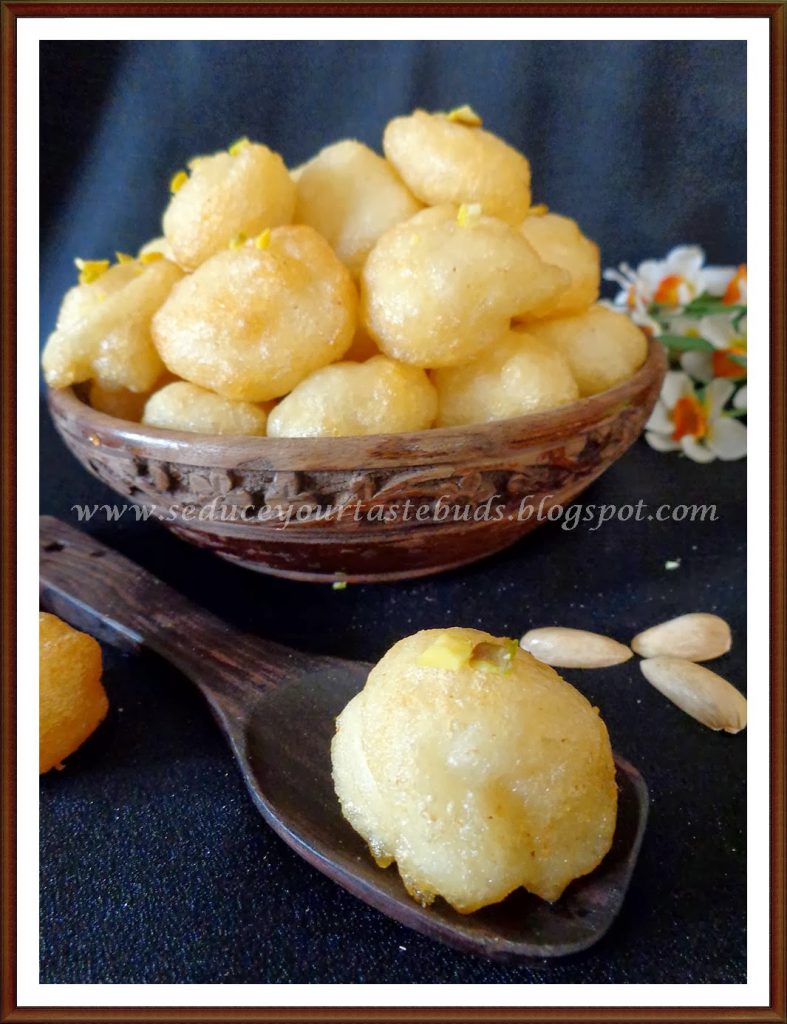 The snack is from the book – Bengali 5 spice Chronicles that I won in a giveaway.This is somewhat similar to the Onion Bajjis that are made in South India.The taste of Kalonji/ Nigella seeds in this snack surely takes it to another level!!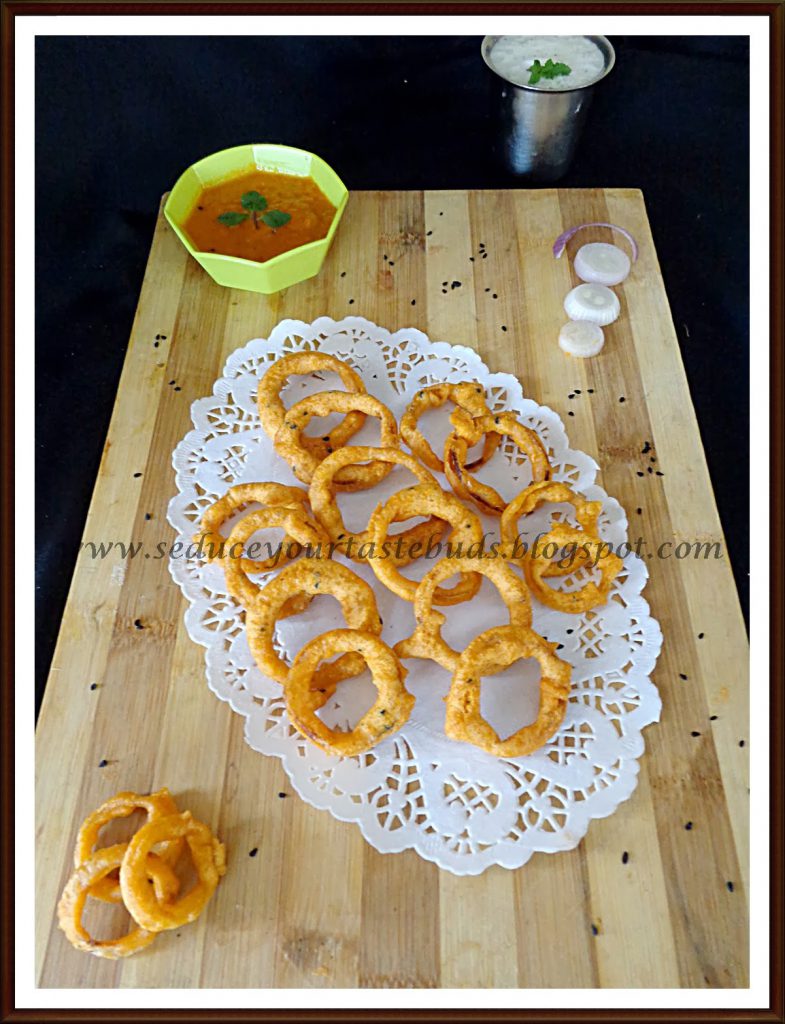 I used:
Onion-2
Besan – 1/2 cup
Rice flour-1 tablespoon
Nigella seeds- 1/2 teaspoon
Salt to taste
Red chili powder- 1 teaspoon / adjust to taste
Oil to deep fry
Peel and cut the onions into thick rounds and separate the rings. Make a batter of the besan,rice flour,salt, Nigella seeds and chili powder using water. The batter should be thick enough to coat the back of a spoon.
Heat oil for deep frying and dip the rings into the batter so that it coats all the ring completely and gently drop into the oil. Fry till golden brown and remove with a slotted ladle.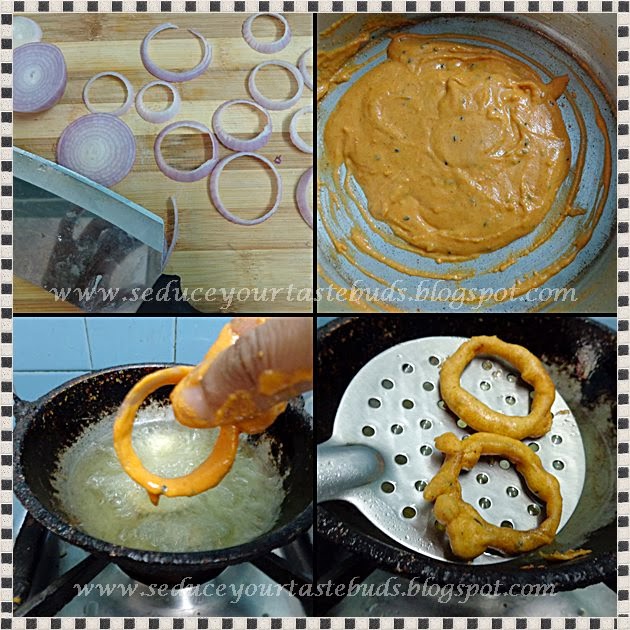 Serve with sauce/ Chutney or enjoy as such with a cup of Tea / Coffee/ Buttermilk.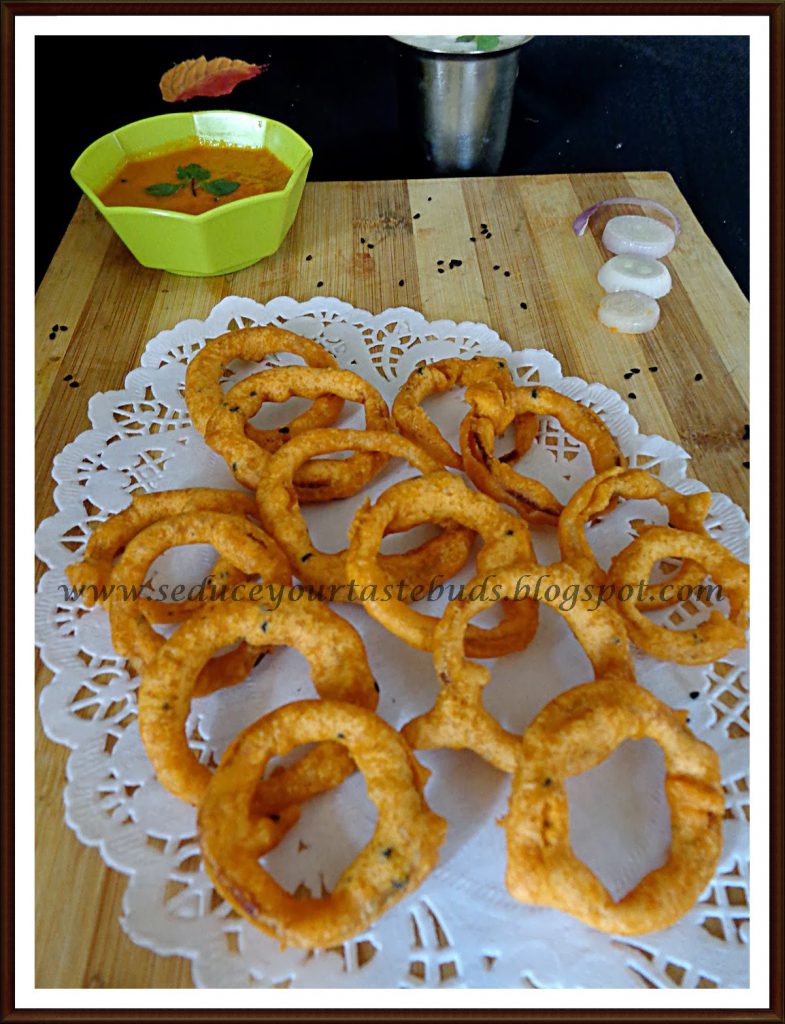 Bon Appetit…