Gulkand or Gulquand is nothing but sweet rose petal preserve.It can also be called Rose Petal Jam.This preserve is famous in India and Pakistan.
The preparation of Gulkand
involves mixing sugar and Damask rose petals and exposing them to
sunlight for more than 6 hours a day and this goes on goes 3-4 weeks. On
alternate days the mixture is stirred using a wooden ladle.
Generally, some additives are added to it. The one I got had poppy seeds, cardamom, powdered almonds.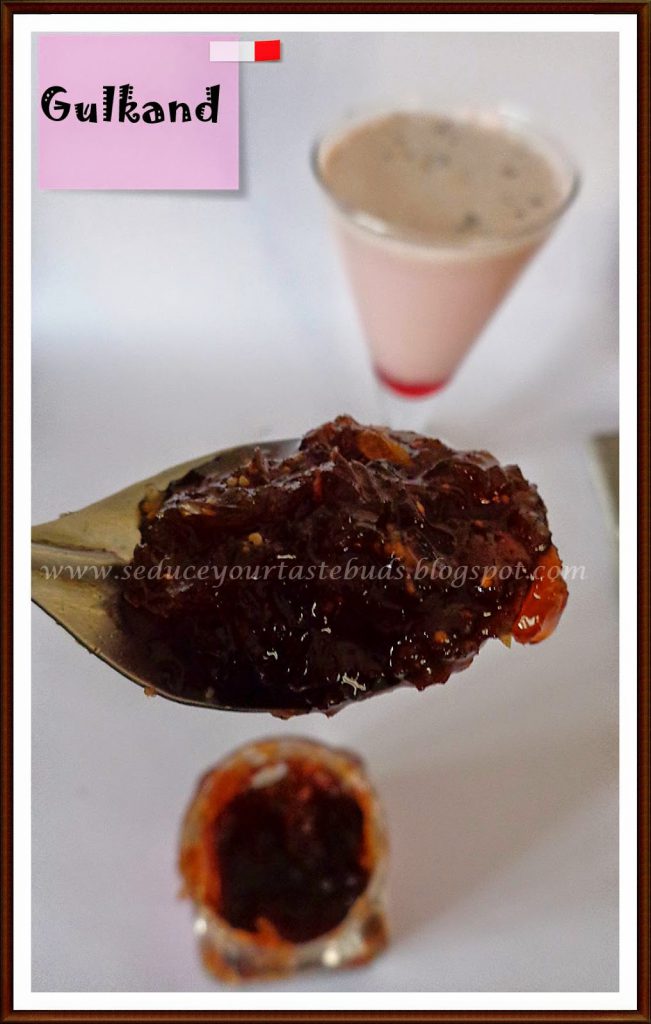 According to Ayurveda, Gulkand has loads of health benefits…
It is an excellent body coolant and reduces the Pitta / body heat.
Gulkand has antioxidant properties.
It rejuvenates the system.
An effective remedy for stomach ulcers / acidity.
For women, it is said to relieve menstrual pain and reduces white discharge.
It is a memory tonic.
Acts as a mild laxative.
Good digestive tonic.In my part of the world, a betel leaf wrapped
up with gulkand and other digestives are served after a heavy meal.
There are small shops that sell these too.
Last but not the least it is an aphrodisiac!
Usually the recommended dosage is 2 teaspoons per day
but if you have any health related problems, you should first consult
your Physician and then start with this dosage.