The moment anyone mentions Seedai /Cheedai, all I can think of are those crunchy sesame flavored balls and of course the lil Krishna's B'day.
So when Srivalli and the others were discussing about this Seedai on whatsapp, I was wondering why and then I came to know that she had announced this recipe for the Indian Cooking Challenge, I don't know how I missed the announcement but I badly wanted to make these as soon as I heard the discussion. Though Krishna Janmashtami is no where near, it is nice to think of Him and savor these munchies.
My earliest memories of this snack are from my childhood where mom used to make these for Krishna Jayanthi. I used to sit with her and help her roll out the balls.It was so much fun!
So naturally I turned to mom for tips and tricks to make this snack as I have heard several people telling that it sort of bursts when put into the oil and stuff! Mom being mom, told me a whole load of tips that made this recipe 'burst-proof'.Armed with mom's tips I ventured to make this one rainy day. So be warned of the not-so-good pics…
First let me spell out the tips and notes so that it will be easier to follow…
Tips
Sieve and roast the rice flour for better texture and flavor.
Check the sesame seeds for stones / impurities and then toast it. If stones are present , the seedai is bound to burst!
Spread the seedai balls on a cloth for at least half an hour so that it dries and there is no moisture. Moisture and oil don't mix ,you know…
The coconut must be toasted well .Be patient here as we don't want the moisture from the coconut ruining the dish
Also the balls of dough should not be rolled tightly. Just take a piece of dough and roll it lightly and keep aside. If rolled tightly, the air trapped has no vent and yes, the Seedai will burst.
Roll out into equal sized balls so that they will get cooked evenly.
Notes:
Home made flour is the best. If you are not able to make it then use store bought rice flour.
I used 1 1/2 cups raw rice and got 3 cups of rice flour after grinding and roasting .
While making the sweet version , the dough became dry as I was rolling the balls.So I added a few drops of jaggery water to it and mixed once again.This happened a couple of times.
While frying the seedai, it is essential to control the oil temperature. Keep it in low once the oil is hot and fry the balls. If the oil is too hot, the outside will cook and turn brown faster and inside will be raw / uncooked.
A pinch of cardamom powder can be added to the sweet version,but I did not add.
I used half cup jaggery and it was mildly used. So have suggested in the recipe to use 3/4 cup jaggery.
Don't cut down on the butter. It gives the necessary crispness to the Seedai.Else it will turn out a bit hard.
Now that we have the tips and notes lets make the Seedai.
I used:


For the flour:
Raw rice- 1 1/2 cups
White Urad Dal- 2 tablespoons
Soak raw rice in water for an hour.Drain well and spread it on a clean cotton cloth. Let it dry for a while in shade , a place like your table or on the kitchen counter. Now to check if it ready to proceed take a handful of rice after 15 minutes and make a fist. If the rice sticks to your hand, then let it dry for some more time. Keep checking once in a while and don;t let it dry completely. The rice should still have moisture yet not stick to your hands when touched. Yea, I know…It's a little tricky..
Once the rice is almost dry, grind it to a powder in batches.Sieve the powder and grind the grits once again .
Sieve once more and roast it in a pan till the rice flour let out steam and is warm to touch.Do this on medium flame and take care to see that it does not change color. Spread on a sheet of paper and let it dry completely.
Roast the urad dal till it browns.Let it cool completely. Grind to a fine powder and sieve it. Roast it once again for a few minutes on low flame.Remove from heat and spread on a plate and allow to cool/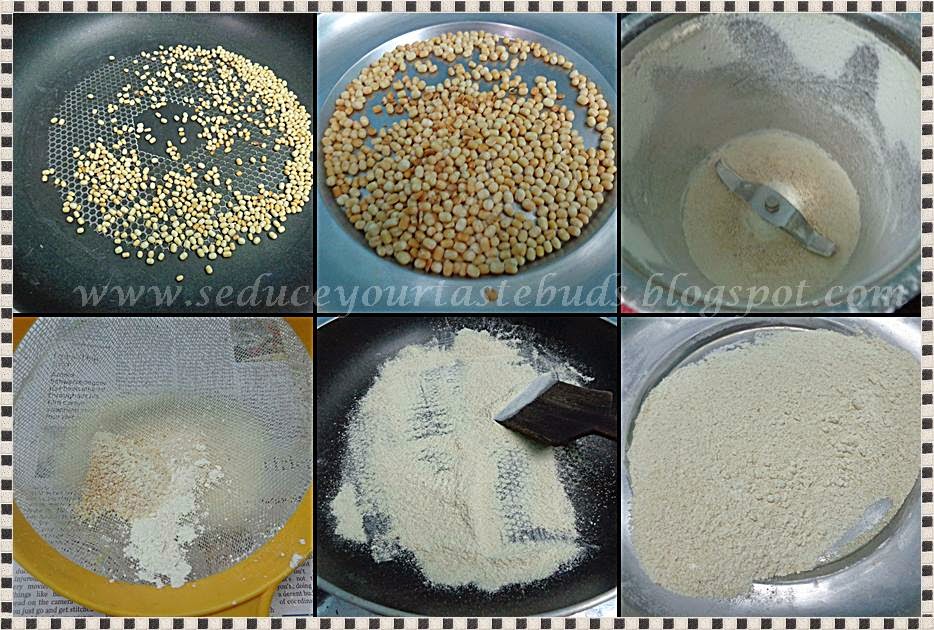 Take both the flours and sieve well a couple of time. The Seedai flour is now ready to use. Store in an airtight container 1f not using immediately.
For both the sweet and salted versions we need sesame seeds.So toast 2 tablespoons of white sesame seeds after checking for stone and impurities. When the color changes, remove from heat and spread on a plate to cool

First let us make the savory version….
For uppu seedai / Salty or Savory version
Seedai flour [From the above mixture]- 1 cup
Butter- 2 tablespoon
Toasted Sesame seeds- 1 tablespoon
Salt to taste
Oil to fry the Seedai
In a bowl take the flour,butter,salt and sesame seeds.Add water little by little and knead to a soft dough that is not sticky. Be careful while adding water.Add in increments of a teaspoon of water.
Pinch of small pieces of the dough and roll out balls a little bigger than a pea. Spread them on a clean cotton cloth for 30 minutes.
Heat oil for deep frying and gently drop the ball into the hot oil.Lower the flame and gently move them around in the oil to ensure even cooking.
Once they turn golden brown, remove from the oil and drain onto an absorbent paper.
Seedai is now ready to be munched….
Vella seedai /Sweet version
I used:
Seedai flour [ from the above recipe]- 2 cups
Jaggery-3/4 cup
Toasted sesame seeds- 1 tablespoon
Butter- 2 tablespoon
Grated coconut-2 tablespoons
A pinch of salt
Oil to deep fry
First toast the coconut till all the moisture evaporates and it turns a shade pink.
Soak the jaggery in warm water.The water should be just enough to cover the jaggery in the vessel. Using a ladle / spoon break down the lumps. Strain the jaggery and discard the lumps if any. Heat the jaggery till it bubbles and remove from heat.
Take the flour, butter, sesame seeds, coconut and mix well. Add the jaggery water little by little and knead to a smooth and non sticky dough.
Pinch out small balls , a size and a half bigger than the savory version and spread them on a clean cotton cloth to dry for 30 minutes. Heat oil for deep frying and gently drop the ball into the hot oil.Lower the flame and gently move them around in the oil to ensure even cooking.They will turn a dark shade of brown when cooked.
Drain using a slotted ladle and transfer onto an absorbent paper.
Sweet / Vella Seedai is ready…
Hope the notes and the tips helped. I was nostalgic while making this and I think I have nailed the recipe. Thanks to Gayathri for suggesting this for this months Challenge…
Bon Appetit…