For this month, we're baking Komaj which is
a Persian turmeric and cumin bread that's filled with chopped dates in Aparna's 'We Knead To Bake group'. The recipe is taken from Greg and Lucy Malouf's book, Saraban – A Chef's Journey Through
Persia, and here's what they have to say about Komaj.
"This is our interpretation of a wonderful
savoury–sweet bread we tasted in the oasis town of Mahan in the south-east of
Iran. Cumin is grown in abundance in the region and is used to flavour many of
the local dishes, often in combination with turmeric. "
They cut their Komaj into heart shaped buns
because that was the way they ate it in Iran. I chose to use square and round
cookie cutters. One other thing is that this dough has three rises instead of
the usual two.
The dates to be used are the dehydrated
ones that are still a little soft, and can be sliced through easily with a
knife.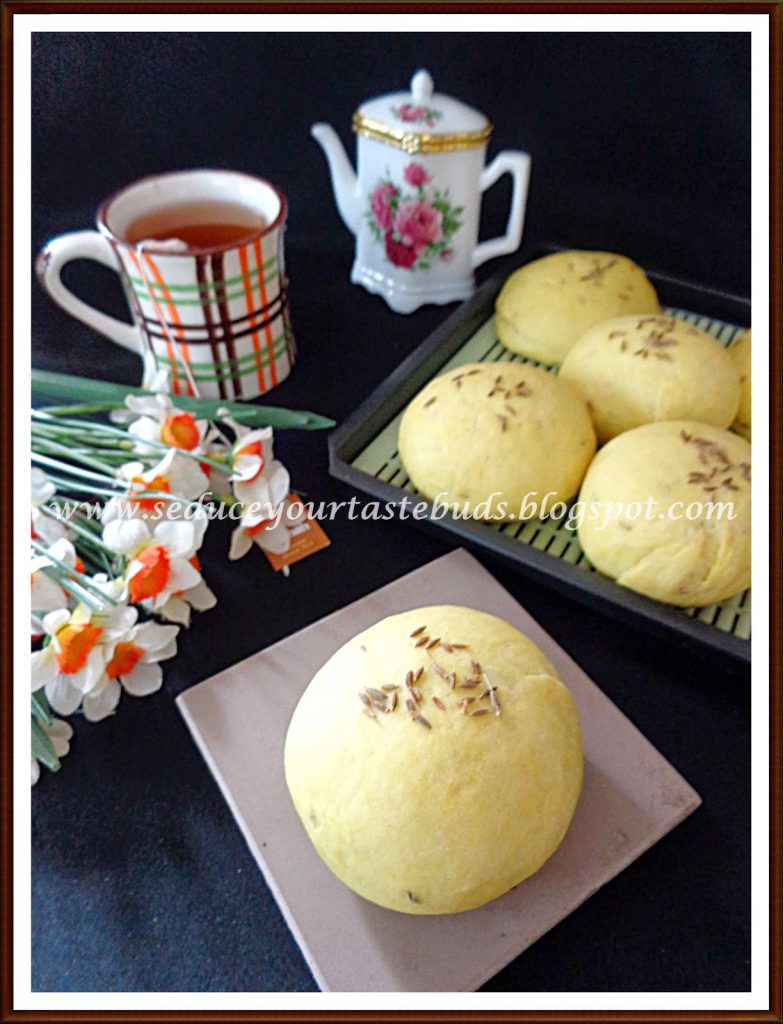 Komaj (Persian Date Bread With Turmeric & Cumin)
Ingredients:
For
the dough:


3/4 tsp instant yeast [ or 1 teaspoon active dry yeast]
1/8 cup warm water
3 3/4 cups all purpose flour
2 1/2 tsp cumin seeds, toasted and lightly
crushed
1/4 cup sugar
1/2 tsp turmeric powder
1/2 tsp salt
2/3 cups warm milk
1 1/2 tbsp oil
For
the filling:
15 dried dates, pitted and cut into
chunks (the slightly soft kind)[ I used Lion Brand Dates]
25 gm unsalted butter, soft at room
temperature
Cardamom powder- a pinch
Milk / cream for brushing dough
Icing sugar, for dusting (optional)
Method:
Put the flour, 2 tsp of the crushed cumin, sugar,
turmeric,yeast and salt in the bowl and mix.
Now add the milk and oil, and knead
until you have a smooth and pliable dough that's not sticky. I used a little water as well[instead of the egg that is present in the original recipe]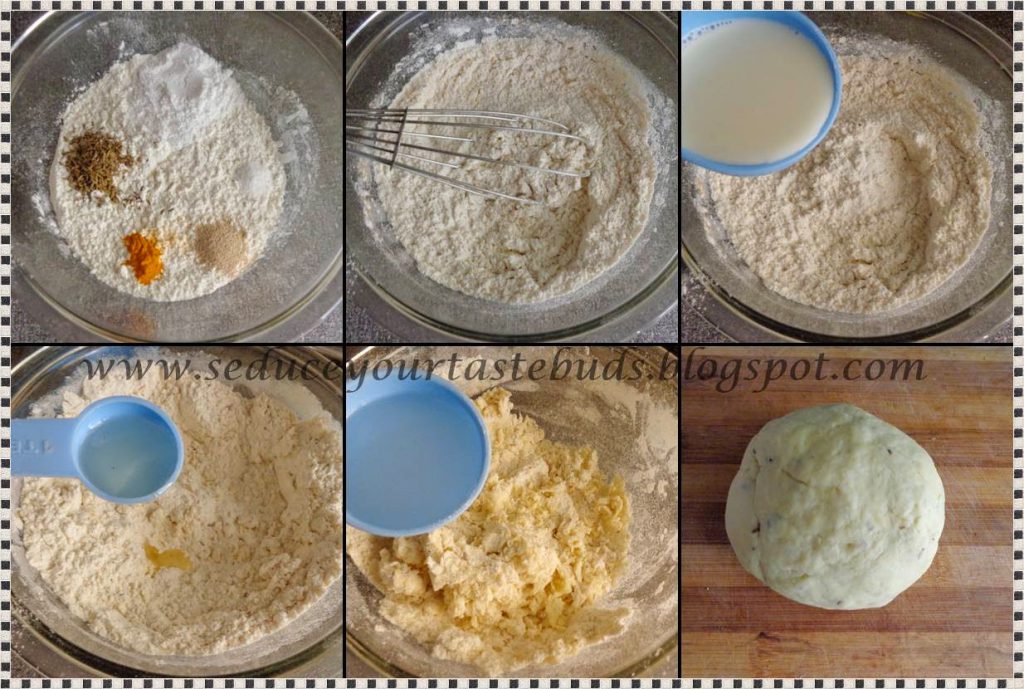 Shape the dough
into a ball and place in a well-oiled bowl, turn to coat the dough and then
cover loosely and let it rise till it has doubled (about an hour or so).
When the dough has risen, deflate it and
then shape into a round. Put it back in the bowl for a second rise till it has
doubled (an hour or so).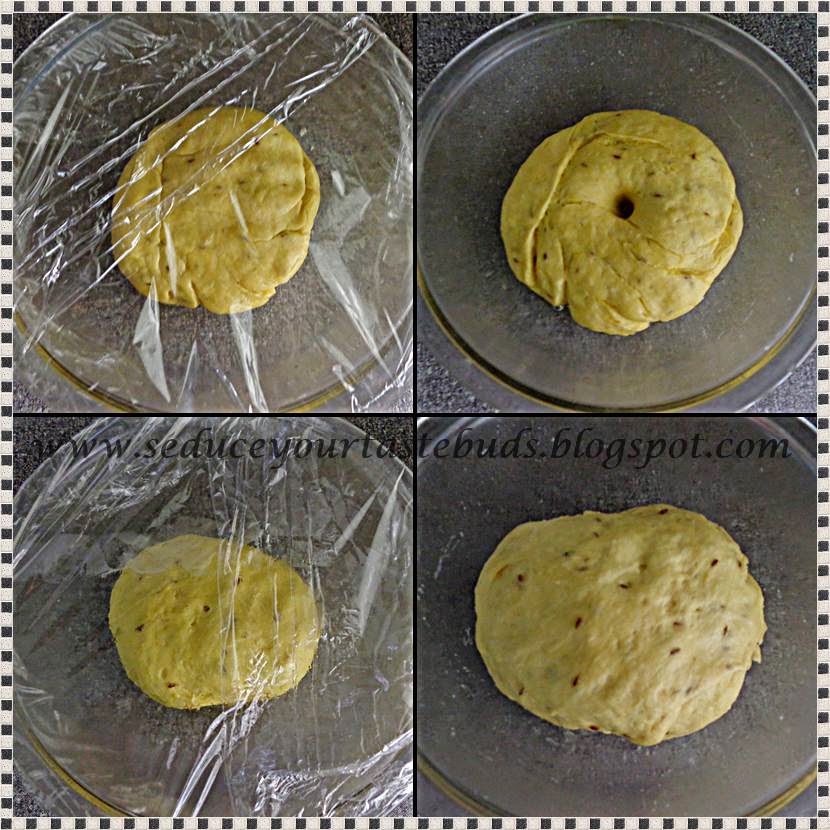 In the meanwhile prepare the filling by
mixing together the chopped dates, soft butter and cardamom together in a bowl.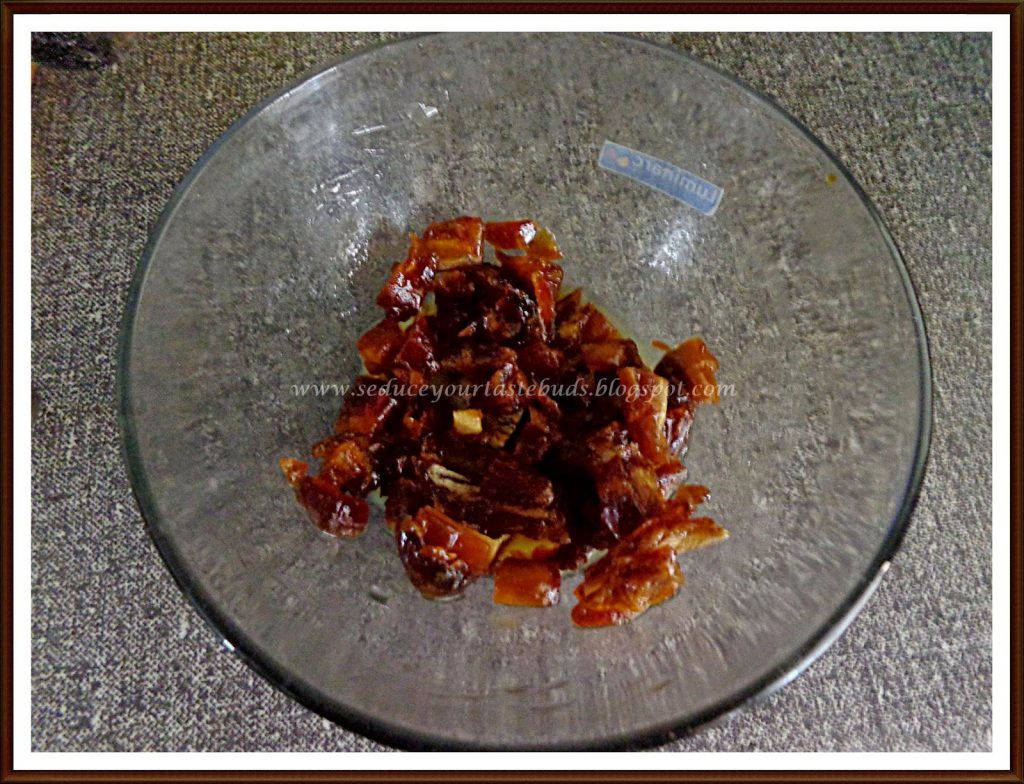 Divide the dough in to 4 equal portions,
and divide each in half so you have 8 portions. Working with one portion at a
time, roll each one out into a rectangle that is about between 1/4″ and
1/8" thick. Choose a cookie cutter that is about 8 cm at the widest. Press it
down lightly on one half of the rectangle to guide you to put the filling.Make two circles like this.
At this point, brush a little water over the entire surface of one of the circles to make sure the dough would stick well when folded over.Then place about 1 tsp (more than this is not necessary) in the centre of the cookie outline and then place another circle over the filling so that it's now covered. Make sure the sides are neat and well sealed. If the sides are not well sealed, the bun will swell and open up during baking. It will taste good but look weird!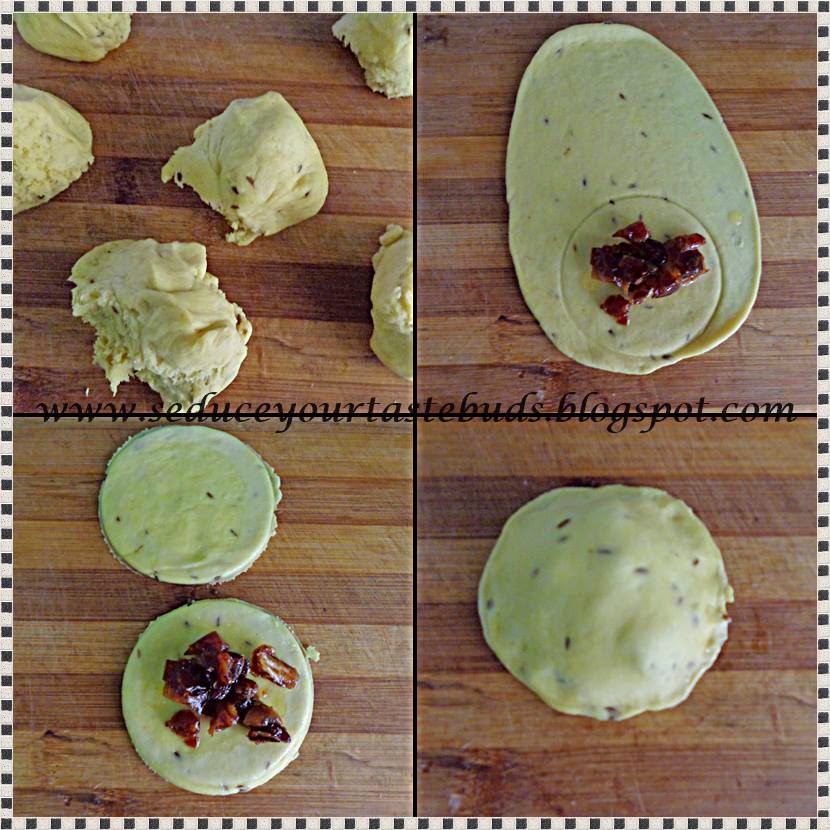 Repeat with the remaining portions of
dough, then re roll the scraps and you should be able to make two more buns
making a total of 10 buns. Place them on a lightly greased baking tray leaving
space between them because they will puff up on baking. Let them sit for about
15 minutes.
Then brush them with a little milk (or egg
wash if you use it) and sprinkle the remaining ½ tsp of crushed cumin on top,
pressing it down a little with your fingers. Bake the Komaj at 200C (400F) for
about 8 to 10 minutes.
Let them cool on a rack a little and dust
with icing sugar if you like. Serve them warm with tea or coffee.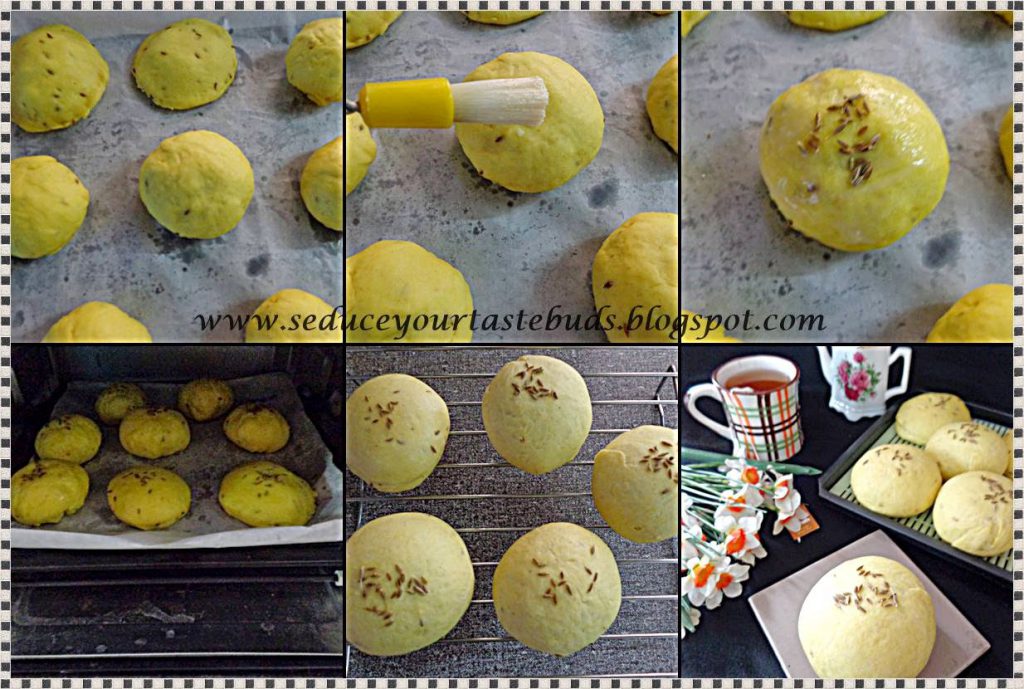 These are best eaten the day they're made. Leftovers can be reheated and eaten the next day.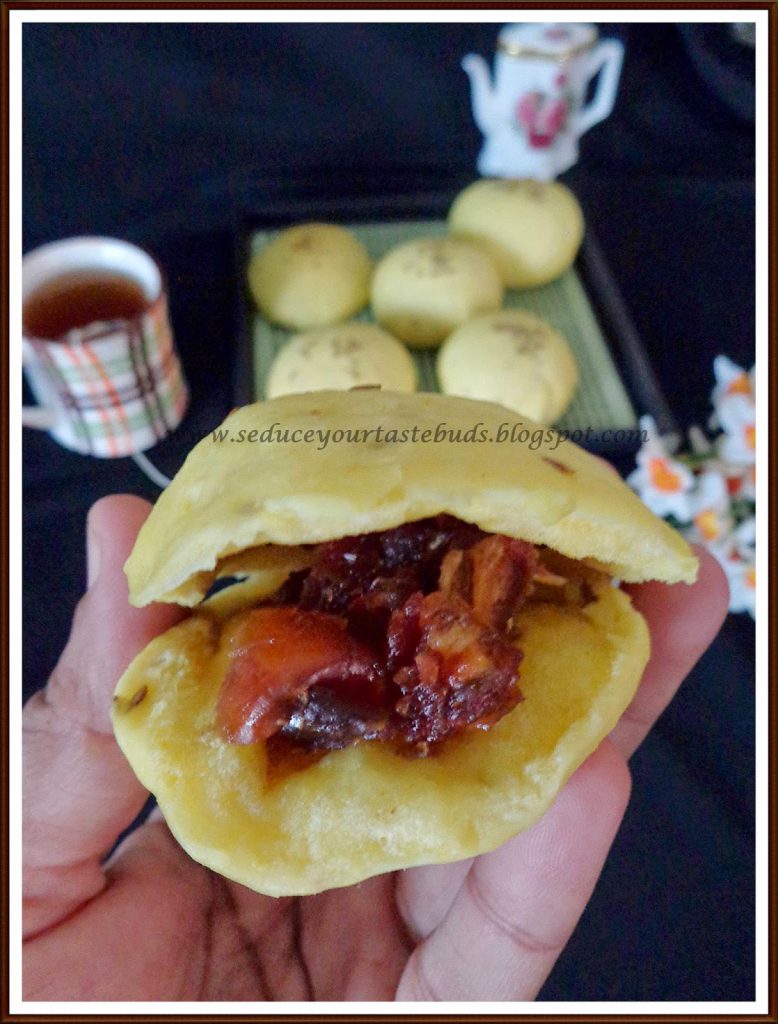 Note:
I made 2 buns like how I have shown in the pic. The rest of the buns were filled like we usually do for stuffed buns.Flatten a ball of dough and place the filling and shape into a ball. This method was easy for me.
I halved the original recipe and got 8 buns. So I guess the number of buns depend of how you shape them
Bon Appetit …