My earliest memory of Russia was a Children's magazine that Dad got for me when I was a kid.  We are a book loving family and it was no surprise that my parents encouraged me to read non curricular books as well. The one that dad got for me at the local book store was an imported edition of the magazine and looked so glossy and colorful. I think the
name of the magazine was Misha,and I clearly remember a character in the
book named Masha.This name stuck to my mind since then.
Anyways, I fell in love with that magazine and dad decided to place a subscription.The form was duly filled and the money was sent but the magazine never arrived. I still remember waiting for the magazine to reach home.And after a while we gave up knowing it would never come.
We tried the bookstore from which we got that one issue and remember the person telling us that they don't get the book anymore since there were hardly any takers!But I am sure that the single copy of that magazine is safe somewhere in the attic.
Later when I got Robin Cook's Vector, it had a character who is a Russian Immigrant.Like this many of the books I have reflect Russia in some way.
And to add to this one of my Uncles stayed briefly in Russia a long time ago,when I was really little. As I grew up and the country was mentioned somewhere, dad used to tell me what his brother had shared about the country,his experiences there and the postcards he sent from there were so picturesque etc.
All these led me to have to soft spot for this country!So, when it was time to write a list of countries to cook for in the Culinary journey across the globe, I knew in my hearts that R would be Russia. And when it came to selecting recipes for Russia, I knew I had to make the famous Classic Russian Borsch. I wanted an authentic version and not an Indianized recipe. I landed on Natasha's Kitchen who shares authentic Russian recipes.I also made this Vegetable salad sandwich for this country.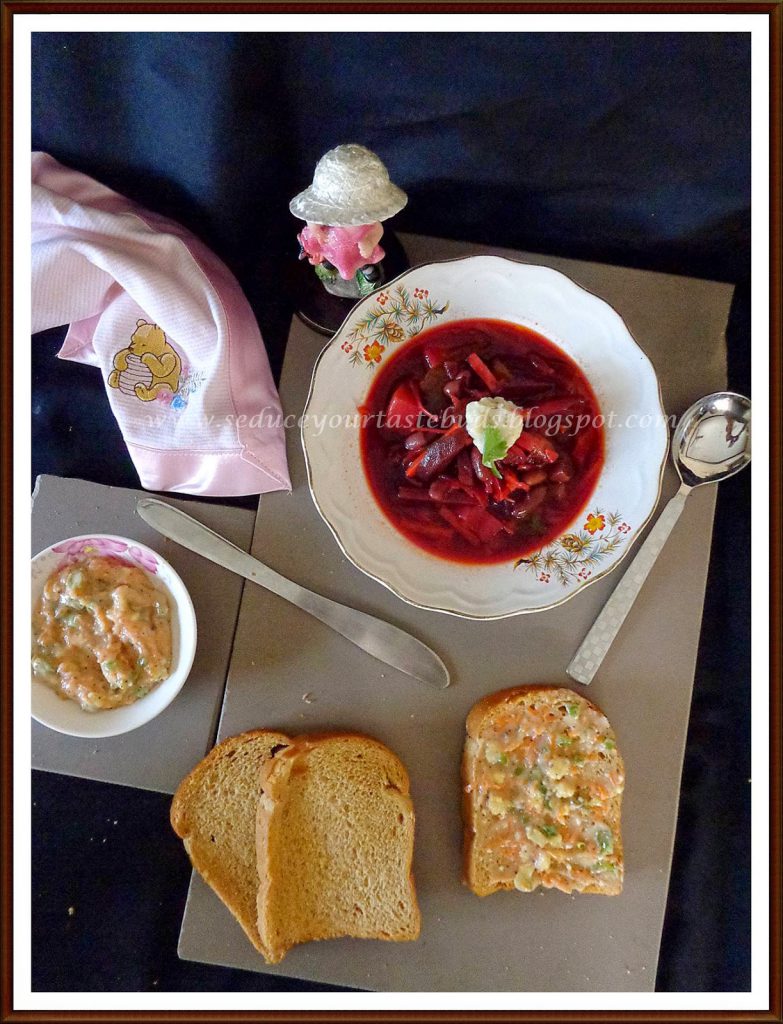 Here are some interesting facts on Russia…
 The official name is Russian Federation.
It is a multinational and multicultural country.
 In terms of land area, it is the largest country.It also has the world's largest area of forests.
Russia is located across 9 time zones.
The world's first satellite – Sputnik was sent by the Russians,
It is said that Russians never shake hands over a doorway believing that it will lead to arguments!
The oldest plant ever to be regenerated was in Russia from 32,000 year old seeds!
The Russian state library is the biggest in Europe.
There are more than  600 universities in the country and the intelligence rate of the people is said to be 99%!!
The metro of St. Petersberg is the world's deepest subway.And the Trans Siberian Railway is the longest in the world.
Yuri Gagarin was the first human astronaut to make a journey into outer space.
Mikhail Gorbechev was the first and only President to the USSR.
The cuisine
The multi cultural background reflects on the cuisine.
Russia's expansion into the cultural and social interests brought in a lot of new ingredients and cooking techniques into their cuisine.
Everything from soups to salads and other dishes can be found in this cuisine
Tea is an important beverage in Russia which came here in the 17th century from China,.
Now let us move on to the soup…
This is one of the first dishes that I cooked for this series, almost 4 months back and I can still remember the flavor and how filling it was!This is one of the traditional soups of Russia and the non veg versions have some sort of meat in them.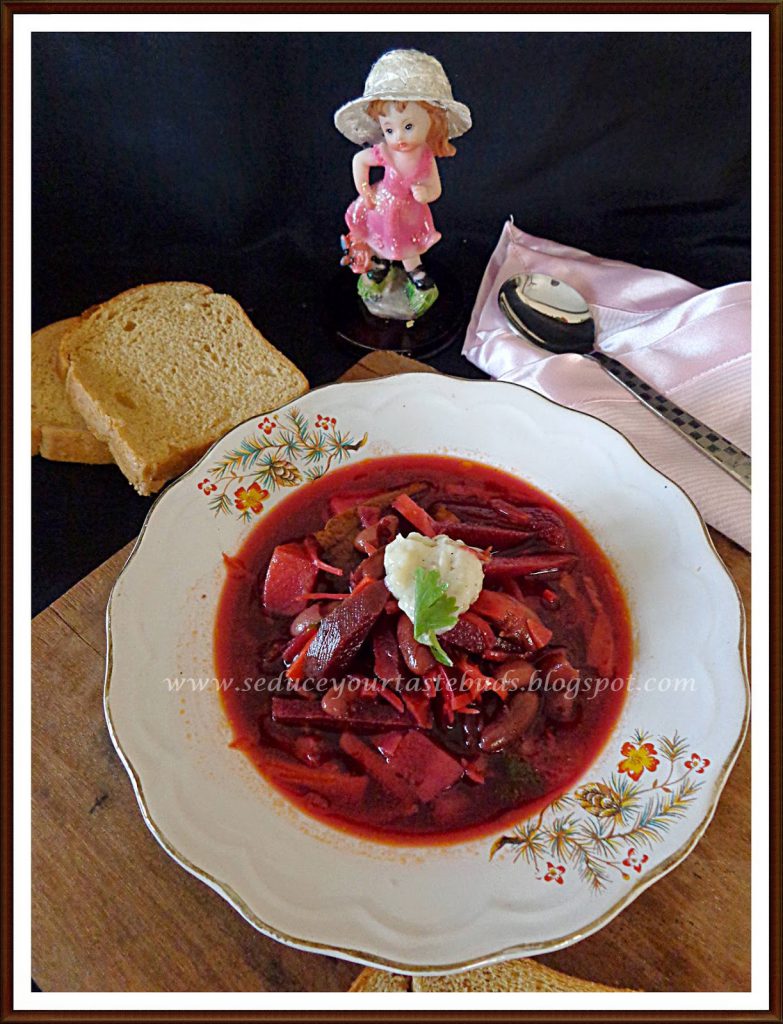 Adapted from Natasha's Kitchen
Serves- 2
Cooking time – 1 hour
I used:
Beetroot- 1
Potato- 1, cut into bite sized pieces
Cooked Kidney beans- 1/4 cup
Onion-1, chopped
Carrot-1, julienne
Cabbage-1/4 a small one, thinly sliced
Tomato sauce- 1 tablespoon
Pepper powder – 1 teaspoon
Bay leaf- 1
Coriander leaves- 1 tablespoon,chopped
Lemon juice- 1 teaspoon
Salt to taste
Oil- 1 teaspoon
Peel and cut beet into half and pressure cook[or cook on stove top] till done.Check by inserting a knife in the center.Do not discard the water used to cook the beet. Cool the beet a bit and cut into matchsticks and keep aside.
In the water used to cook the beet, put in potato cubes and cook till done. Drain the water and reserve. Keep the potato cubes aside.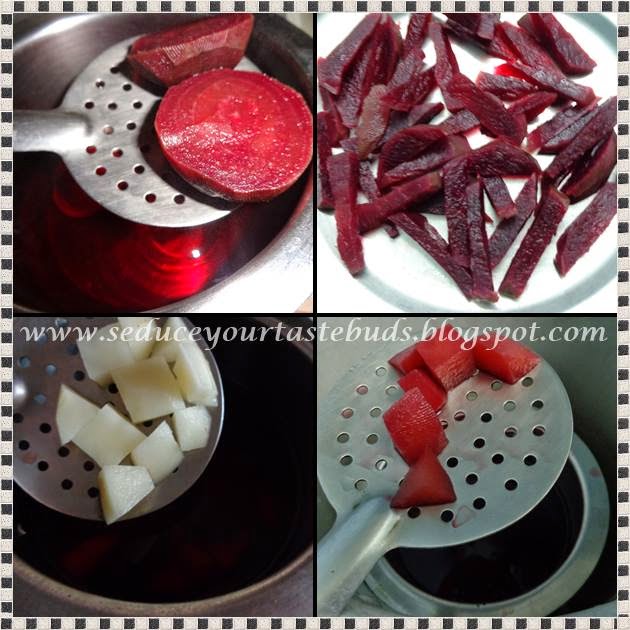 Heat oil in a pan and saute the onions till soft. Add the carrot and cabbage and cook till the vegetables are soft.
Add the tomato ketchup, the reserved water and potato.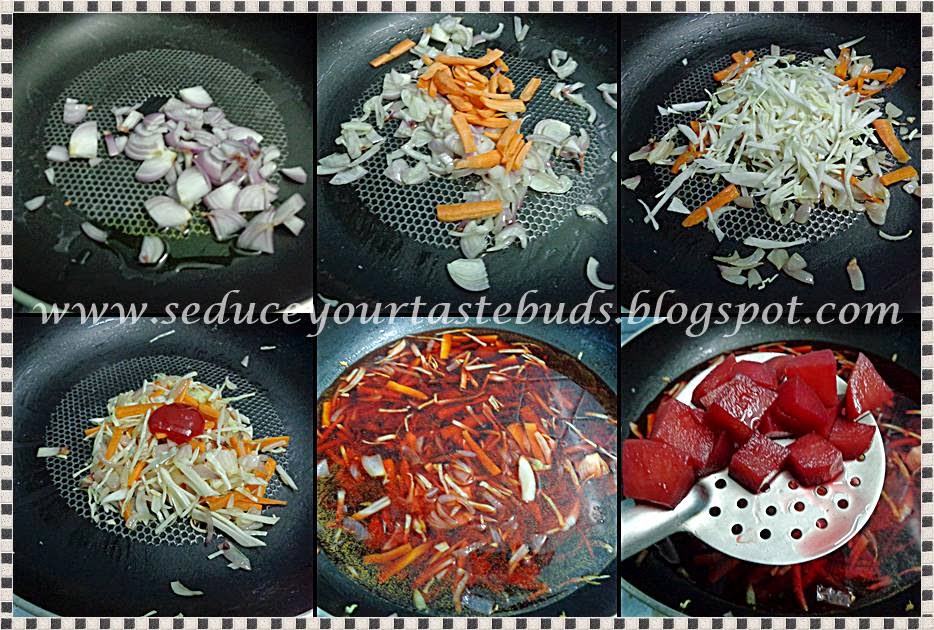 Put in pepper powder, salt, bay leaf, kidney beans,lemon juice, coriander leaves and beets. Simmer for 5- 10 minutes and remove from heat.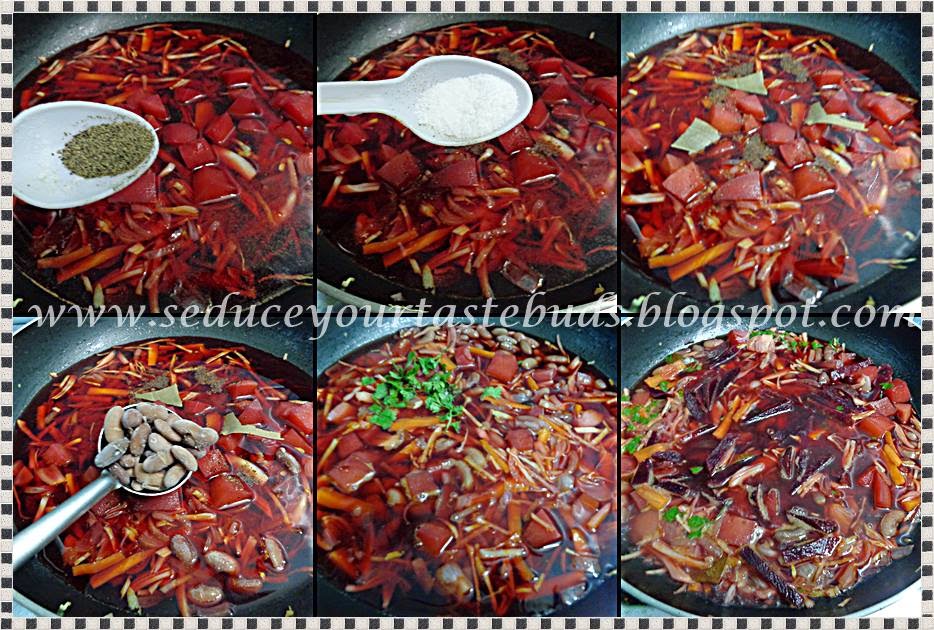 Serve warm with a dollop of mayo…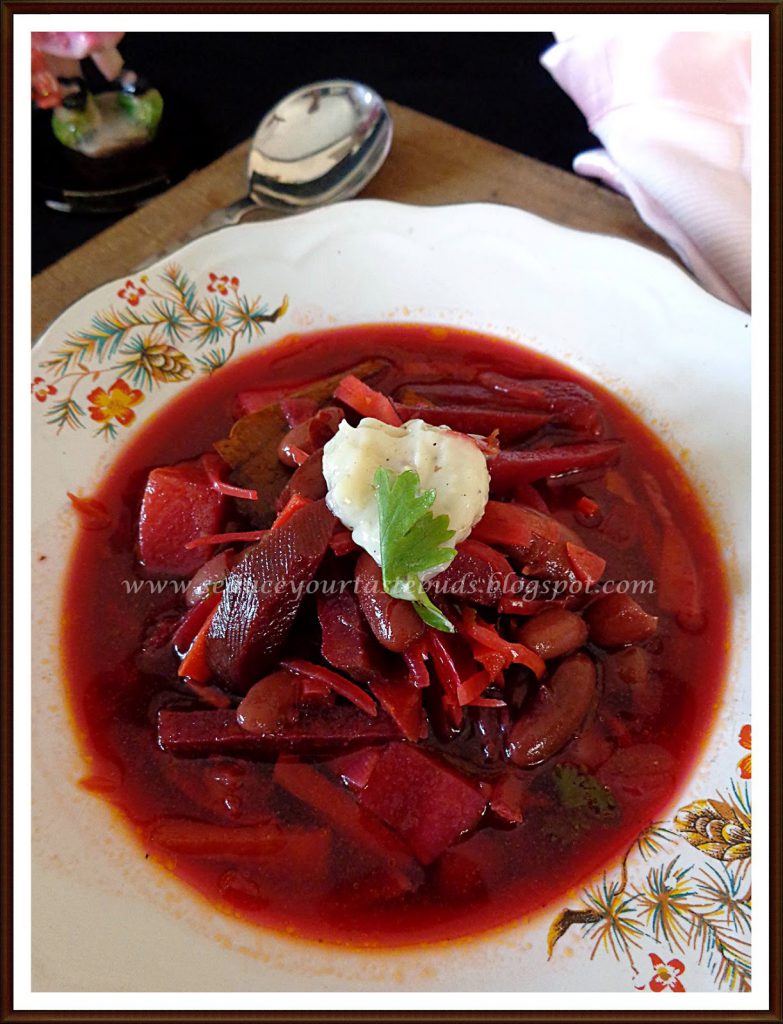 Note :
Dill leaves are usually used. I don't get there here, so I have added coriander leaves.
Also check out the Russian Salad Sandwich…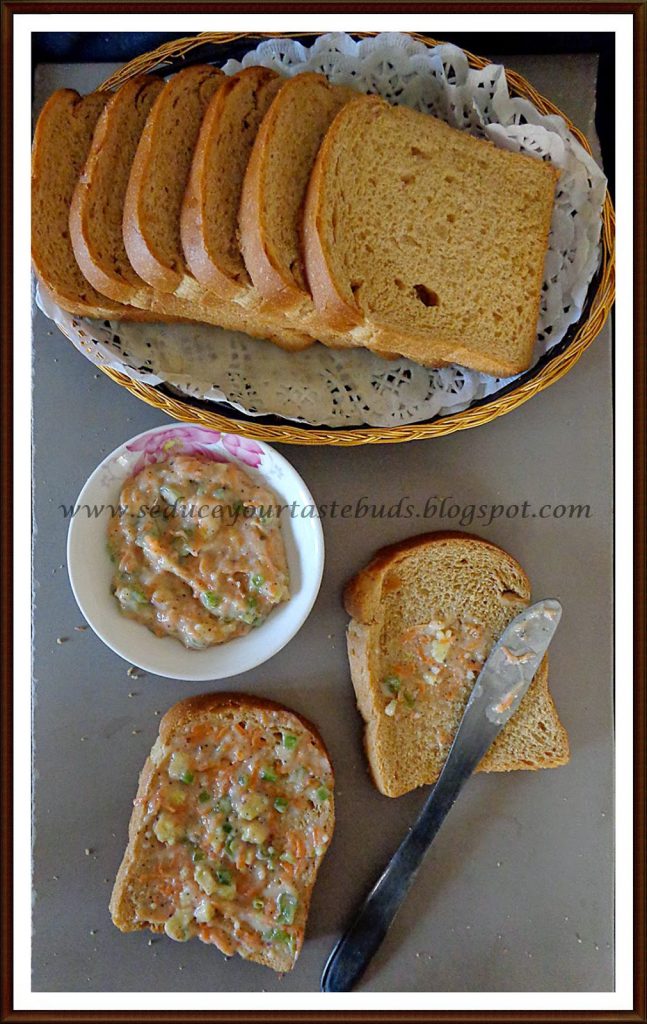 Bon Appetit…