This beans curry of one of the best finds in this Culinary journey across the globe. It is quite different from our regular beans curry . It has a beautiful flavor and a nice texture from the powdered peanuts that are used as a garnish.
I made this curry along with the Sayur Bening Bayam | Indonesian Spinach, Carrot, and Tomato Soup. This curry goes well as a side dish along with steamed rice.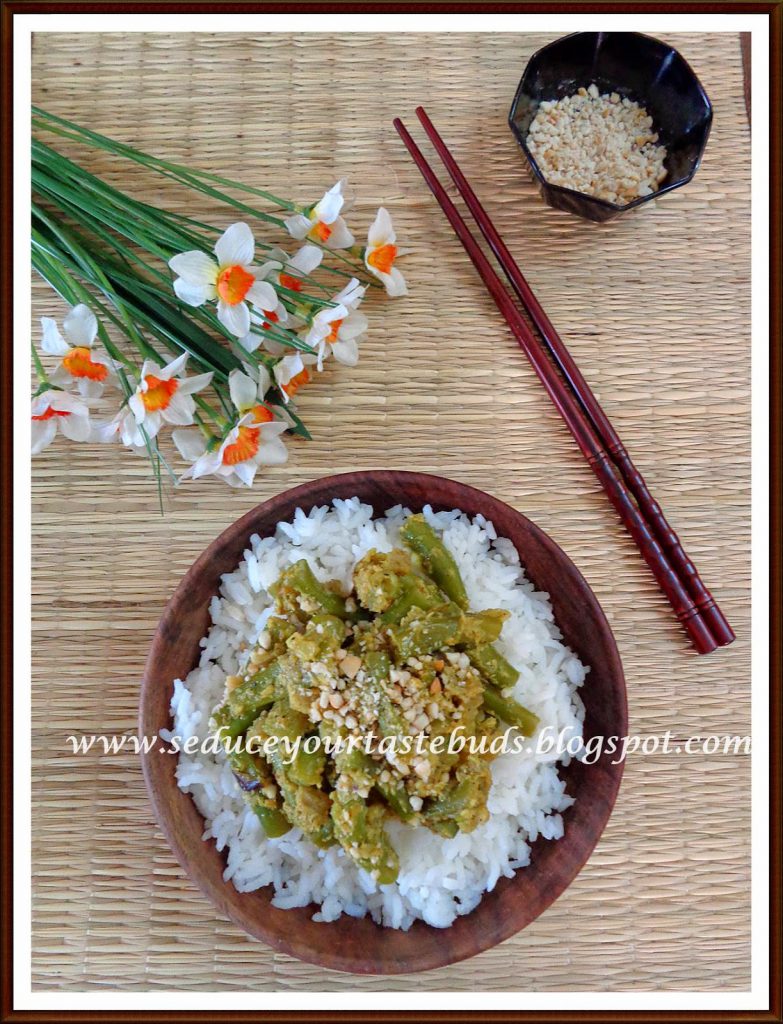 I used
Adapted from here
Serves – 2 as a side dish
Green beans -15, cut into 1′ pieces
Onion-1, chopped
Garlic-3 cloves, chopped
Ginger- 1″ piece, chopped
Turmeric powder- 1/8 teaspoon
Pepper powder- 1/2 teaspoon
Coriander powder- 1 teaspoon
Coconut paste- 2 tablespoons
Salt to taste
Oil- 1 teaspoon
Coarsely crushed roasted peanuts- as needed
Parboil the beans with a little salt for 10 minutes.Remove from heat and put them in cold water. Drain after a few minutes and keep aside.

Heat oil in a pan and add the garlic and onion and saute till onion is soft. Add turmeric powder and garlic,coriander powder , coconut paste and salt.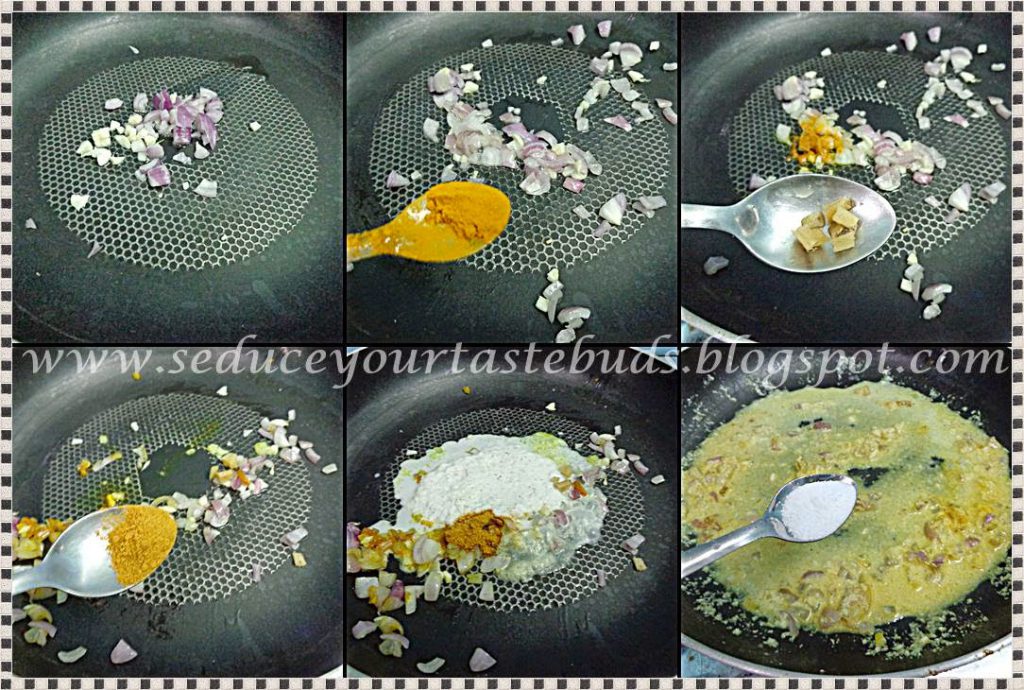 Put in the pepper powder and the parboiled beans.Add a little water and cook till the beans is tender. ans is done, cook till the water evaporates and the mixture is dry. Remove from heat.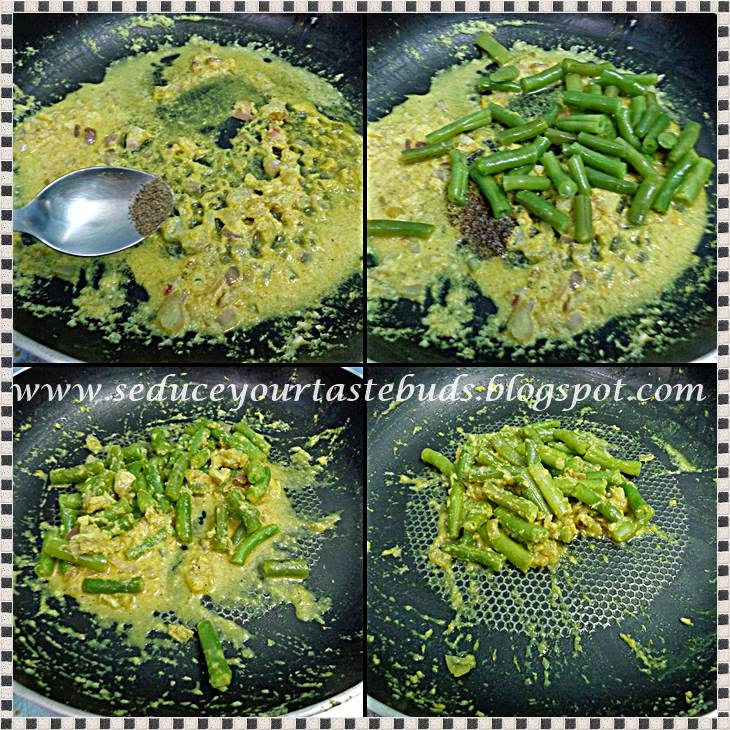 Serve topped with crushed peanuts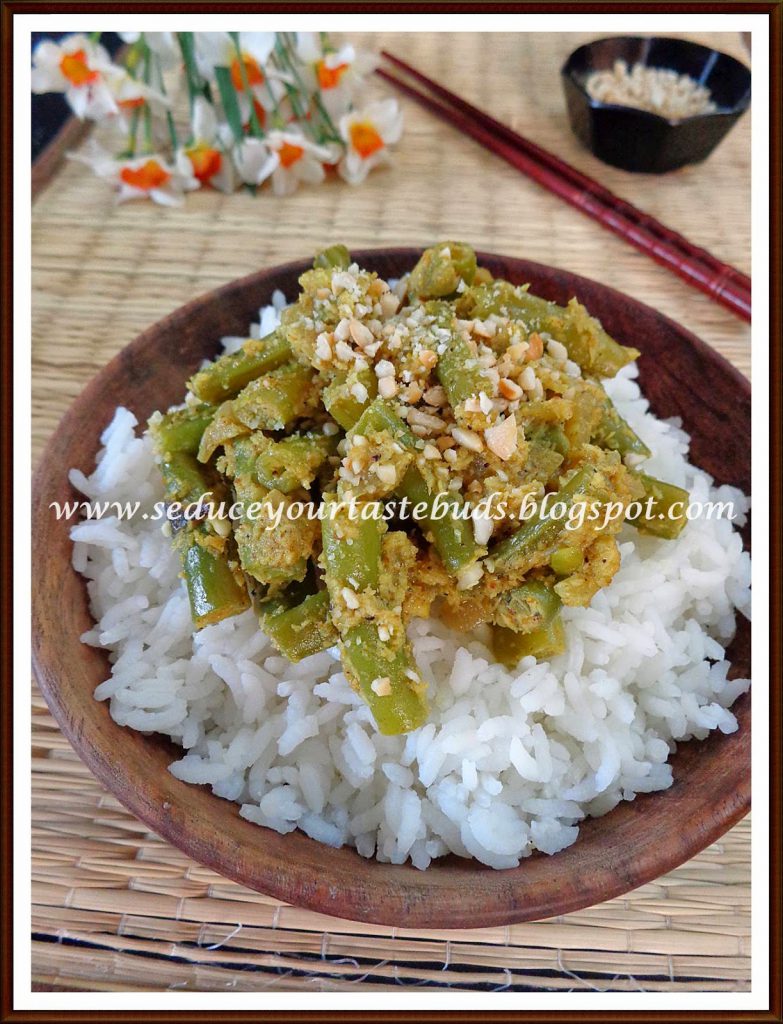 Note:
The original recipe suggested using cream of coconut, the one that you see on top of a can of coconut milk. Since I could not find it here, I ground a couple of spoons of coconut with a little water to a paste.
Sambal / red chili paste is to be added along the turmeric powder. I forgot to add it!Be sure to add it when you try this dish