Time surely flies! We are now entering the third week in the Culinary journey across the globe! On the 13th day, we are landing in Malaysia, one of the places I was lucky enough to visit.So, this is going to be a lengthy post as you know that I love to take you take you on this culinary journey as well as take you on a virtual tour of the place.
Before we embark on our journey, here is a sneak peek of the dish I made for Malaysia – A Mixed vegetable curry with a flavorful curry rice.
Some facts about the country…
It is a multi ethnic and multi cultural country.
The former name was Federation of Malaya.
The Malaysian Monarch is elected for a term of 5 years.
There are 28 National Parks in Malaysia
It is home to the endangered Malaysian Tiger.
It is also home to 14,500 spices of flowers and trees!
Rajang is the longest river in Malaysia
A few years back we went on a 10 day tour to Malaysia and a
few other places. Lil Angel was just 2 years but her age had nothing to
do with our travel plans as she was very well behaved and enjoyed
traveling just like us.It was one of the most memorable trips we had!
Here are some of the places we visited.
The 400 million year old Batu caves,Kuala Lumpur, with a 140 ft high Lord Murugan Idol!
The famous Petronas Towers / Twin towers, KL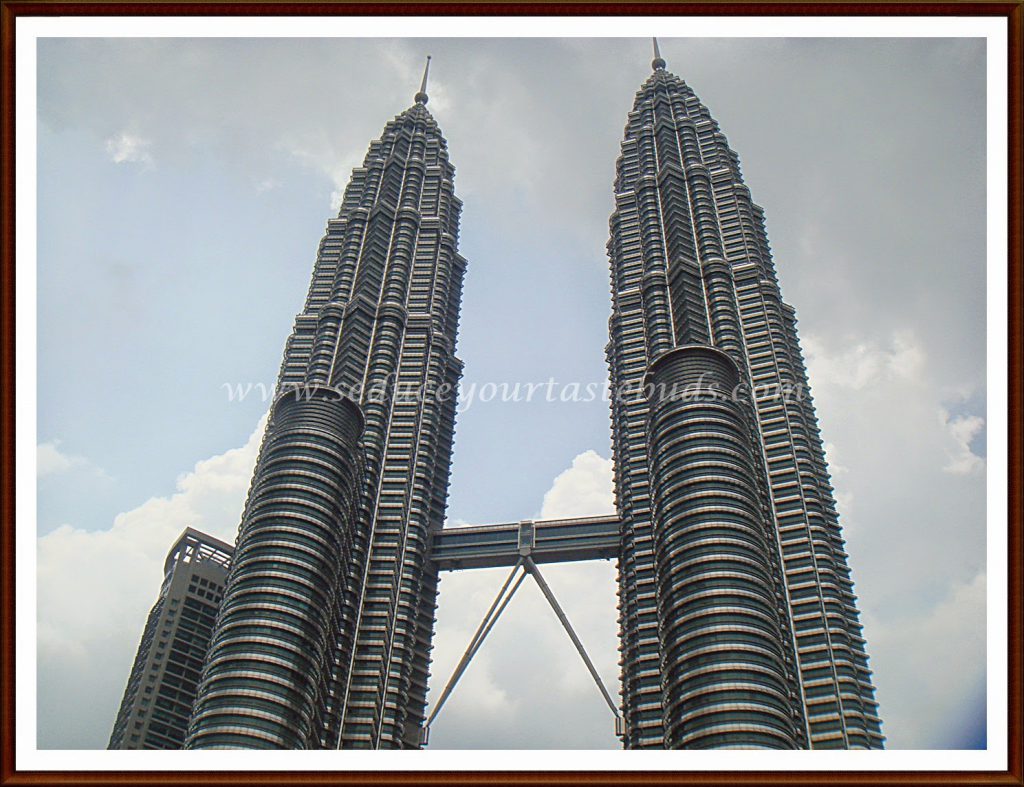 The twin tower as seen from Menera Tower, KL

A view of the city from the Menera Tower, KL
The old Railway Station , KL
The palace – Istana Negara, the official residence of the Yang Di-Pertuan Agong[Supreme Head]
The Burmese Buddhist Temple – Penang
Inside the butterfly farm, Penang
Miami Beach, Penang
Tek Loc Si, Penang – Statue of Kuan Yin / Goddess of Mercy
Inside a Thai Buddhist Temple, Penang
The Rajakali Amman Temple, Johor Bahru,which is one of the oldest temples in Malaysia,where 90 per cent of the temple is embellished by a mosaic of 300,000 pieces of red, blue, yellow, green, purple and white glass.
Are you hungry for some Malaysian flavors?
The Malaysian cuisine
This cuisine reflects the multi ethnic groups present in the country- A blend of malay, Chinese and Indian tastes on a plate!
The dishes are strong, spicy and aromatic with the use of herbs and spices.
The national drink of Malaysia is a hot milk tea called Teh tari, and
the national dish is called Nasi lemak, a fragrant rice dish
cooked in coconut milk, often served wrapped in a banana leaf, eaten for breakfast.
Here is a flavorful curry that goes well with curried rice…
I used:
Adapted from Vaishali's recipe
For the curry paste:
Shallots- 3 large
Lemon grass- 2″ piece
Ginger- 1″ piece
Red chili -1
For the curry
Shallots- 3, chopped
Mixed vegetables- 2 cups,[ I used cauliflower, baby potatoes,peas, carrots and beans] parboiled
Curry powder- 1 teaspoon
Turmeric powder- 1/8 teaspoon
Cubed tofu- a few pieces
Cornflour – 1 tablespoon,mixed in 1/4 cup water
Coconut milk – 2 cups
Tamarind extract, thick-1 teaspoon
Curry leaves- a few
Salt to taste
Coriander leaves to garnish
Oil-1 teaspoon
Take in the ingredients for the curry paste in a blender jar and make a smooth paste and keep aside.
Heat oil in a pan and saute shallots and curry leaves till the onion is soft.Add the curry paste and a little water and simmer till the raw smell goes off. Add the turmeric powder.Add salt and the parboiled vegetables.
Add the curry powder, tamarind extract, coconut milk and corn flour mixture.Add the tofu cubes and simmer for 5 minutes.Check the consistency, simmer longer if its too watery or add a little water if the gravy is too thick. Remove from heat.
Serve garnished with coriander leaves…
I served this with a flavorful yet easy to prepare Curry Rice….
Bon Appetit…