Time surely flies! I know I said the same thing same time last week,but the fact is time flies! Its already week 3 in the Culinary journey across the globe.We are starting this week with the letter S and I had made up my mind long back that S is for Sri Lanka.
My parents have been to Colombo a couple of times on official visits and they come back with such good experiences and awesome clicks. In the Kiri Bhat post, I have showcased a few pics from their precious trip.
There was another thing that mom shared with me from her trip. It was the breakfast and dinner menus. And she said that each day the breakfast and dinner would have Idiyappam and sodhi as one of the items along with loads of other dishes in the buffet.
So naturally my mind was set to making these two dishes that seem to be quite popular in the Srilankan cuisine.
These two dishes are found in many parts of Kerala and Tamilnadu in India too because of the close proximity of the two countries
Hodhi / Sodhi is a delicately flavored stew made with coconut milk. It tastes best when made with freshly pressed coconut milk and is served as a side with Idiyappam / string hoppers.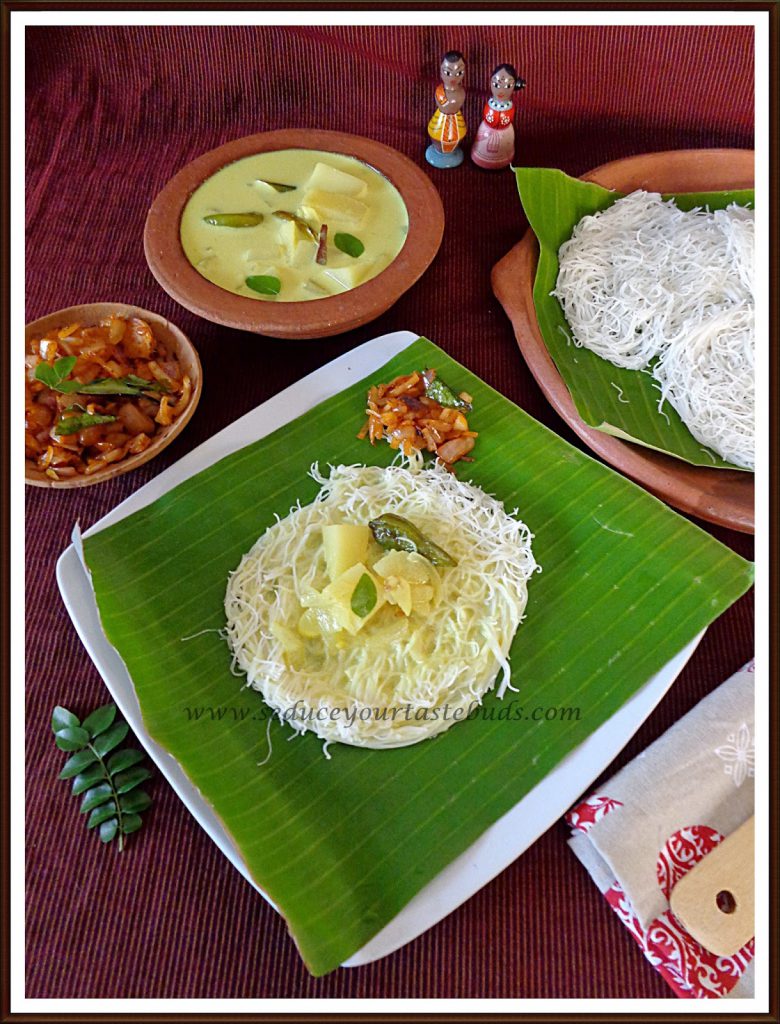 I used:
Coconut milk– 2 cups
Potato-2, peeled and cubed into bite sized pieces
Onion-1, sliced
Garlic-2 pods, chopped
Fenugreek seeds- 1/4 teaspoon
Cinnamom-1″ piece , broken
Green chilies ,slit – 3
Curry leaves- a few
Oil-1 teaspoon
Salt to taste
Lemon juice – to taste
Turmeric powder- 1/8 teaspoon
Add turmeric powder to the coconut milk and keep aside.Heat oil in a pan and add the fenugreek seeds and cinnamon stick. Then add the onion, garlic,green chilies,curry leaves and saute till the onion turns soft.
Add the potato and saute for 3 minutes. Add around a cup of water and cover and cook till the potato is done but not mushy. Add water in between if needed. If there is excess water after the potato is cooked, cook without the cover and wait for the excess water to evaporate.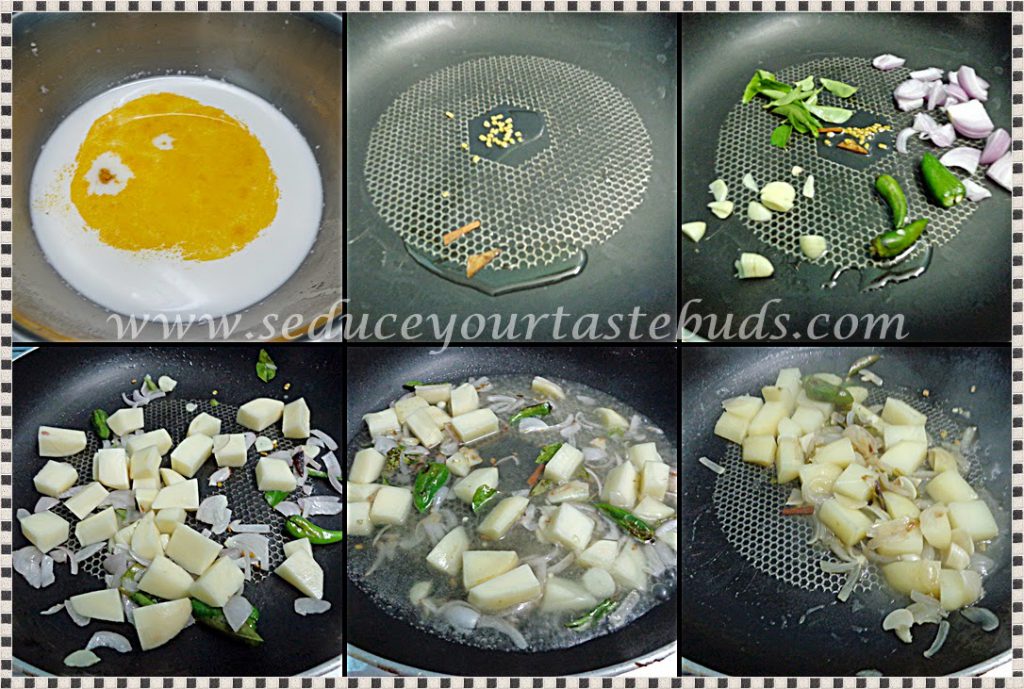 Now add the coconut milk and simmer.Once the mixture starts to boil switch off. Do not bring it rolling boil. It will affect the taste and the texture of the dish. Remove from heat .Add salt and lemon juice.Mix and the stew is ready to be served.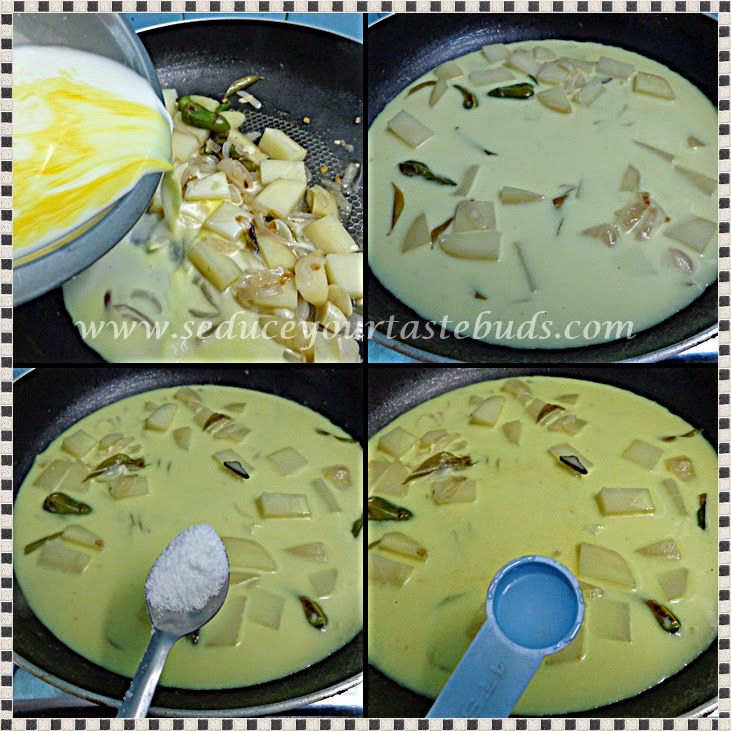 Serve as a side with Idiyappam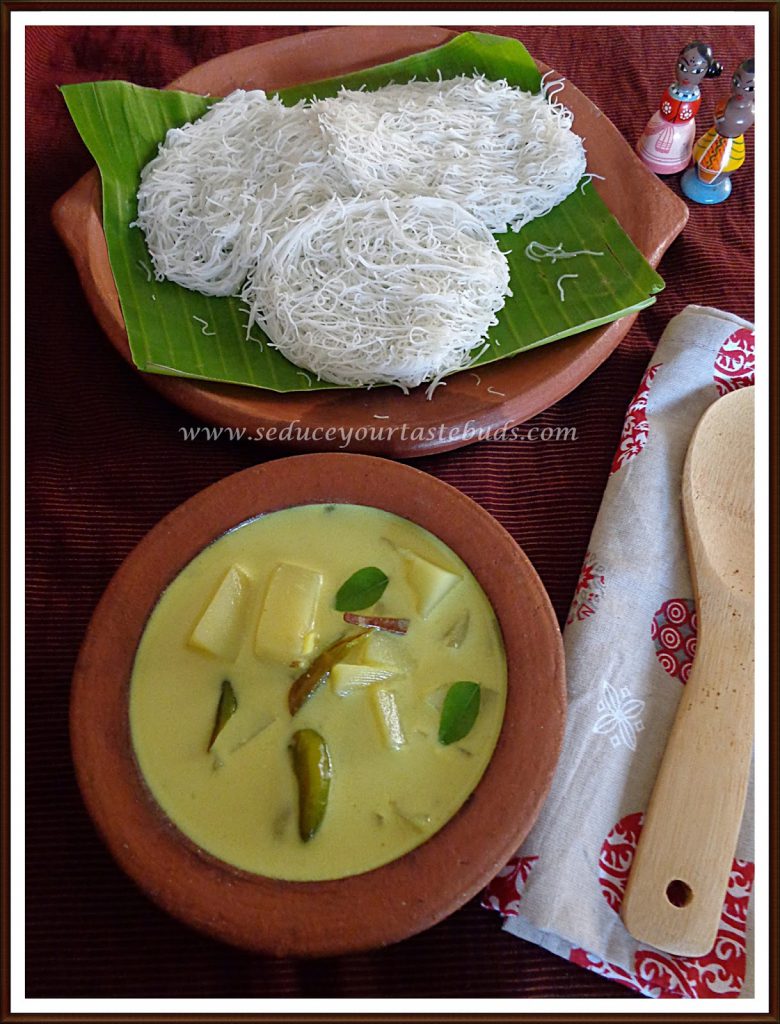 I served this with Idiayappam and Seeni Sambol...Come have a bite….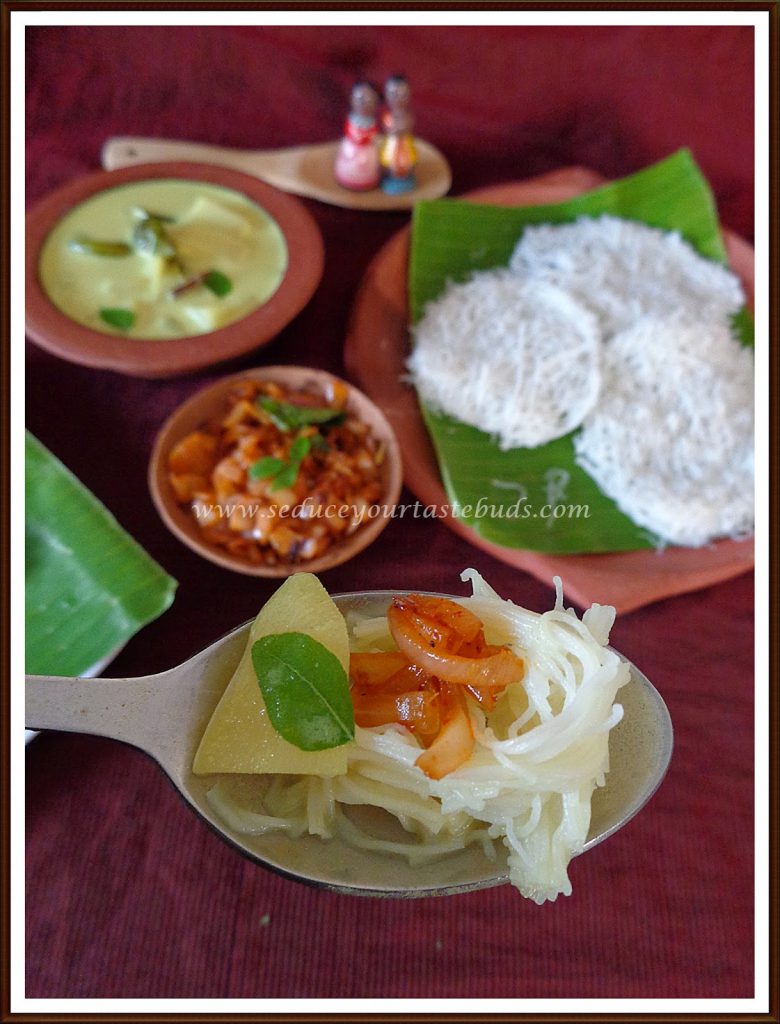 Bon Appetit…