When Blogadda sent me this book for review, I had very high expectations. I have already read and reviewed Ravi Subramanian's Bankster and it was a very thrilling and 'hard to put down' read.I expected nothing less from his current novel.As I started reading this book, I was convinced that the book would live up to my expectations.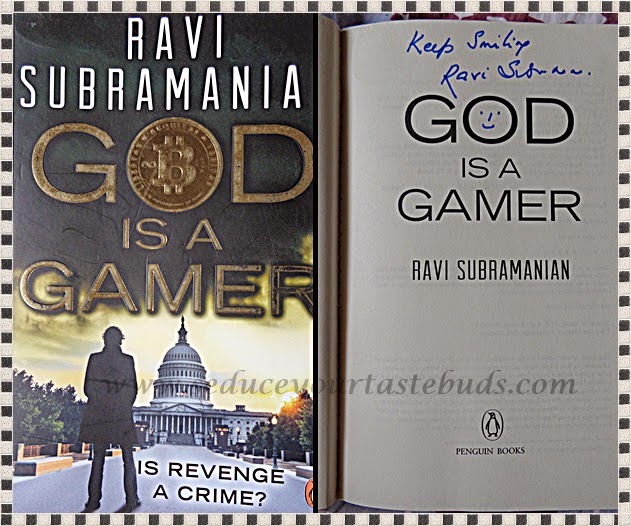 The story line starts with a prologue -the the meeting between the President of Master Card International and the CEO of Visa International.And this happens in 2009 in New York, where some important decisions are charted out.
The actual story starts with the murder of Gillian Tan in Washington DC while on his way to meet the President who also happens to be his pal. From there the story travels to New Delhi,Mumbai, Goa,New York,Rio and back and forth between these places and more.
The story revolves around the world of bitcoins, a relatively new term for many of us.It is a sort of digital currency that was founded in 2008 by Satoshi Nakamoto. And more importantly it can be transferred from one person to another at the click of a button without the intervention of any financial institution.
The book has quite a few characters all playing a powerful part in sculpting the story.
Gillian Tan– A person who is very close to the President of the USA and also plays an very important role in the mystery till the end even though he is murdered in the first chapter.
Nikki and Gloria – Gillian Tan's wife and daughter
Aditya Rao – A legend in Indian Banking industry and after 20 years in New York International Bank[NYIB] quit the job and started his own BPO called eTIOS and a gaming company called Indiscape.
Varun – Aditya's long lost son who saves his dads gaming company and pitches it to great heights.
Swami – Trained by Adiya in the early years is a man of good consciousness.
Sundeep – Adiya's protege and his right hand
Malavika – The CEO of NYIB and someone who aspires to be the governor of the RBI by hook or by crook.
Adrian, Dan, Tony and Kabir Khan play part in investigating the mystery and deaths that surrounds the bitcoins.
Tanya – Malavika's daughter who is not the person she seems to portray.
Josh – [A] Rudra Pratap Ghosh, the person involved in carrying out the ATM heist.
In between these characters you come across a Cotton Trail, an online store that sells everything illegal and takes bitcoins as payment, TOR – The Onion Router ,a free network that maintains online anonymity, an ATM heist ,laptops around the world being hacked for bitcoins even when the device is in sleep mode, the erotic posts of a hooker who confesses a lot on her blog post , murders…
The death or rather murder of Gillian Tan, Swami,Josh[he is shot actually ,not murdered] and Malavika take place at different places yet they are all tied together.
The story is a roller coaster ride from the beginning taking you through so many places and with every chapter you are led to an assumption and later as you read on it turns out that the assumption is false!!
I really did not expect such a twist and turn in the climax and the ending is something I had never anticipated.With each clue / situation turning up I was rooting for the wrong person!!
Who is the real Satoshi Nakamoto and how is he related to some of the characters? Are Varun and Tanya really in love? Why are the people murdered and what is their role in the scams? Or are they really involved in any of the scams?How does Aridan Scott and Kabir Khan find the clues and close in on the person behind the murders and the scams?The truth about Gloria,Varun,Tanya and much more is for you to be find out .
It all seems that many things happened coincidentally but as you read on you will realize what has been going on! I really don't want to spoil the fun here.So grab a copy and read on …
The best part of the reading this novel is that you cannot put it down till you reach the last page. I finished it in one sitting , late in the night and sleep just seemed to be far off when there was so much happening in the story.
The plot is so good and the story has everything from politics, money laundering, aspiration for power, love, lust,online banking scams, bitcoins,murder,an online store selling illegal stuffs,a bunch of secrets carefully kept away from the other characters and all this makes it a thrilling read.
On the other hand, there are a few things that I keep wondering.Like the whole bunch of money that was recovered when Josh's apartment was raided and what became of it. The malware that attacks the laptop even in sleep mode/switched off, is it possible!?
Setting these small differences apart, this is a really good read and I recommend this to anyone who loves thriller. I am sure you will enjoy every bit of this book.I would gladly give it a 4/5.
This review is a part of the biggest Book Review Program for Indian Bloggers. Participate now to get free books!
Happy browsing….