I made this a long time back,almost two years ago. Then when I wanted to post it under basic recipes, I thought it was too simple to find a place here. So I just let it sit in the drafts. Then last week when I went grocery shopping, I found a lady picking up a bottle of chili flakes.
Curiosity got the better of me and I went to check out the price and was I shocked! I was wondering why she wanted to buy it when could be done at home in a jiffy!
This incident made me change my mind.So I came back home with the the thought that I must post this recipe no matter how simple it may seem.
And also this post is for Blogging Marathon #48, Week 1,Day 3., with the theme – Pick one, Do three under food stubs is a category – Condiment stub and this recipe was just the right one for me as I picked it out of my drafts .
Take some dry red chilies in a blender jar and blitz it for a few seconds.If you run it continuously you will end up with chili powder! Wait for a few seconds before you open the jar [as you don't want to go into a sneezing bout!] and then blitz again till you get the required texture. Store in an air tight container and use as required.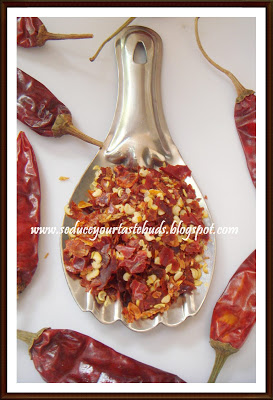 Bon Appetit…