You all know that I have a soft spot for bread.I have so many recipes with bread and yet look out for new ones. Several of the recipes call for stale bread but at home, stale bread is never around! So in such cases, I put a few slices of fresh bread in the fridge and use it up the next day.
So, here is another dish that has been crossed off my my bookmarks list and it is for the Blogging Marathon #50, Week 4 , Day 1, with the theme Bookmarked recipes
This dish can pass off as a light meal / an after school snack. It is very simple and can be put together in a few minutes.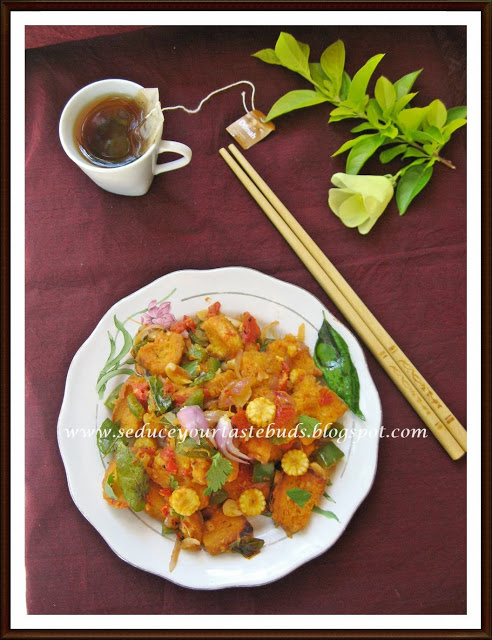 I used:
Adapted from – EzCookBook
Day old bread slices-6,toasted
Capsicum , chopped-1/4 cup
Baby corn-2, sliced thinly,parboiled
Onion-1, sliced
Tomato-1, chopped
Garlic-2 pods, chopped
Curry leaves- a few
Tomato sauce- 1 teaspoon
Sambar powder- 1 1/2 teaspoons
Mustard-1/2 teaspoon
Oil-1 teaspoon
Salt to taste
Coriander leaves to garnish
Cut the toasted bread into bite sized pieces and keep aside
Heat oil in a pan and add mustard seeds, curry leaves.
When it splutters add onion and garlic and saute till the onion turns light brown.
Put in tomato, capsicum and cook till tomato is soft.
Add the baby corn,tomato sauce, sambar powder, salt and mix well.If the mixture is too dry add a splash of water and cook for 2 minutes.
Now put in the toasted bread cubes and mix well so that the masala coats the bread.Lower the heat for 2 minutes and let it cook.
Remove from heat and serve garnished with coriander seeds.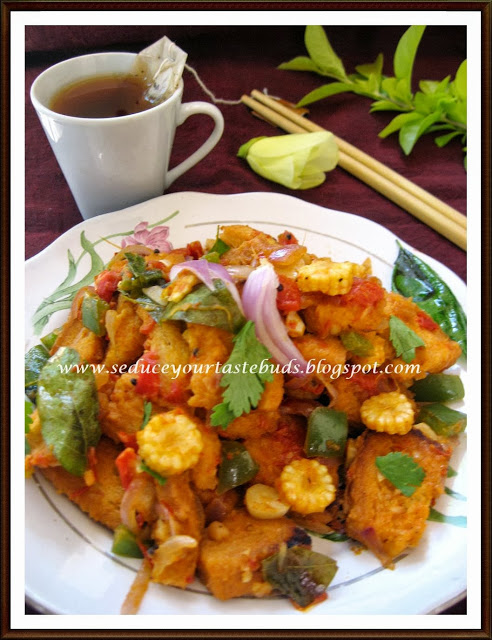 Note:
The bread can be fried/ toasted with butter to give extra richness
Instead of sambar powder,chili powder / pav bhaji masala, garam masala can be used.
Don't add too much water if the masala is dry and don't cook for too long as this will make the bread pieces mushy.
Chili sauce can also be used along with tomato sauce.
Parboiled veggies like carrot , peas, sweet corn can also be added.
Check out the Blogging Marathon page for the other Blogging Marathoners doing BM#50
Bon Appetit….