Given that we have huge bushes of Curry leaves in the backyard,it is only fair that we use it in dishes other than just for seasoning! This is one such recipe that has the flavor and goodness of curry leaves to the fullest!
For Blogging Marathon #50, Week 4 , Day 1, with the theme Bookmarked recipes, I have this gravy from Rak's Kitchen.
Before going on to the recipe here are some titbit's that might interest you …..
Curry leaves are called sweet neem leaves /Black neem leaves.
Its botanical name is Murraya koenigii.
It is also known as karuveppilai,Karibevina soppu,Keddiappala,Kari patta, Bhursunga, Patra, Kadhi patta,Mithlo limdo,Karapincha.
It is native to India
The leaves are used in seasoning and are valued for the taste and aroma they impart to the dish.
They are also used in Ayurvedic medicine and are known to have anti
diabetic,antioxidant, anti microbial,anti inflammatory properties.They are
also know to keep hair shiny,long and healthy.
This gravy goes well with rice and the taste improves when used the next day!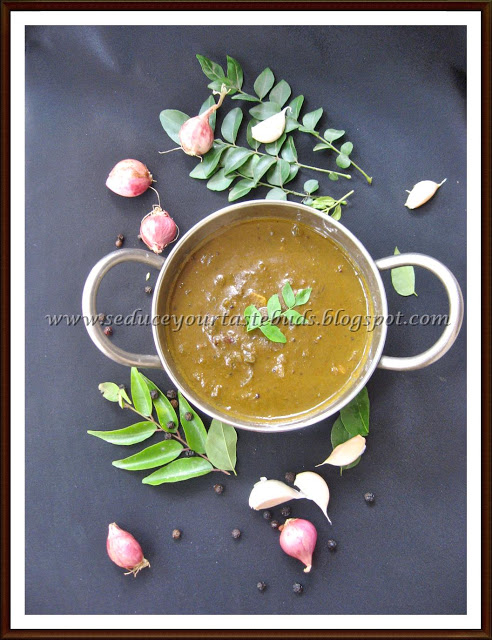 I used:
Adapted from Rak's Kitchen
Curry leaves- 1/2 cup packed
Tamarind -a large gooseberry size soaked in 1/2 cup hot water
Sambar powder- 1 teaspoon
Pepper powder- 1/2 teaspoon
Shallots- 5,chopped
Garlic-5 pods, chopped
Turmeric powder- a large pinch
Jaggery- 1 teaspoon
Mustard- 1 teaspoon
Chana dal-2 teaspoons
Cumin seeds- 1/2 teaspoon
Fenugreek seeds-1/4 teaspoon
Gingelly / sesame seed oil -2 teaspoons
Salt to taste
Wash the curry leaves and grind to a smooth paste adding very little water.
Extract the juice from tamarind. Add more water if needed.Strain and keep aside.
Heat oil in a pan and add mustard, cumin, chana dal, fenugreek seeds .Went he mustard pops, add onion and garlic and saute till onion turns light brown.
Now add the ground curry leaves paste, tamarind extract, sambar powder, turmeric powder and salt. Bring to boil.
If the mixture is too thick,add a little water.
Let it simmer till oil floats on top.Add jaggery, pepper powder check for taste. If it is too tart, add a little more,else remove from heat and transfer to a serving dish.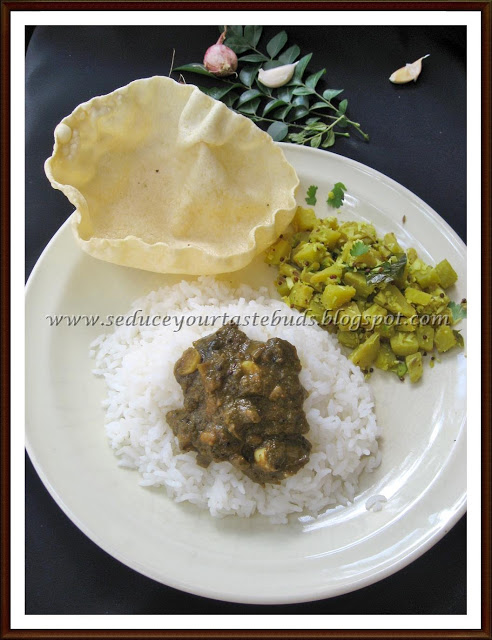 Note:
The tamarind that I use was very tart so used less. Since this gravy has to slightly tart, adjust the tamarind accordingly.
This tastes best when prepared with gingelly / sesame seed oil. If it is not available use sunflower oil/rice bran oil.Coconut oil is not suitable for this dish.
The jaggery is added to cut down the tartness.So taste and add as needed.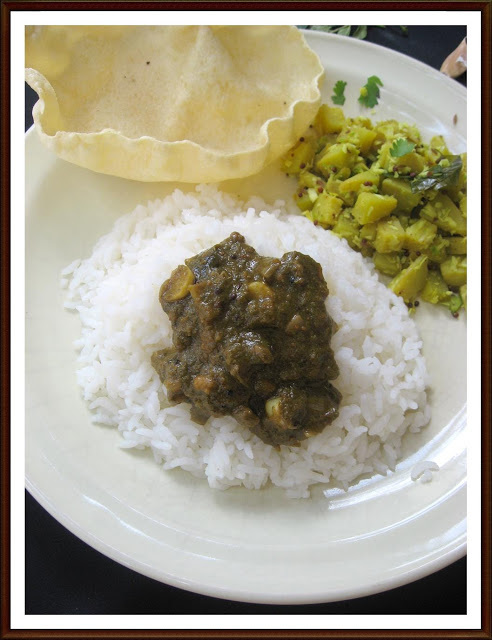 Check out the Blogging Marathon page for the other Blogging Marathoners doing BM#50
Bon Appetit….