This is a different kind of cookbook.The author, Ratna Rajaiah, is a popular blogger and columnist for several leading newspapers.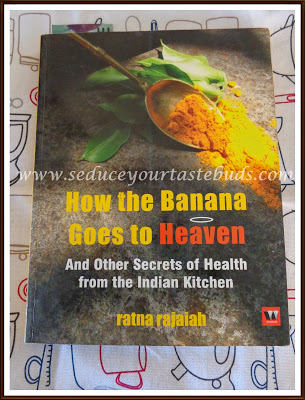 The book is not just about recipes or cooking.It speaks of the author's walk down the memory lane that is redolent with the aromas from her mother's and grandmother's kitchen!
The book starts with preface and a prologue
Rice
Ragi
Carbohydrate-Simple take on carbohydrate issue
Pigeon pea
Bengal gram
Mung
Urad dal
Proteins – The complete picture
Potato
Arvi
Fenugreek
Brinjal
White pumpkin
Vitamins – Pluck yourself some health
Chilies
Curry leaves
Mustard
Turmeric and ginger
Antioxidants- color me healthy
Mango
Jackfruit
Jamun
Minerals – Tom thumb of nutrition
Banana
Coconut
Fats – The good, bad and not so ugly
Ghee
Peanuts
Jaggery
Curd
Bibliography
Each chapter talks about the ingredients, its history / use in ancient times,medicinal virtues,What's in the name column-gives the name of the ingredient in various languages.Then comes the recipes for each category.
What I liked about the book are the small anecdotes in small boxes that makes an interesting read – like how rice was used[in ancient times] to find a culprit / how eating chilies in summer actually cools the body etc.
And then you get to read about the nutritional and health benefits of the food stuffs.
I also liked how the chapters are named – Arvi – Natures raincoat / Chilies -Good Li'l demons etc..
The recipes are quite simple and easy to make as well.
The narration is very engaging by the end of each chapter we can pick up quite a few facts on food.
The only flip side for me is the lack of pics of the dish. There are very few photos and they are those of the ingredients,except for the close up of curd rice.But this is not a cook book so I think we can set aside the lack of pics.
This book is a good read if you are looking for something more than just recipes.In other words, if you want to read something culinary related, then this is a good one…
This is my third book for Foodies Read 2015 Challenge where I have signed up for theChef de Cuisine which is 14-18 books to be read and reviewed by the end of this year….
Happy Browsing….