As soon as I decided to make Tortilla Chips,I made up my mind to do a cheese dip and more than one salsa recipe . I did make a cheese dip but I got around to making only 4 salsas.
What looked like simple dishes turned out to be so time consuming and with the kids around on the weekend and the endless house chore, the task felt so tiring!!
But when I saw how much the kids were enjoying the salsas and the chip, I felt it was totally worth the effort…
Salsa is a Spanish term for sauce and to particularly used as dips. Most of them are tomato based but now there are so many varieties of salsas.
The blending of salsas was traditionally done using motor and pestle but nowadays with the advent of gadgets, blenders are being used.
Here are the salsas that I made for this marathon and along with it I have added a few more from the past.
Click on the name to take you to the recipe….
1.Pineapple salsa – A delicious blend of pineapple,onion, tomato, coriander leaves and red chili powder,lemon juice to balance the sweetness.
2.Watermelon salsa – A refreshing blend of watermelon,capsicum,green chilies,onion, lemon juice,pepper powder.
3.Corn Salsa – Steamed corn,tomato, onion, bell pepper,green chili, a hint of sugar, salt, lemon juice all mixed together makes it one delicious salsa!!!
4.Blender Tomato salsa – A simple dip made by blending together tomatoes, onion, garlic, green chilies,lemon juice and coriander leaves..
Here are some more salsa from the past….
5. Pico de Gallo – A simple dish of tomatoes,onion,green chillies, lemon juice garnished with coriander leaves.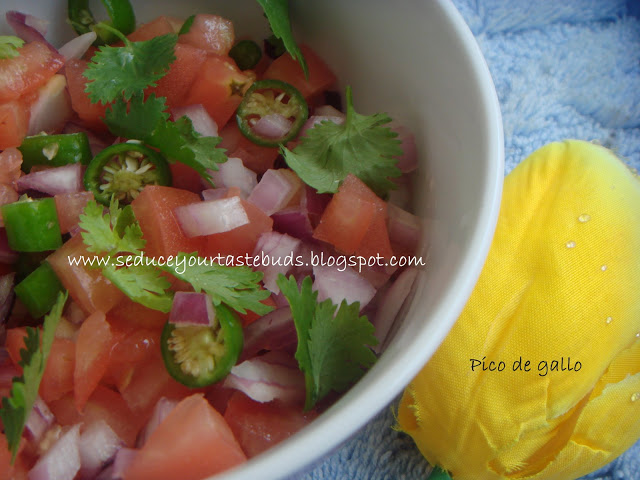 6.Pineapple Salsa with a twist – An Indian twist to the pineapple salsa with the addition of Kasuri methi / dried fenugreek leaves and garnished with purple colored radish.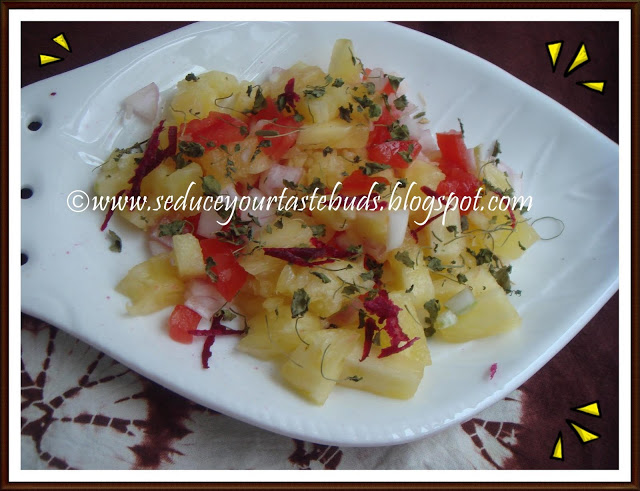 7.Kiwi Salsa – A tasty treat with kiwi fruit, cucumber along with tomato, onion,green chilies and lemon juice.
Take a look at all that was served so far on The Buffet On Table…
Check out the Blogging Marathon page for the other Blogging Marathoners doing BM# 56
Bon Appetit…