When I decided to make chur chur parathas,I wanted a side dish that was unique to Delhi cuisine / one that was usually served with these parathas. Vaishlai suggested this simple curry and even sent me the recipe.
I must agree that it is one of the simplest potato side dish ever yet went along so well with the parathas…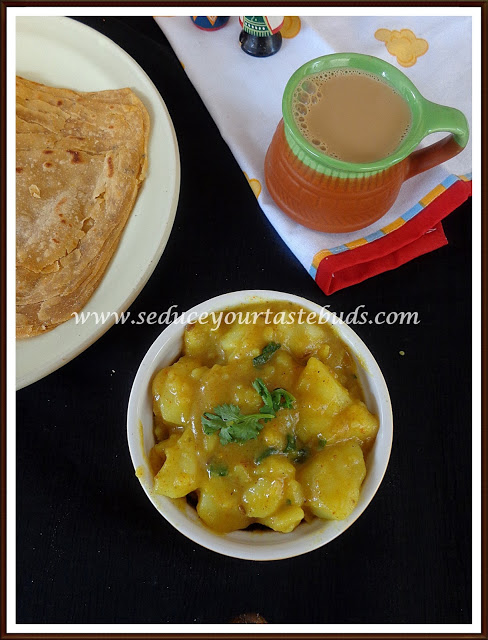 I used:
Boiled, peeled and cubed potatoes- 2
Cumin seeds- 1 teaspoon
Asafoetida powder- a large pinch
Coriander powder- 1 teaspoon
Turmeric powder – a pinch
Chili powder- 1 teaspoon
Salt to taste
A hangful of coriander leaves
Ghee- 1 teaspoon
Heat ghee in a pan and add cumin seeds and asfoetida powder.

When the cumin crackles , add the cubed potato and the spice powders,salt. Add 1/2 cup water.

When the mixture come to a boil, lightly mash the potatoes and simmer for a few minutes.If the mixture is too dry, add a little more water but not too much. Just before taking off the flame , add chopped coriander leaves reserving some for garnishing.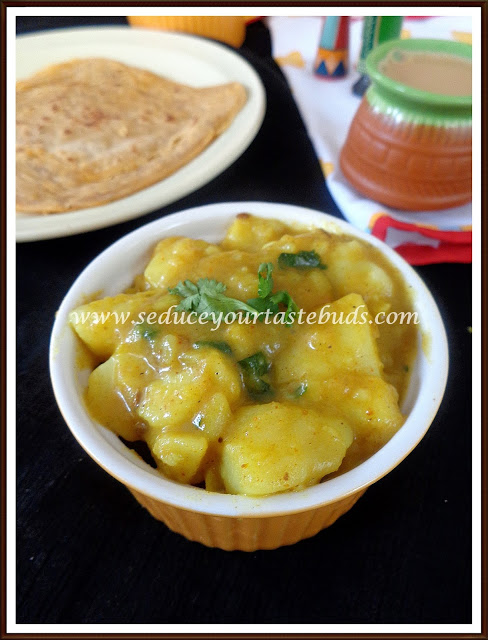 Take a look at all that was served so far on The Buffet On Table…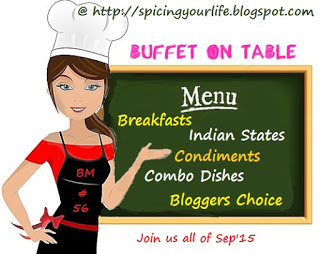 Check out the Blogging Marathon page for the other Blogging Marathoners doing BM# 56
Bon Appetit…