It is like we just finished Buffet on the Table, and now here we are on
the 57th Edition of Blogging Marathon!This month we are back to 3 posts a
week schedule and I have chosen some simple themes this time.
For the first week , I have taken up 'Desserts'. And this is one of those desserts that can be put together very quickly .
Mom made this sometime back and like a dutiful blogger, clicked the pics and enjoyed the kheer.
I am not usually fond of this Sago payasam / Kheer. But somewhere down the road my preferences changed and I was actually looking forward to tasting this one when mom made it! Guess I am growing up!!!
Whenever this dessert is mentioned or served a certain story comes to mind.When I was a kid, I have heard this story plenty of time and it goes like this..
There was once a family of sparrows who lived beside a pond.One day the mother sparrow made this sago kheer at home for its baby. The kheer was very hot and the mother sparrow keeps it aside to cool. She instructs the baby bird not to touch it.She rushes off to the nearby shop to buy some stuffs .


Meanwhile the baby sparrow gets very impatient and wants to taste the kheer.It opens the lid of the vessel and tries to taste the kheer. The hot kheer scalds the tender tongue. The baby is very angry and pushes the vessel away. The vessels falls into the pond and disappears.One can imagine what would have happened when the mother sparrow came back home!
This story is one of those that has a moral at the end to tell the kids and this one is about being patient..
So when mom was making this one at home, I told this story to the kids and asked them to be patient till it gets done and cools down enough to taste…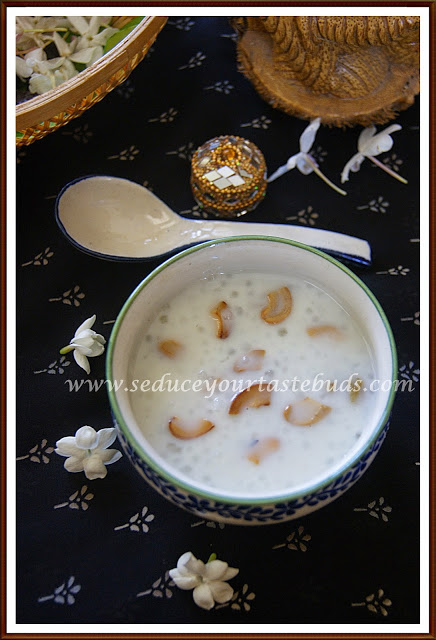 You need:
Sago -1/4 cup
Milk-2 or more cups
Sugar-2/3 cup [adjust to taste
Elachi powder- 1 pinch[optional]
Cashews and raisins fried in ghee- a few
Soak the sago in water for at least an hour.
Rinse out the water and add a cup of water and pressure cook for 2 whistles or till done.The time will vary depending on the quality and size of the sago pearls.
Heat milk and sugar in a pan.
When it comes to a rolling boil, add the cooked and drained sago pearls and simmer till it thickens a bit.
Add more milk if needed.
Sprinkle cardamom powder and serve garnished with ghee roasted cashews and raisins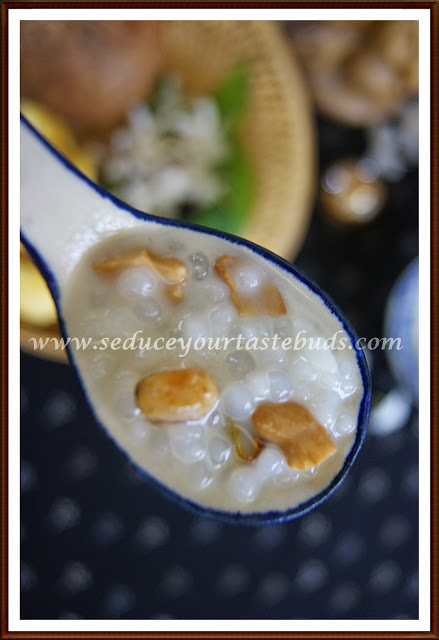 Note:
You can add a few teaspoons of condensed milk towards the end to get a more flavorful kheer. Reduce the sugar a little.
The sago can also be cooked on the stove top.But it will take a longer time to get done.
Tastes best when served chilled.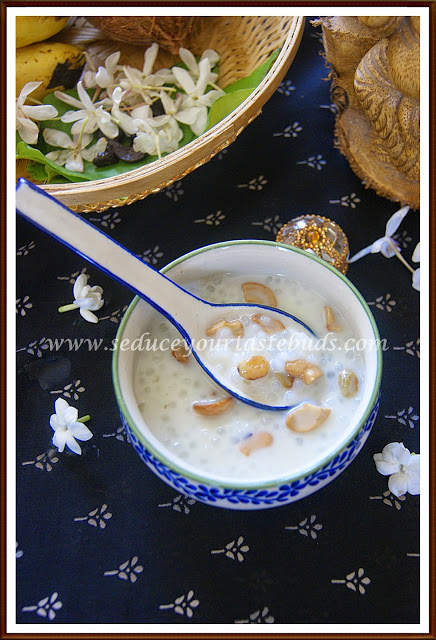 This day That Year…
2014 – Paneer Lababdar
2013 – Eggless tutti frutti Vanilla cake
2012 – Oats Vegetable Sandwich
2011 – Sago Mixture
Check out the Blogging Marathon page for the other Blogging Marathoners doing BM#57
Bon Appetit…