I am going to start today's post with a picture of what I packed for the kids today…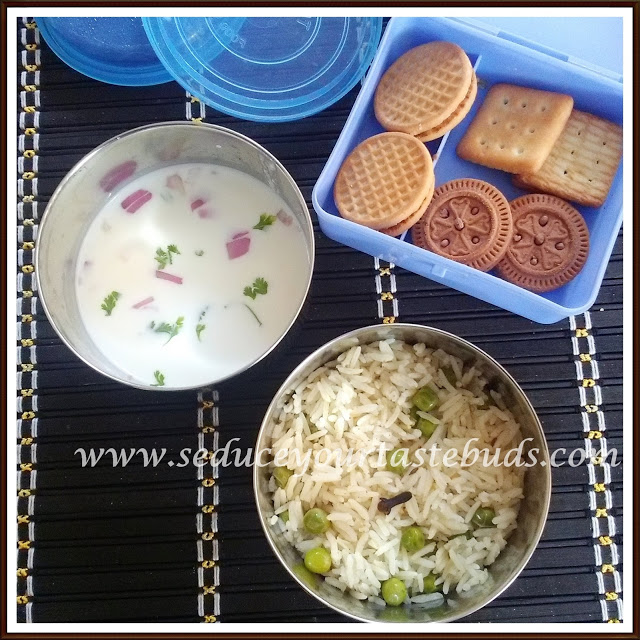 Lil Angel loves to have rice dishes for lunch and Lil Dude prefers Chapati / Idli in his lunch box. So when it comes to me packing the boxes for them, I have to take into consideration both their tastes and prepare and pack so that the boxes come back empty.
Most of the times,it is different items for each one's box,but at times I prepare something neutral so that both don't complain.
Well, this being the story of the lunch boxes, you are still not aware of how much time I have to prepare the dish.All I have is an hour or an hour and a quarter to get things done. Mom always says, life would be a lot easier if I got up an hour earlier than I usually do. But that never seems to happen. I hit the snooze button several times before finally realizing life would have certainly been better if I had got out of bed as soon as the alarm sounded!!
So this being the scenario, I rush through the morning chores of cooking ,packing and getting the kids ready for school within a short span of an hour ,sometimes an hour and a half.After everyone has left, the house, especially the kitchen,looks like a tornado just passed through!!
Anyway,I hope one day I will come to my senses and wake up early and get around the chores in a more calm and relaxed manner.But until then, dishes like this one surely saves my day.
This click [below] was taken last week when the kiddo wanted pulao.Both are the same dish but with slight variations. I have written them down in the comments section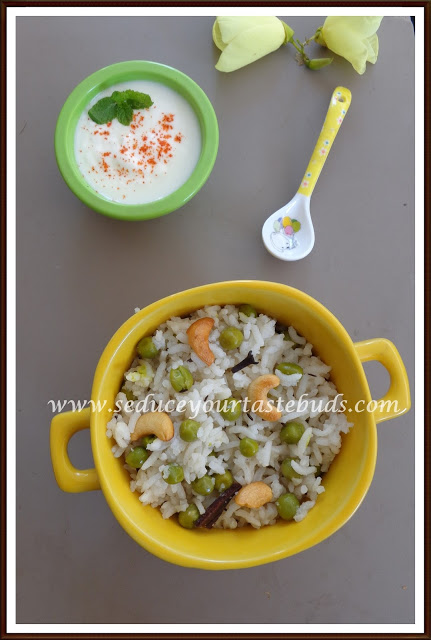 I used:
Basmati rice – 1 cup
Water- 1 cup[or the quantity you usually use to cook your brand regular brand of rice]
Green peas- 1/2 cup
Cloves- 2
Cinnamon stick-a small piece
Shah jeera- 1/2 teaspoon
Cashew-8
Ghee -1 tablespoon
Salt to taste
Wash and drain basmati rice. Keep aside.
Heat ghee in a pressure cooker and add the cashews and fry till golden.Drain and keep aside.

There will be ghee remaining in the cooker.To it add the cloves , cinnamon and shah jeera and saute for a few seconds. Next add the washed and drained rice and saute for a minute.

Add water ,salt and peas.

Cover and pressure cook for 2-3 whistles / 8- 10 minutes / till done. Once the pressure releases, open the cooker.GEntly fluff up the rice with a fork.Serve topped with fried cashews.

Serve with raita / chips….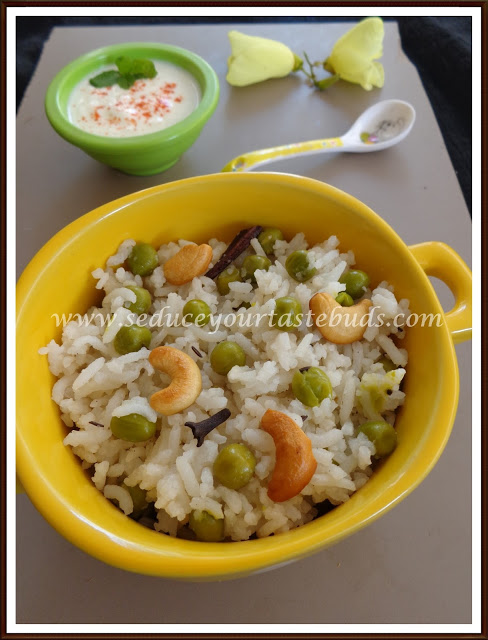 Note:
Regular rice / basmati rice can be used.
Sometimes, I saute finely chopped onion and garlic in ghee before adding rice.
Whole spices- cinnamon and cloves can be omitted and pulao masala can be used instead.
Fried cashews are optional.
Coconut milk can be used of water to cook the rice.
I have tried all the above variations and each one was different in a small way and all these were approved by Lil Angel and the lunch box always came back empty.
This simple dish and very apt for the theme – Quick
dishes[those main dishes that can be cooked under 30 minutes], which is
the theme that I have taken to showcase this week in Blogging Marathon
#62, Week 1.
Check out the Blogging Marathon page for the other Blogging Marathoners doing BM#62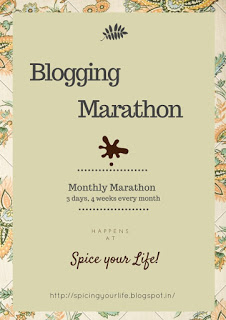 Bon Appetit….