If you have just arrived here, this post is for the Journey Through The Cuisines,an A-Z recipe post through the cuisine of Karnataka.And if you here to see what I have cooked for the letter I, then I present you a tasty side for steamed rice that mom makes.
Gojju is a tangy stew that is served with steamed rice.It can be compared to the Vathakuzhambu of the tamil cuisine but they are not the same. Fresh / sundried vegetables are simmered in tamarind extract and then a spice mix is added for flavor and to thicken the stew. Fianally a bit of jaggery is added to balance the tartness.
Irulli is Onion in Kannada and for me, it was the dish name that I had to make for the letter as I could not find a suitable dish starting with I.Vegetables like ladies finger, brinjal, drumstick,sundried veggies,bittergourd, etc are used and though
onions are not a part of the Madhwa cuisine mom makes this often for Lil
Angel who loved gojju.
Once again I got this recipe from mom and prepared it at home.Lil Angel tasted it and found it similar to what my mom prepares. As for me, I felt mom's is way more tastier than mine!!!
Generally the best side for rice and gojju is grilled / fire roasted pappad. So presenting to you the hearty and favorite meal of ours…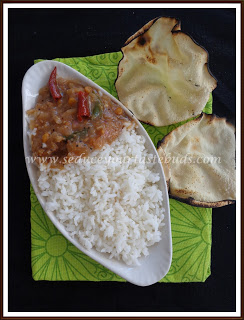 I used:
Irulli/ Onion-1 large, finely chopped
Hunisay hannu / Tamarind- lemon sized ball
Ingu / Asafoetida – a pinch
Sasve / mustard seeds- 1/2 teaspoons
Odadha udin bele / Split white urad dal- 1 teaspoon
Kadalebele / Chana dal-1 teaspoon
Menthya / Fenugreek seeds- a few
Karibevu / Curry leaves- a few
Ona Menisinkaye / Red chilies- 2 broken
Hasi Menisinkaye / Green chilies- 1 slit
Bella / Jaggery- 1 teaspoon
Uppu / Salt to taste
Ollenne / Ellina Enne / Gingelly oil – 2 tablespoons
For the gojju pudi / Spice mix
Roast with a little oil and grind to a fine powder
Odadha udin bele / Split white urad dal- 3 teaspoons
Kadalebele / Chana dal-3 teaspoons
Menisu / Peppercorns – 1/4 teaspoon
Ona Menisinkaye / Red chilies- 2 broken
Ingu / Asafoetida – a pinch
Soak the tamarind in 1 cup of hot water and after 10-15 minutes, squeeze out the extract and filter it. Keep aside.

Heat oil in a pan and add the mustard,fenugreek seeds, urad dal and channa dal. When the mustard pops and dal turns light brown, add curry leaves, red chilies,green chili and asafoetida powder.
Put in the onion and saute till light brown. Add the tamarind extract and bring to a boil.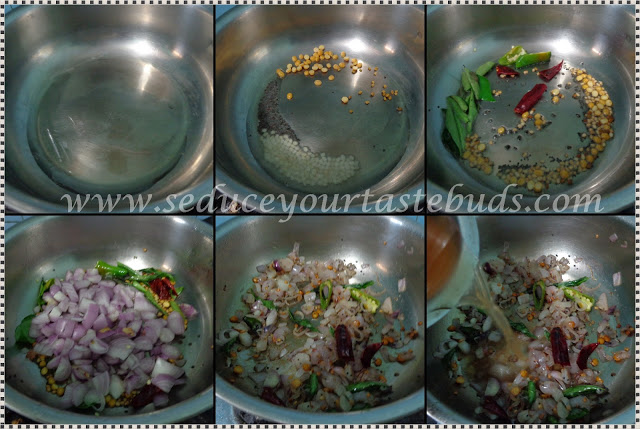 Add salt and check the taste. IF it is too tart, add some water and let it boil till the raw smell of the tamarind goes off and the mixture thickens a bit.Add 2-3 teaspoons of the spice mix and check the taste. If need be, add more of the powder. Now let the mixture simmer.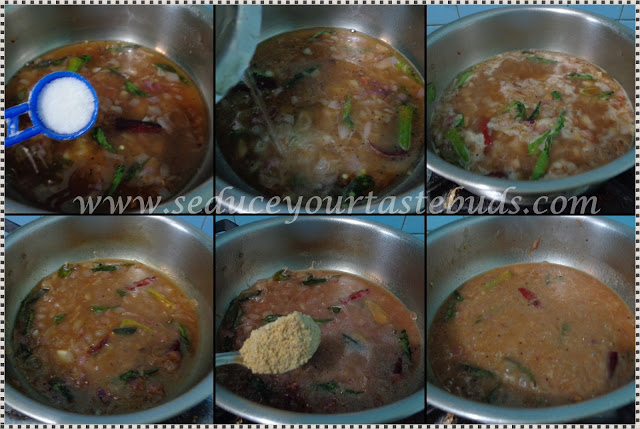 The gojju will thicken further. Add jaggery and mix. Remove from heat and serve.

Serve along with steamed rice and fire roasted pappad.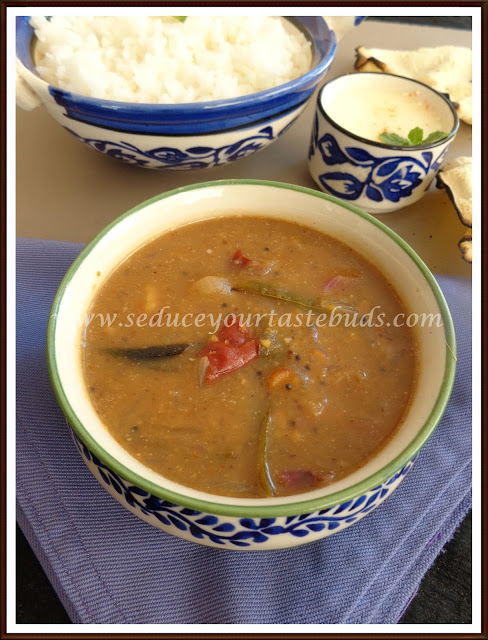 Note:
Gingelly / sesame oil is best suited for this dish. If not available use a neutral oil like sunflower oil.
Add the spice mix according to the taste. Store the remaining powder in an air tight container.
The jaggery must just balance the tasrtness and should not make the dish sweet. Gooju is meant to be a bit sour in taste.
Adjust the chilies in the curry and spice mix to suit your taste.This one was just mildly spiced.
Mom adds a green chili for the flavor and aroma it imparts to the dish.
This post also goes to the A-Z Challenge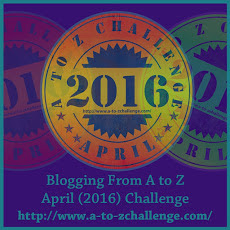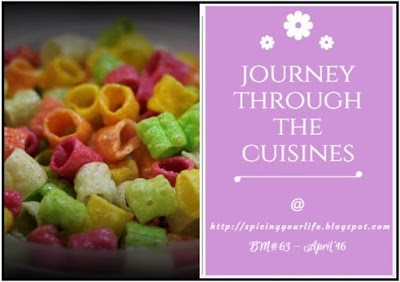 Check out the Blogging Marathon page for the other Blogging Marathoners doing BM# 63