Majjige Huli[pronounced Majjigay Huli] is yet another simple dish from our cuisine. Maajige is buttermilk and it is cooked with a little seasoning and a paste of spices and coconut. Vegetables like ladies finger, carrot, potato,drumstick etc. Like the other dishes from the MAdhwa cuisine, this one too does not use onion and garlic. Tomato is also not used here.
This is a dish that can be made when we are out of vegetables. Just make some lentil balls and cook then in the gravy! A delicious and filling meal is ready!
Majjige huli is the general name of the dish and it can be bendekaye[ladies finger] majjige huli or carrot majjige huli depending on the vegetable being used. Here I have used lentil dumpling and it is called Unde[unn-day]majjige huli.
Other dishes starting with M from my blog…
Mysore masala dosa
Maddhur Vaday
Mangalore buns
MTR style Idli Pudi
Mandakki Usli
Mysore rasam
Managolre Goli Baji
Since I have a lot of dishes that start with M from the Karnataka
cuisine, I am posting this as Maaji huli instead of posting it as Unde Majji huli.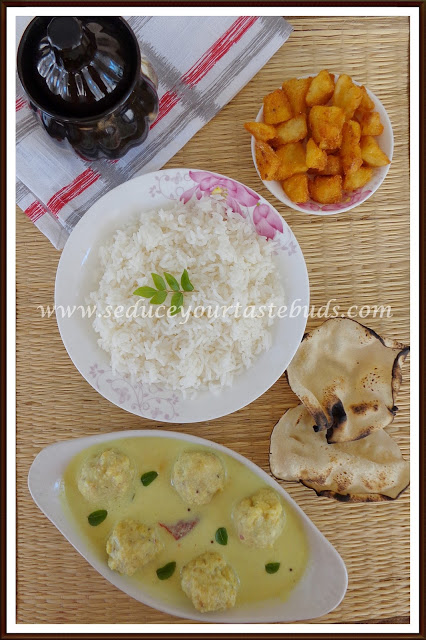 This too is mom's recipe.Never have I been so interested in getting the recipes noted and preparing them at home. I mean, I do note down mom's version but for this Mega Marathon – Journey Through The Cuisines,where I am doing an A-Z recipe post through the cuisine of Karnataka, I have been preparing all the dishes that I have noted down from her and followed them to the T! This also happens to be dad's favorite meal 🙂
So here is how we make this dish…
I used:
For the paste
Kadalebele / Channa dal – 2 tabelspoons
Thengin Thuri / grated coconut- 1/8 cup
Jeerige / cumin seeds- 1 teaspoon
Menasu/ peppercorns- 10 numbers
Hasi menasinakaye / Green chilies- 2,small
Sonti / Ginger – 1″ piece
Soak the channa dal for 30 minutes and drain it. Get all the ingredients for the paste together and grind to a fine paste adding a little water. The paste should not be too watery.Keep aside.


For the Unde / Lentil dumplings
Thogiri Bele / Toor dal- 1/4 cup
Kadalebele / Channa dal – 2 tablespoons
Hesarubele / Moong dal – 2 tablespoons
Ona menisinakaye /Red chilies- 2
Soak everything for 30 minutes .Drain well and grind to a semi smooth paste adding very little water. Remove onto a vessel.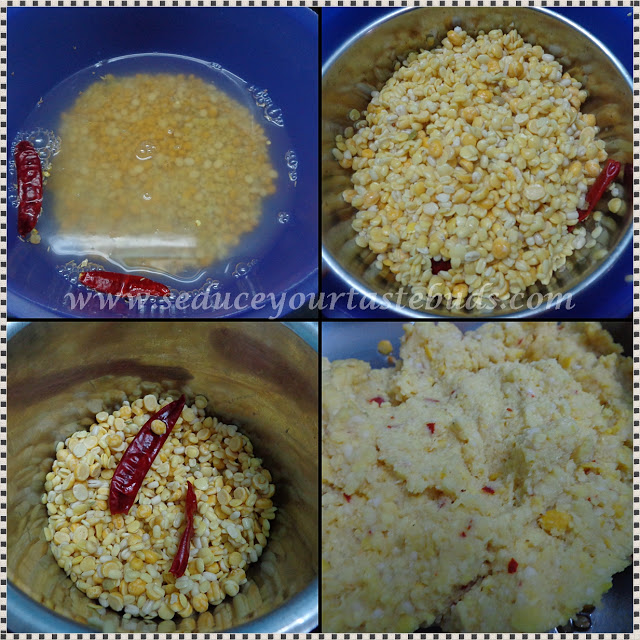 For seasoning the dumplings
Sasve / mustard seeds- 1/2 teaspoons
Odadha udin bele / Split white urad dal- 1 teaspoon
Kadalebele / Chana dal-1 teaspoon
Thengin thuri / Coconut- 1 tablespoon
Ingu / Asafoetida – a pinch
Uppu / Salt to taste
Yenay / Oil- 1 teaspoon
Heat oil in a pan and add the mustard, urad dal and channa dal. Add the ground paste from above, asafoetida,salt and grated coconut.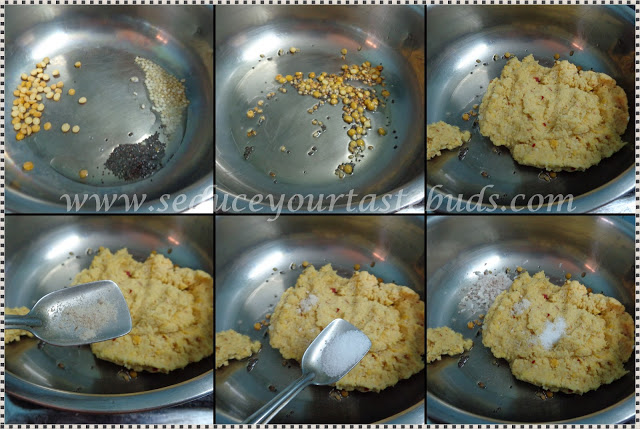 Cook on low heat for 5 minutes and remove the pan from the heat and let the mixture cool down a bit.Make small balls and place them on a steamer. Steam cook for 10 minutes. If cooked for too long, the dumpling will lose the flavor and the texture gets bad.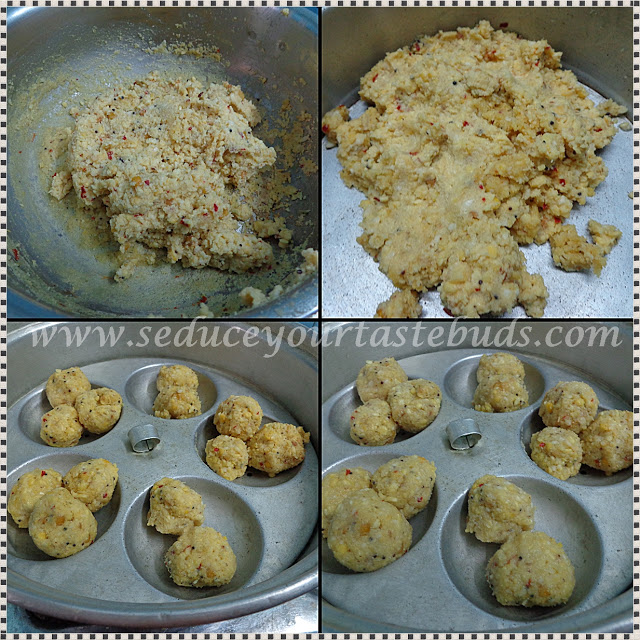 For the majjige huli:
Mosaru / yogurt – 1 cup
Neeru / Water – 1 cup
Arisina pudi / Turmeric powder- a pinch
Take the yogurt and water in a bowl and whisk well. Add turmeric and the coconut-spice paste from step 1.Whisk well and keep aside.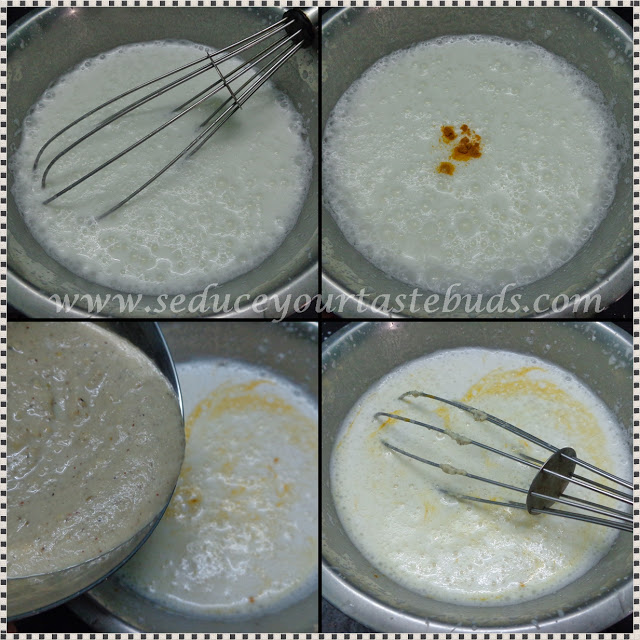 To make the gravy/ MajjigeHuli
Sasve / Mustard- 1/2 teaspoon
Menthya / Fenugreek seeds- 1/8 teaspoon
Karibevu/ curry leaves- a few
Ingu / Asafoetida – a pinch
Uppu / Salt- to taste
Heat oil in a pan and add mustard, fenugeek seeds.When the mustard splutters, add the curry leaves and the whisked yogurt.Put in asafoetida and salt. Add a little water if the mixture is thick.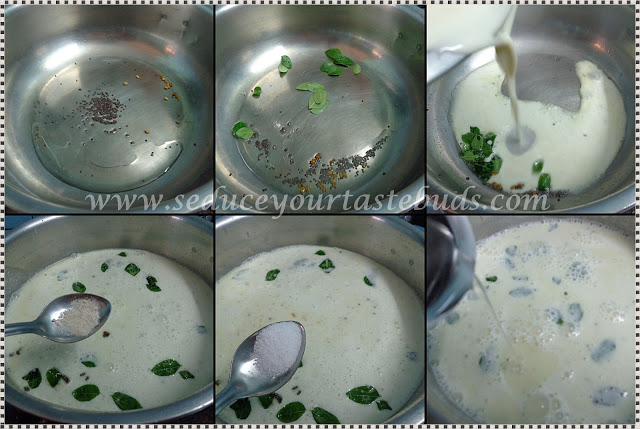 When it comes to a rolling boil, add the steamed dumplings and simmer for 10 minutes.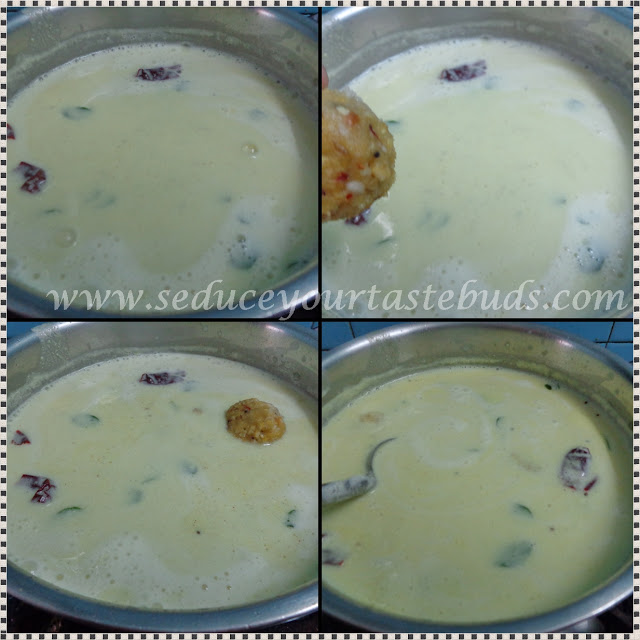 Remove from heat and serve with steamed rice.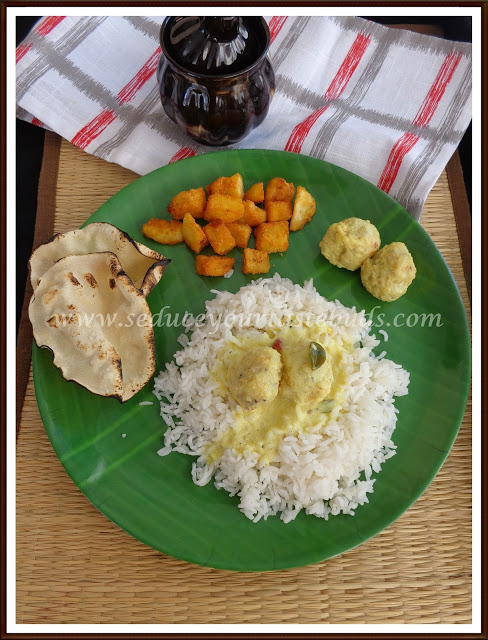 Note:
The dumplings tastes best if left in the gravy for a while, as it softens and absorbs the flavors. So if making it for lunch , prepare it in the morning and serve for lunch.
Be sure to whisk the yogurt well, else it will split/ curdle while cooking.
Make it on the watery side, it will thicken on standing.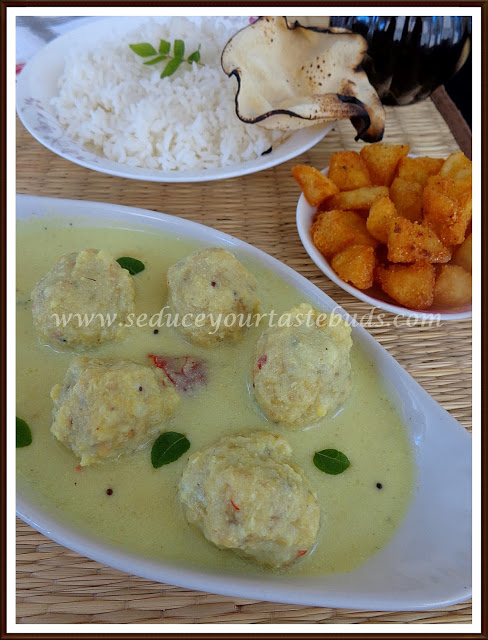 This post also goes to the A-Z Challenge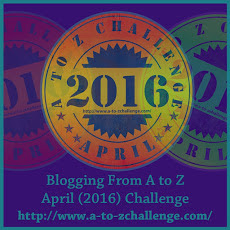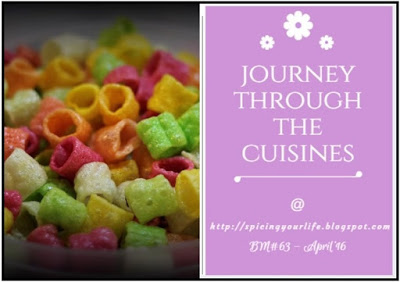 Check out the Blogging Marathon page for the other Blogging Marathoners doing BM# 63
<!–