We come to the end of the Journey Through The Cuisines,where I am doing an A-Z recipe posts through the cuisine of Karnataka. Like they say on Master Chef, this has really been an incredible journey through the dishes and I enjoyed cooking and writing about the dishes that are special to me and my family!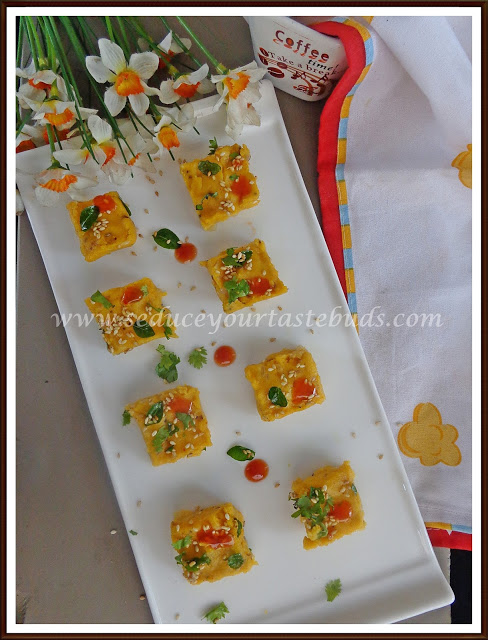 The last dish is this Zunka or Jhunka which is a popular one in North
Karnataka and also in Maharashtra. It is a besan / chickpea flour based
dish that forms a tasty snack.
I used:
Adapted from – Archana's Kitchen
Kadale hittu / Chickpea flour- 1 cup
Irulli / Onion-1 finely chopped
Belulli/ Garlic- 2 pearls, finely chopped
Sonti / Ginger- 1″ piece, finely chopped
Sasve / mustard- 1 teaspoon
Jeerige / Cumin seeds – 1 teaspoon
Menasinkaai Pudi / Red chili powder- 1/2 teaspoon
Arisin Pudi / Turmeric powder – a pinch
Ingu / Asafoetida powder- a large pinch
Sakkaray / Sugar-1/2 teaspoon
Nimbe hannu rasa / Lemon juice- 1 teaspoon
Uppu / Salt- to taste
Yennay / Oil- 2 tablespoons
Ogarnay / Seasoning
Ellu / Sesame seeds[white] -1 tablespoon
Karibevu / Curry leaves – a few
Kothamari Soppu / Coriander leaves- to garnish
Take the besan/ chickpea flour, turmeric, chili powder, salt, sugar and lemon juice in a bowl.Add water little by little to make a thick batter without lumps. Grease a square tray. I used 8X8 Baking tray.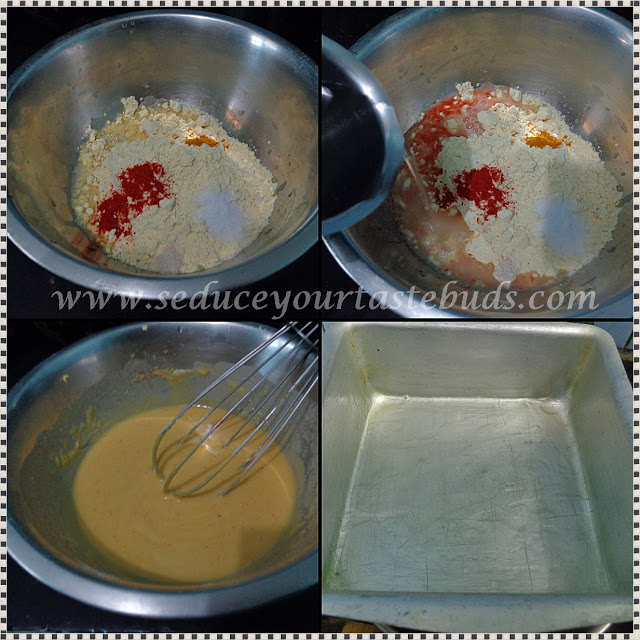 Heat oil in a pan and add the mustard and cumin. When the mustard pops, add the onion, garlic, ginger and saute till onion is soft.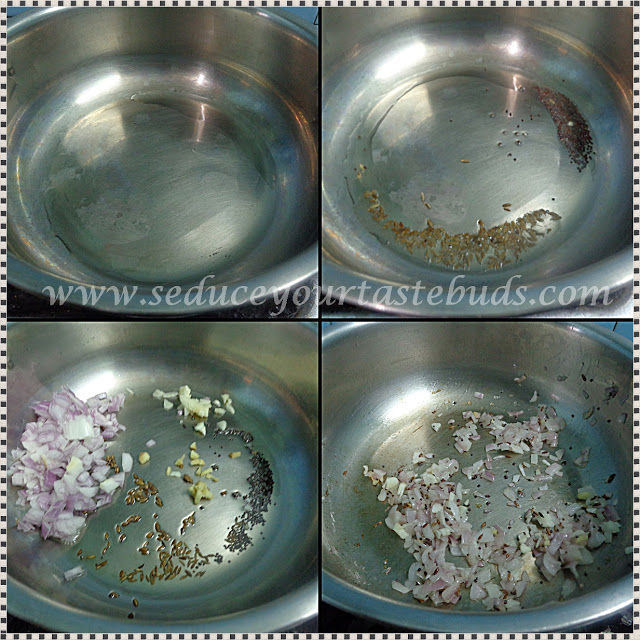 Pour in the batter and turn the flame to low. Keep stirring till it thickens and leaves the sides of the pan .By then the mixture will turn glossy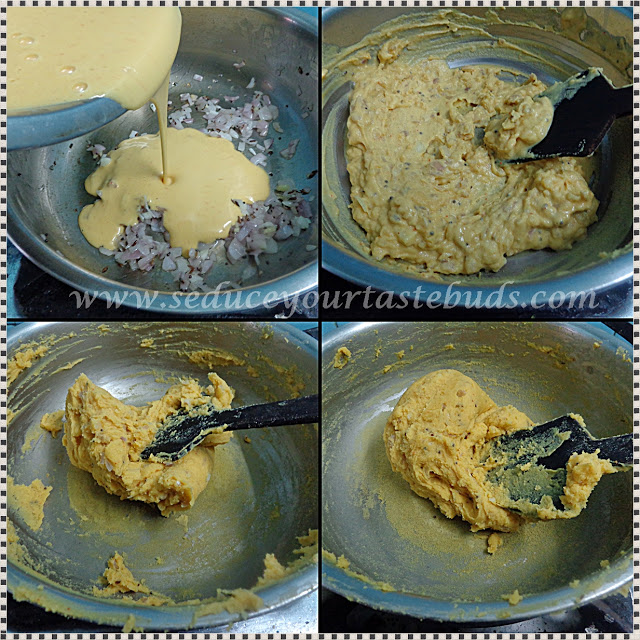 Immediately transfer it onto the greased pan and flatten it evenly. After 5 minutes mark squares with a greased knife.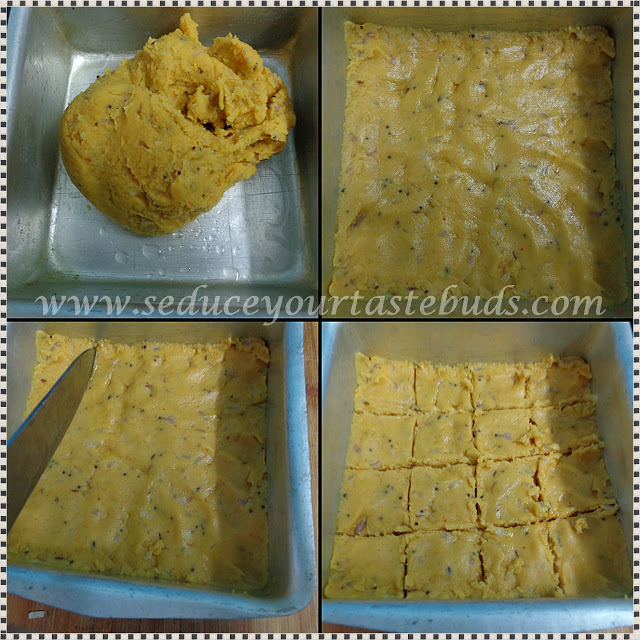 Heat a small pan with a teaspoon of oil and add sesame seeds and curry leaves.

When the sesame seeds sizzle, pour over the squares. Spread it out evenly and remove the squares from the pan

Serve as a snack garnished with coriander leaves.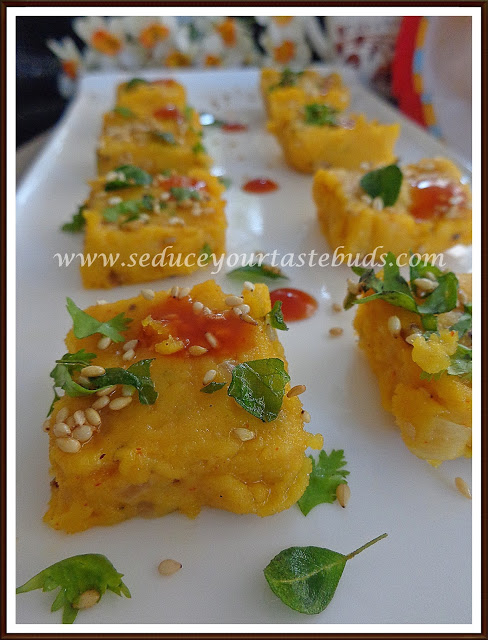 I toasted the Zunka vadi using a little oil on a hot griddle till
both the sides were brown and slightly crisp. We liked this version
better.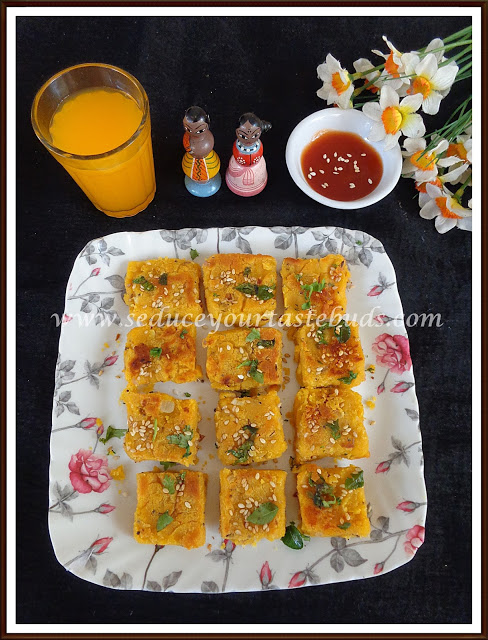 Note:
If the chickpea flour does not get cooked properly / throughly, it will smell and taste raw and be sticky. You will not be able to take out the squares out of the pan. In that case, remove from pan and cook for some more time adding an extra spoon of oil.
This post also goes to the A-Z Challenge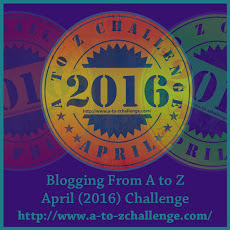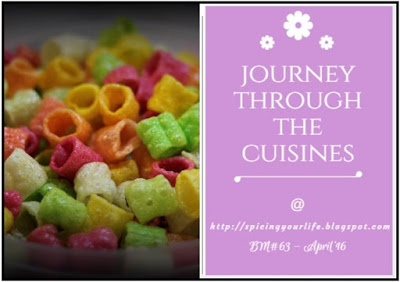 Check out the Blogging Marathon page for the other Blogging Marathoners doing BM# 63