Updated- May 2 / 2016
This post was actually written before we started the marathon and today I am posting this as the roundup for the mega marathon
Here is what I did in the month of April….
I cooked and wrote about the recipes from the Madhwa cuisine and a few dishes from Karnataka in the alphabetical order.This marathon is very special to me as I shared a lot of dishes that are unique to our cuisine and our family.
By far, this is the one marathon where I breezed through in cooking and clicking. I had a few in my drafts but there are days when I cooked an entire meal with 6 dishes and each one was posted for a day. Many of the dishes got done only after we started the marathon but I did not feel the stress or strain. It was altogether a very enjoyable experience.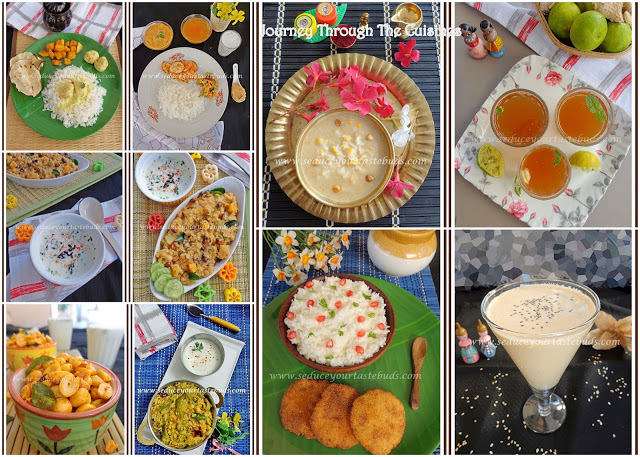 This is the intro I wrote before we began this marathon…
April is going to be a very busy month. The kids sit for the final exam in March and by the first week of April, the summer vacation starts. Keeping them entertained inside the house and taking care of their snacks and meals needs special attention this year as the summer is in full blast here with temperatures are soaring very high like never before!!
The kids being at home is only one part of the aforesaid 'busy'. The next part is because each year a few bloggers get together and take part in a food event called Mega Blogging Marathon .
Blogging Marathon is a monthly event spearheaded by Srivalli of Spice your Life
blog.Each month we take up themes and post 3 recipes per week. And in
April and September we run a month long Marathon,posting 26 recipes with
the Sundays off.
Each of these mega marathons come with a very interesting and challenging theme and it is something that we always look forward to.
The
planning and execution of the themes starts months ahead and by the
time we wrap up the Mega marathon posts, we feel satisfied, proud and attain an extreme sense of achievement laced with a little exhaustion!
For
these mega marathons we push our limits and strive to prepare something
that we normally hesitate to make. We usually refrain from making the
mundane dishes for the mega marathon and the themes get tougher and
interesting as the years go by. But this year, I have changed this notion!! Read on to know more..
So far in the mega marathons,, we did…
April 2013 – Weekly themes…
September 2013 – A-Z Marathon – Blogged dishes starting with A all the way through Z
April 2014- Indian food Odyssey– Showcased the cuisines of  Indian states
September  2014 –Around the world in 30 days – We traveled across the globe to create some culinary magic
April 2015 – Fire Up Your Oven – Month long baking marathon
September 2015 – Buffet on the table  where we took one theme for each week
This year, we are doing a theme called Journey Through The Cuisines…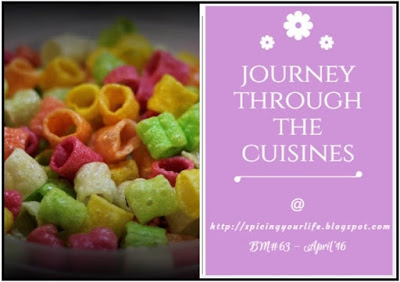 We are a group of 28 bloggers this time and each of us are interpreting this theme in different ways. The theme is that we take a region from a country and blog 26 recipes from it or take a region a week and cook dishes specific to that region.
I am going to take you through the Karnataka cuisine with a little emphasis on Madhwa cuisine.  Though I was born and brought up Tamil Nadu, I have an affinity to what was once the home town of my forefathers. My grandparents and parents still follow the traditional Madhwa cuisine and through this marathon, I want to add a few more dishes to my blog.
Let me explain…
Madhwas are a group of Kannada speaking brahmins hailing from South Karnataka.The Madhwa cuisine is also referred to as Udupi cuisine and has its origin in the holy town of Udupi which is the seat of Madhwa philosophy with Sri Madhwacharya as our Guru. Udupi is also famous for Sri Krishna Matha,a temple dedicated to Lord Krishna. It is one of the most important place of pilgrimage for the people following Madhwa philosophy .This place also happens to be the seat of Vedic learning.
Our cuisine is a vegetarian one and traditionally we refrain from using onion and garlic on all days.But nowadays, many of them have changed this practise.A variety of dishes are prepared with grains, legumes, fruits and vegetables.
A simple meal can comprise of just a couple of dishes and that can transform to as many as 10-15 dishes or more per meal during functions / festivals / poojas.
Just like any other sect, we too follow prayers and functions that are unique to our community,many of which I have already shared here in my blog.
What I am going to post now for this marathon will be in alphabetical order and  are mostly my family recipes . As with any dish / recipes, the ones that I post will have variations and is bound to differ from family to family.
Usually, for the mega marathons, I come out of my comfort zone and look for something different and new. But this time, I am going to showcase day to day recipes that are cooked at mom's place. For the alphabets  that already have a recipe from our cuisine on this blog, I am going to post something unique / special / common from the state of Karnataka.
Here is what has been cooking in my kitchen…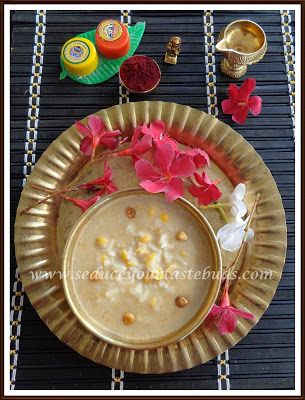 2.Balehannu Kosambari – A Sweet and savory Banana salad.
3.Congress Kadalekaye – An addictive and popular peanut snack
4. Dwadashi Gangi – A coconut milk-rice based porridge to break the fast.
 5. Ellu Juice – A superb summer cooler made with sesame seeds
6.Menthyadha Bajji – A tasty fenugreek seed chutney / dip
 7.Govardhanakaye Sandige – Sundried Cluster beans
8.Heeraykaye Thoovay – Ridgegourd in Dal
9.Irulli Gojju – Tangy Onion Stew




10.Jeerige Menasu Saaru – Cumin and Pepper Flavored Rasam / Soup


11.Kanchay Soppu Raita – Black Nightshade Leaves Raita
12. Lemon Paanaka – Lemon and Jaggery Flavored cooler
13.Majjige Huli – Buttermilk gravy[with lentil dumplings]
14.Neer Majjige – Spiced Buttermilk
15.Oggarnay Huli – Seasoned Dal




16.Punarpuli Saaru – Kokkum Rasam / Soup
17.Quinoa Bisi Bele Bhath – Karnataka's famous one pot meal made with a twist




18.Rava Vade– Semolina Fritters
19.Soppina Kootu – A Greens and Dal Medley
20. Tambli with Nelikaye – Gooseberry in Yogurt Sauce
21. Upperi – Chips
24 Xtra Special Belladha Rave Tiffin
25.Yeriappa – Sweet Dumplings


26.Zunka Vadi – A popular Snack from North Karnataka
Hope you enjoyed the dishes…