Poori and Masal is an eternal favorite in our household. The kids, especially Lil Dude loves poori and I can be sure to see an empty tiffin box if the lunch was Poori!!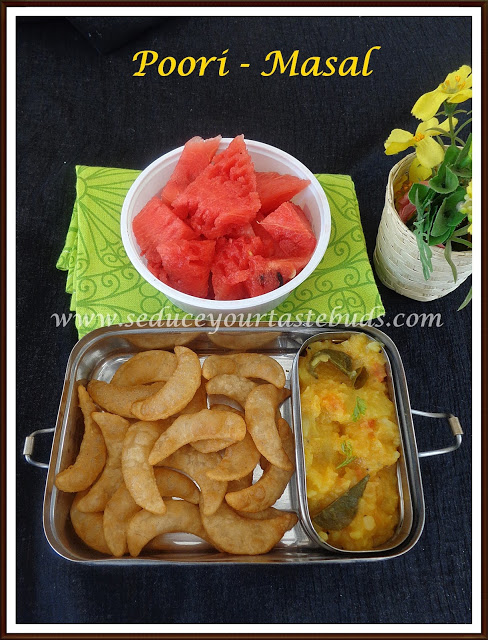 Poori and Potato Masal can be kept as such but I usually use a cookie cutter to give it different shapes so that the kids will enjoy eating them all the more.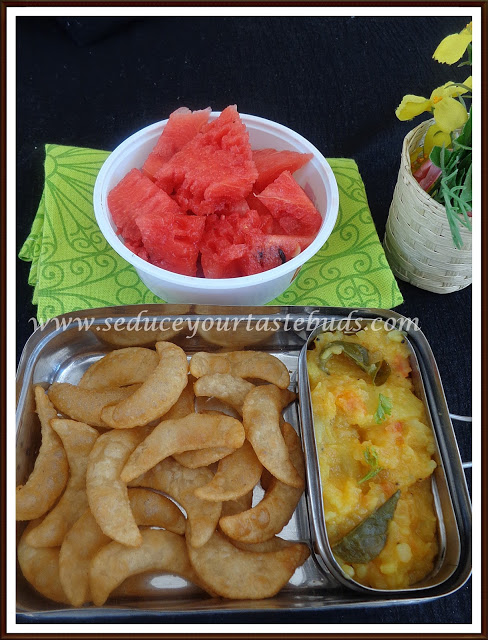 Apart from the regular poori, try out different varieties of Poori so that the lil ones don't get bored…
Pre-prep – things that can be made ahead[the night before] :
Prepare the dough and store in an air tight container in the fridge. Take it out of the fridge the first thing in the morning so that the dough softens.
For the potato masal – boil, peel and roughly mash the potatoes and store in the fridge.
Tips:
Encourage the kiddo to have the fruit during the break or before lunch.The nutrients in the fruits are best assimilated if had before a meal or at least an hour after the meal
Use different shapes of cookie cutters and also the kids favorite ones.This will surely bring a smile on their face as soon as they open the lunch box!
I make the potato masal a little thick in consistency that what I make when we eat it at home so that it does not spill over.
I have kept watermelon here, you can substitute it with any fruit the kid prefers.