The idea of making canapes was something I wanted to play around with for a while now. Canape is basically a bread / a pancake or any base, with a topping and a garnish. You can get creative and make so may varieties of this dish!!
But summer has been exceptionally hot here this year that working in the kitchen with a simple recipe idea looked stressful.Luckily,for a week now, we have been having regular showers and the temperature has come back to near normal. It is still summer yet bearable.
This morning, the kids slept in late as they it is their vacation time and I just let them wake up when they please. Just another week left and then the kids are back on their schedule.
So taking advantage of a quiet house, I make this party-pleaser for Recipe ReDux where the theme this month is –
Small Plates For Sunny Days
Small bites are perfect for trying many different tastes. Take
tapas style eating outside for al fresco dining or a simple picnic. Or
maybe you're serving small bites at a bridal or baby shower or a
graduation party. Show us your healthy take on small plates and finger
foods.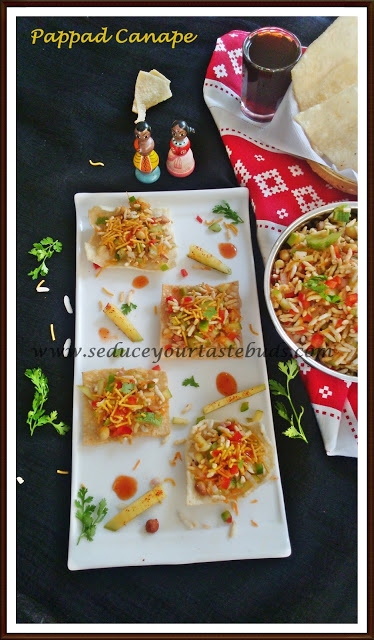 It is so easy to make and even more easier to assemble. All the stuffs can be pre-prepped and assembled just before serving. Actually it stays crisp for more than 15 minutes. It was the time taken for the photo shoot , a quick battery recharge and a few more shots. This was my breakfast today with Iced lemon tea.
A little about the ingredients used in this recipe…
Pappad also known as pappadam/ papad is a thin crisp disc made with urad dal flour. It may / maynot have spices and flavors/seasonings. It is fried or grilled and is served as an appetizer / along with lunch.
Puffed rice is made by roasting rice kernals in dry heat / use high pressure in the presence of steam to make it. The method varies though. It is a popular street food in India with each region have a number of recipes to make a dish out of it. It is also used to make a few chaat recipes.
Kaala namak literally means black salt with is found in the Himalayan region. It is a pungent condiment. The Crystals of kaala namak is dark in color / black and when ground to a powder is pink in color.
Chaat masala,a fine powder, is another flavorful mix of spices used in Indian Chaats.
Sev is a crispy vemicelli like snack that is prepared during festivals and used as a topping on Chaats.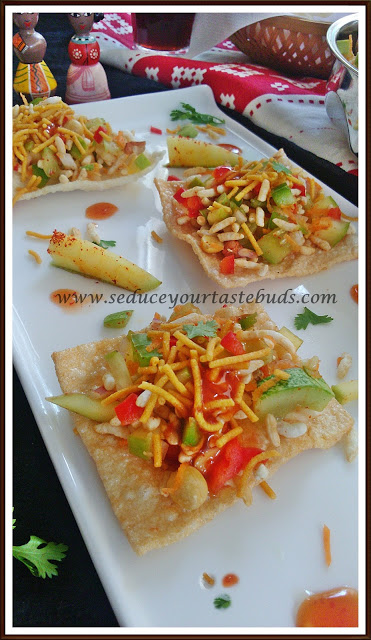 Now here is how to make this simple dish. I am not giving the
measurements as you can adjust the quantity based on your preferences.
I used:
Pappad- I used the square variety
Puffed rice
Colored capsicum – Red and Green
Onion
Cucumber
Raw mango
Carrot
Roasted Peanurs
Red chili powder
Chaat masala
Kaala Namak
Hot and Sweet sauce
Salt
Coriander leaves
Finely chop capsicum, onion, cucumber and raw mango.Grate carrot.
Deep fry / microwave the pappad and keep aside.Once cooled, store in an airtight container till needed.
In a bowl, take the chopped and grated vegetables, add peanuts, red chili powder, a little chaat masala and a large pinch of kaala namak, salt,puffed rice and mix well.
When ready to serve, place the pappad on a serving dish. Place a tablespoon or so of the puffed rice mixture.
Add a drop or two of hot and sweet sauce, a little sev and some coriander over it.
Take a bite…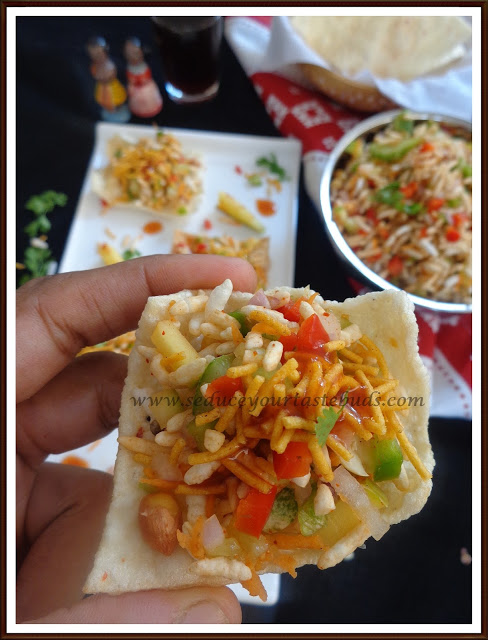 Note:
You can add / omit any vegetable from this list for variations. Roughly crumbled boiled potato, boiled corn, Boiled chickpea etc can be added to the mix.
Leave out the puffed rice and serve it like a salad on a pappad!
Instead of pappad, it can also be served on toasted bread / crackers of your choice.