Diabetes is becoming the major health concern all around the globe. Mainly so in India!! According to the International Diabetes Association, India has the largest population of Diabetics in the world,although in a recent study China is catching up with us!!
The reason for Diabetes becoming a common occurrence is the adaptation of a western style diet, thereby changing the food choices and food habits, sedentary life style and other life style changes.Around 62 million people are affected by Diabetes and 1 million Indian die due to this disease annually.
This being the scenario, more and more people are trying to change their life style and going back to the traditional foods.
Of late there are also products that come up in the market that aims in making the life of a Diabetic more healthy. One such product is Fortune Vivo Diabetes Care Oil.
I had been sent samples of this oil to try out and this is the snack that I made…..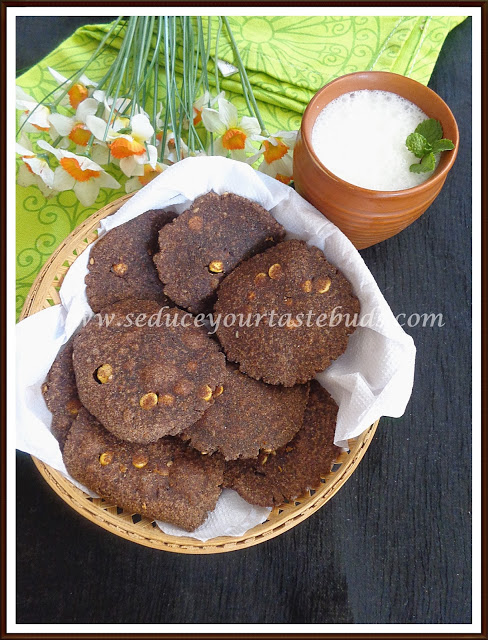 "I'm creating a dish using Fortune Vivo Diabetes-Care Oil for the #MakeIndiaDiabetesFree activity at BlogAdda."
I made this snack with finger millet flour / ragi flour.Being a diabetic does not ban one from having an occasional fried snack.
When taken in moderation and taking into account the calorie intake of
the day, fried snacks are permitted once in a while.
First a little about this oil…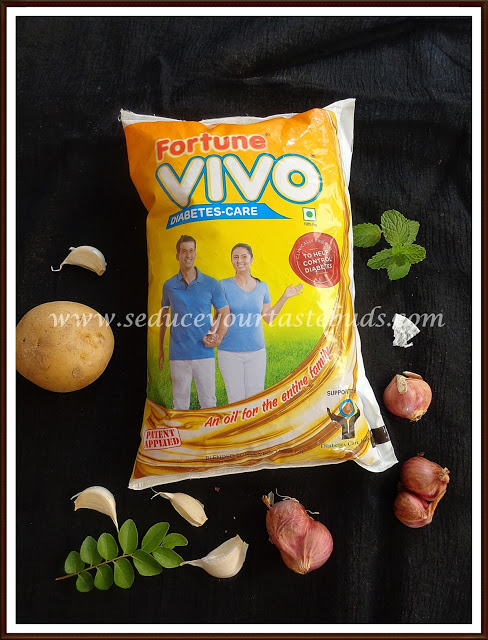 This oil is a blend of Refined Rice bran oil [80%] and Filtered Sesame oil [20%]
It is clinically proven to reduce Blood sugar levels and also provides the following health benefits…
Health benefits
It helps reduce high blood sugar level
Improves insulin sensitivity
Lowers high blood pressure
An oil for the entire family
Tips and Info printed on the back of the pouch…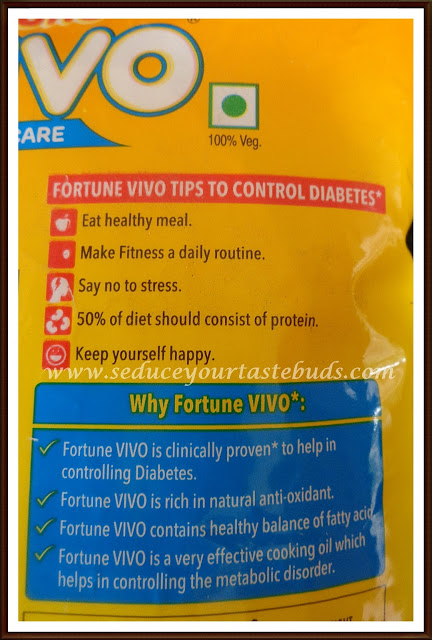 Nutritional Information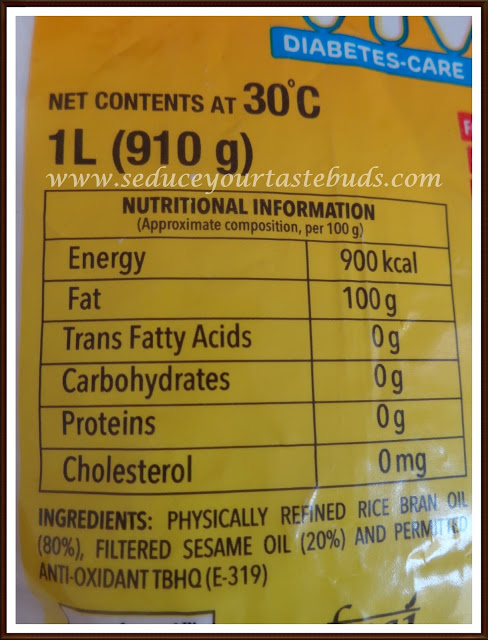 It comes in l L Pouch @ INR 135/- and 5 L Jerry Cans @ INR 675/-.
Since it is a blend of rice bran oil and sesame oil, it has a dark color. Also the oil has a faint smell of sesame oil.
I have tasted food preparations made exclusively with sesame oil and I find the taste a little different. The sesame oil taste sticks to the fried food stuffs and I am really not into that dish after it tastes like that.
So I was a little wary on how the dishes would taste and since I wanted to see its effect of fried food, I made this deep fried snack.
The thattai did not absorb oil and there was no trace of sesame oil taste in the dish. That is a big thumbs up from me. I also fried arbi in this oil and the kids found no difference in taste.
All in all, this oil is good not only for everyday meal but also to make fried snacks with and there is no difference / alteration in the taste of the dish.It is indeed the oil for the whole family.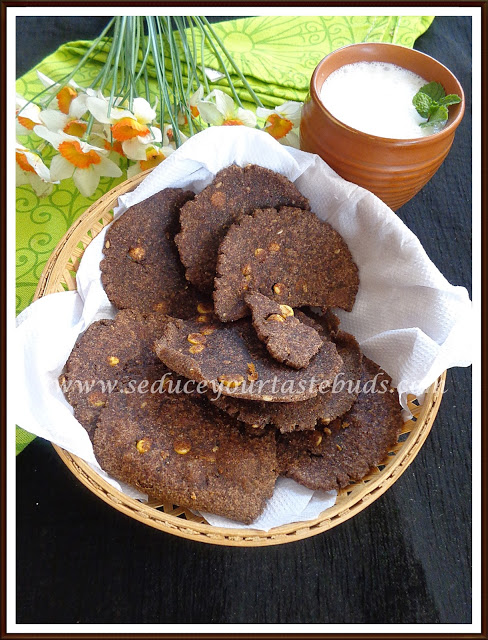 I used:
Ragi Flour- 1/2 cup
Urad dal flour – 2 tablespoons
Hot oil- 1 tablespoon
Red chili powder- 1 teaspoon
Channa dal – 2 teaspoons, soaked in warm water for 15 minutes and drained
Sesame seed- 1 teaspoon
Asafoetida powder- a pinch
Salt to taste
Fortune Vivo Diabetes Care Oil to deep fry
Take the ragi flour, urad dal flour, drained channa dal, salt, chili powder, sesame seed,asafoetida powder. Add hot oil and mix with a spoon first. Then add water little by little and knead to a dough . Don't add too much water at a time. A piece of dough must hold it shape when made into a ball and not crumble. If it crumples, add a little more water. If the dough is sticky add a little more flour.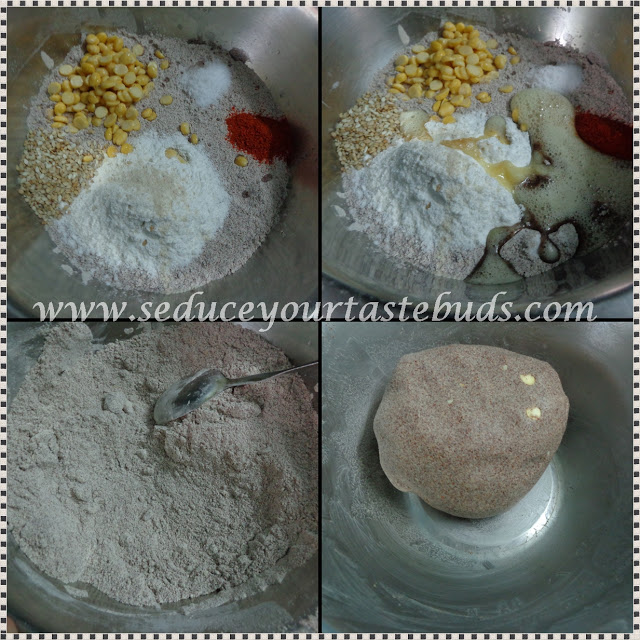 Heat oil in a pan . Take a small gooseberry sized ball of dough and place on a greased plastic sheet and pat into a circle of even thickness.Prick holes with a fork.Once the oil is hot, drop the disc into the oil and deep fry till it is crisp. Since the ragi is dark in color, to check for doneness, the oil will stop sizzling and you will be able to fell the crispness with the ladle used to swirl it around. Once done, remove with a slotted ladle and let it drain on a paper towel.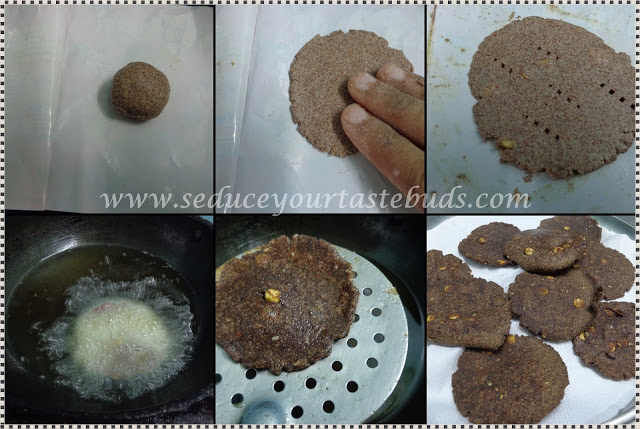 Serve as an evening snack with a drink of your choice.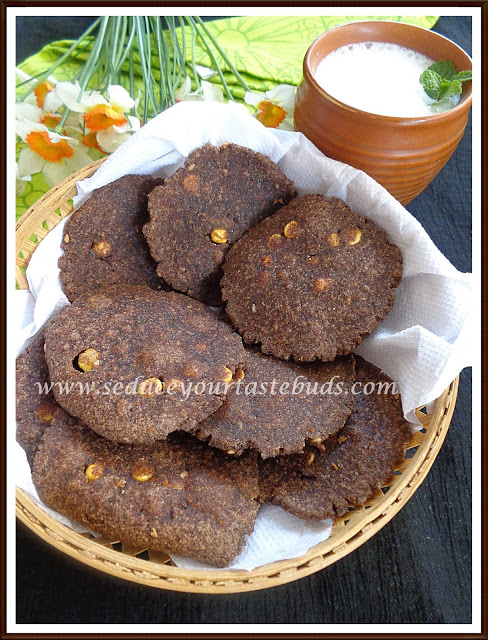 Note:
To add extra crispiness, add a teaspoon of roasted bengal gram flour along with the other ingredients.
Instead of hot oil, melted butter can also be added.
Bon Appetit…