This summer was so bad that we just could not tolerate the heat.I hated going into the kitchen and still worst we all lost our appetite !!!
We chose this time to indulge in a wide range of milkshakes and juices to cool our system and add some nourishment as well.
The kids, like me, love anything that has yogurt in it.So when the milkshakes turned a little boring, we turned towards homemade flavored yogurts and raitas.When half a pineapple was discovered in the fridge, I decided to make this simple raita that we all enjoyed.
This post is for Srivalli's kid's delight event that Archana is hosting this month with the theme – Soups and Salads .In her announcement post, Archana has mentioned one of the varieties of serving salads to be- Side salads, to accompany the main course as a side dish. Since raita is a generally seved as a side with a rice based dish / roti, I think this will be apt for her theme.
This dish goes to Blogging Marathon #65, Week 3 ,Day 2 where I have chosen soups and salads as the theme.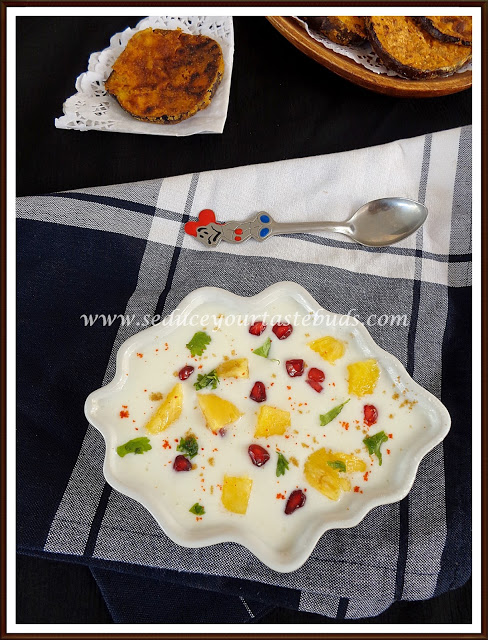 I used:
Yogurt – 2 cups
Pineapple- 1/2 a small one,chopped
Pomegranate Arils – a handful
Chaat masala – to taste
Salt to taste
Red chili powder- to taste
Roasted cumin powder- to taste
Coriander leaves to garnish
Whisk yogurt with salt, cumin powder, chili powder.
Add the chopped pineapple and pomegranate arils,reserving a little of both for garnishing.
Chill till ready to serve.
Just before serving garnish with the remaining pineapple pieces, pomegranate arils, a pinch each of red chili powder, cumin powder and coriander leaves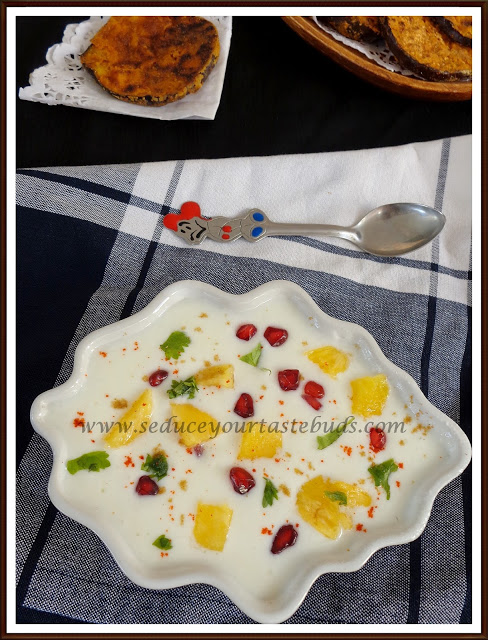 Note:
Adding pomegranate arils is optional. I have used it here to add color to the dish
A little sugar can be whisked into the yogurt if the pineapple is a little tart.
Check out the Blogging Marathon page for the other Blogging Marathoners doing BM#65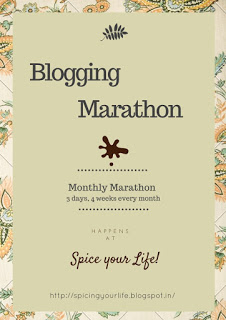 Bon Appetit….