The quest for a quick and healthy lunch box dish for the kids led me to this recipe from Sanjeev Kapoor's 'Panner' cookbook. It is a simple rice preparation that is so easy to prepare especially on a hurried morning.
The original recipe has just paneer cubes but I have added some vegetables to add to the nutrition and color to the dish.Since the kids are a huge fan of paneer, this was a hit.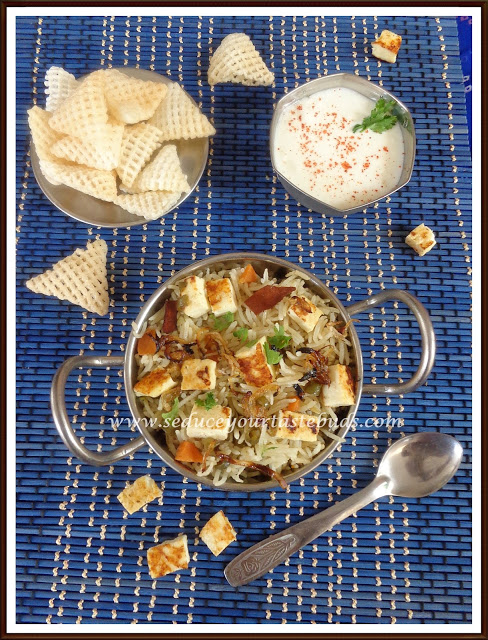 I used:
Basmati rice- 1 cup
Carrot and beans , chopped- 1/4 cup
Paneer – a small block
Bay leaf- 1
Shahjeera- 1/8 teaspoon
Cloves- 2
Cinnamon- a small piece
Salt to taste
Ghee- 1 teaspoon
Crispy Fried shallot– to garnish
Coriander leaves to garnish
Soak the basmati rice in water for 15 minutes. Drain and keep aside.

Cut the paneer into thin slabs and shallow fry on a tawa using a teaspoon of oil, till both sides are golden brown. Don't cook too much as it will become rubbery.Chop and keep aside.

Heat ghee in a pressure cooker and add the shahjeera, bayleaf, cloves and cinnamon and wait till shahjeera crackles a bit.

Add the vegetables and saute for a minute. Add the drained basmati rice and saute for a minute. Add water – the quantity that you usually use to cook basmati rice, salt and let it come to a boil. Pressure cook for 8- 10 minutes or till done.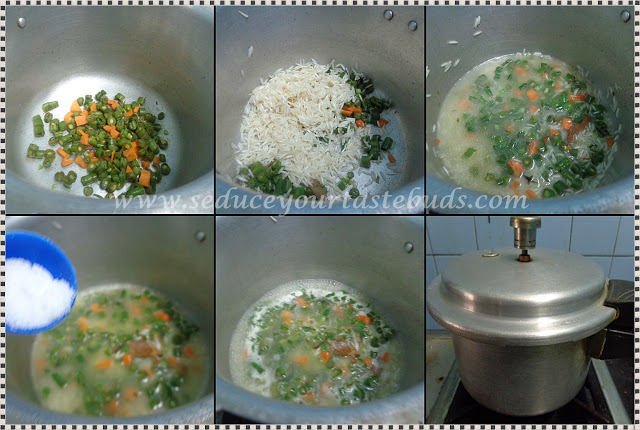 Once the pressure releases naturally, add the paneer cubes, reserving a few for garnish. Gently mix in and cover and leave aside for a few minutes. Serve garnished with reserved paneer cubes, fried shallots and coriander leaves.

A raita and some crisps are the best sides for this simple pulao…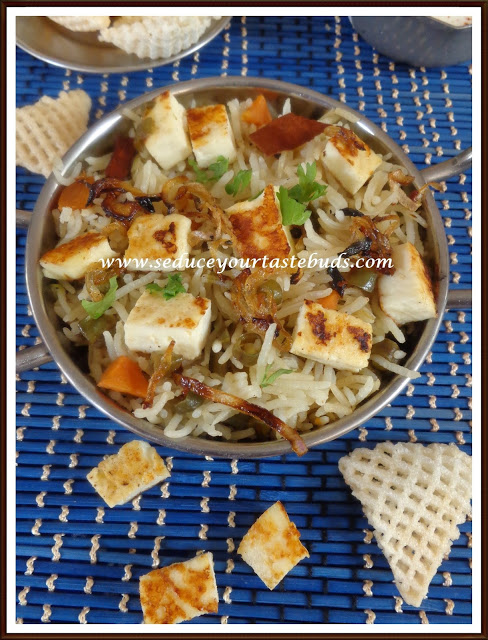 Note:
I have shallow fried the panner as a slab instead of frying small cubes . This way is very easy and there is no need to turn each piece around to get it evenly browned. Saves time.
You can use chopped onion and ginger- garlic paste after adding the whole spices. I have skipped it.
Regular rice can be used instead of basmati rice
Chopped cauliflower,potato, peas, etc can be added.
You can add garam masala / pepper powder after adding water to add some heat to the dish.
Oil can be used instead of ghee.
Tofu can replace paneer.
This post joins June,Week 3, CCC #33, Cooking from Cookbook Challenge Group.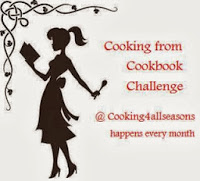 Bon Appetit…