It's been a while since I posted a cookbook review. I have stopped buying cook books as my collection has grown to a range where I desperately need to buy book shelves! But on the other hand I still can't stop buying novels and other books! Anyway,the actual reason why I have stopped getting new cook books is that I want to cook at least a few dishes from them and then think about buying new ones.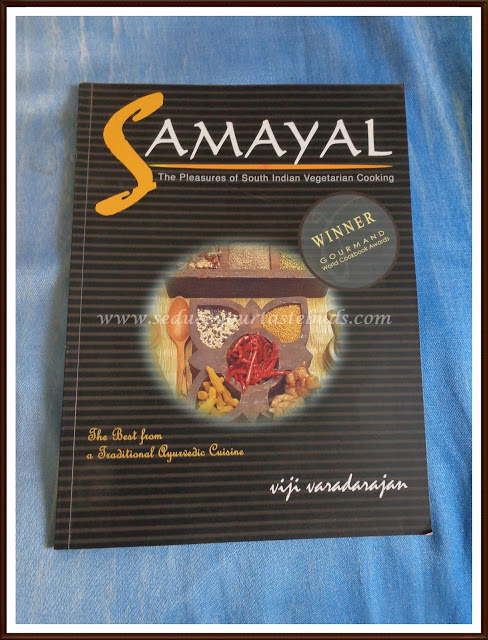 This book – Samayal – The pleasures of South Indian Vegetarian cooking is by Viji Varadharajan and has won the Gourmand World Cookbook Award.
The book starts with
Introduction-About the Tamil Community
Important tips on using various ingredients, methods of cooking, etc.
Contents
Recipes
Ready reconer / Recipe guide
A Pictorial glossary
There recipes are labelled under
Glorious Rice – 11 recipes
Vegetable stews and curries – 12 recipes
Kari – Vegetable variations – 12 recipes
Pachadis -4 recipes
Rasams – 8 recipes
Chutney, relishes and sauces- 5 recipes
Tangy pickles of the south – 3 recipes
Tiffin / Any time snacks – 12 recipes
Healthy whole grain salad – 2 recipes
Sweet touch – 6 recipes
Podis – 4 recipes
The book takes you through the various courses of the Tamilian meal and even basic recipes are explained. Favorites likes Crisp Vadai, Idli, Dosa are there to tempt you and also present are breakfasts like upma and the likes. With this book you have a chance to create a full fledged South Indian meal.
What I liked about this book :
The paper quality is really good with color pics of each dish.
The Recipe guide is categorized based on each vegetable/ ingredient. For example the recipes are listed as 'with potato you can make '.
The picture glossary will be useful for people who are trying to cook South Indian food for the first time.
The recipes are really simple that a first timer will not be intimidated by the ingredients or the method of cooking.
On the other side:
The book says – Pleasures of South Indian Vegetarian cooking, so I was expecting something from the other South Indian states as well. But apart from the Mysore Rasam , all the recipes are from the Tamil Nadu cuisine
Some of the pics could have been better.For example the photos of Yellu sadham[sesame rice], Keerai kootu[greens and lentil stew] are so blurred and does not have a professional touch to it! [But I do applaud some pics that are really tempting.]
Will I recommend this book?
Well, if you are from Tamil Nadu / have lived here long enough, then this book has nothing new in it. Your mom and grandmom would have made most of these recipes and you would have tasted them or you probably know how to cook South Indian food.
But if you are new to Indian / South Indian cooking, then you can get the details of even the most basic recipes like how to make homemade ghee to idli, vadai, sambar,pongal and the likes. So,you can definitely go for this book if you want to try your hand at cooking South Indian meals.
Disclaimer :
This is not a paid review. I purchased this book and I am writing this review to share my views on it.
This is my first book for Foodie Read 2016 where I have signed up to read Sous-Chef: 9 to 13 books by the end of the year.