A snack with Brinjal!Yes and that too a very addictive one which will leaving you craving for more!!!
For a long time I have been wanting to make this snack and each time I buy Chinese Aubergines , I end up cooking something else with it! Then one fine day, I got a big one just to make this dish.
It was the summer holidays and I needed to make something for kids to snack on and yet spent less time and energy in the kitchen. This seemed fit into those criteria! Lil Angel liked it but more surprisingly, Lil Dude, who is a bit picky, thought it was bajji and polished off a few!!
Like all the recipes out there, this Bengali delight too has a number of variations. I referred a few sites and came up with my version.
I paired this with pineapple raita and the two seemed to go so well together!
This is the second recipe for the Cooking Carnival that we are doing this month and I have chosen the theme – 1 ingredient per week and for week 1 it is Brinjal / Aubergine / Eggplant.
I used:
Eggplant – 1,large
Turmeric powder- a large pinch
Amchur/ dry mango powder- 1/2 teaspoon
Chili powder- 3/4 teaspoon
Salt to taste
Besan / gram flour – for coating, around 1/4 cup
Oil for shallow frying.
Cut the brinjal into slices. They should not be too thick or too thin. Soak the slices in salted water for 10 minutes. Drain and add the spice powders and mix well to coat the slices. Set aside for 10 minutes.
Take the besan in a plate and coat the brinjal slices evenly on both sides.
Heat a griddle and shallow fry the slices in batches till both the sides are crisp and golden brown in color. Drain on a tissue paper.
Serve as a snack/ with lunch / along with yogurt / raita.
Bon Appetit…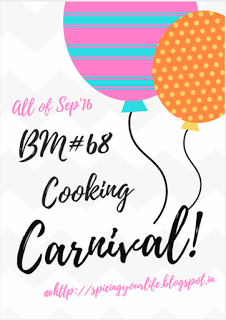 Check out the Blogging Marathon page for the other Blogging Marathoners doing BM# 68