Mini idlis make an excellent choice for the lunch box especially on those days when you have the batter made the previous day[which give really soft idlis] or in a rush to prepare something for the lunchbox.
I pair this with a quick sambar made in the pressure cooker or sometimes my Lil one has it with Idli Milagai Podi!!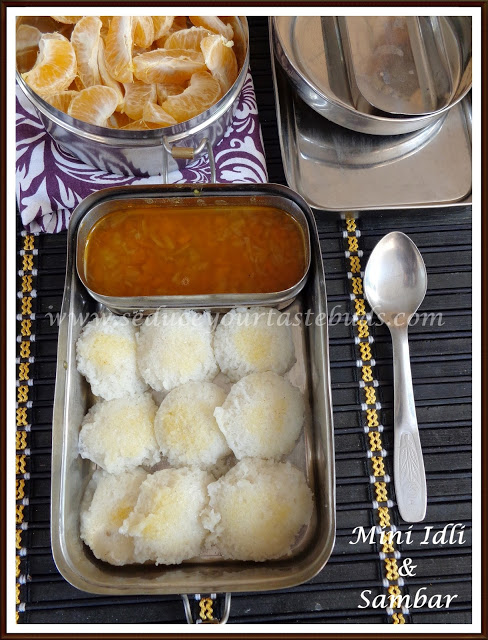 In the Lunchbox
Orange segments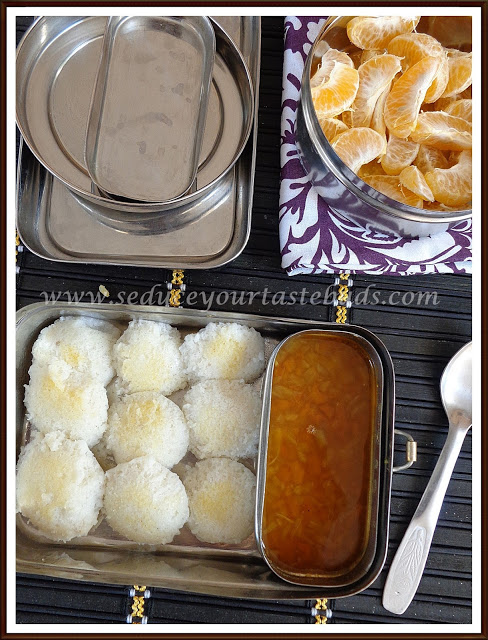 Pre-preparation / Notes :
Grind the batter the previous night and keep it aside to ferment.If you are going to use a day old batter,remove
it from the fridge the first thing in the morning so that it comes to
room temperature before you steam the idlis.
If the batter has thickened add a little water to bring it to the right consistency.
Replace orange with any fruit the kiddo likes.
In case you don't have a mini idli stand, cube the regular idlis for the lunch box. The kids love smaller versions of the real food and will certainly enjoy these quick bites.
I smear a little ghee over each mini idli so that they remain soft and they taste good too.