Vegetable Kohlapuri Masala Recipe with step by step pictures
This month the Recipe ReDux team chose this as the theme –
Budget Eats 
 How low can you go? Can you make a meal for less than $3 per serving?
Whatever your budget, show us your healthy entree recipe to help keep
food spending in check in 2017.
I came up with this simple meal that consists of Roti and a vegetable Kholapuri Masala. Since I could not calculate the individual ingredients cost, I am comparing it with the one we get in restaurants around here.
In my part of the world, this meal would easily come around INR 250-300.But when cooks the same meal at home, it is not only cost effective[the quantity at the restaurant will be sufficient for 2 but this meal served 4!], the meal is more nourishing and hygienically prepared.
The gravy sounds exotic here in the South but it is very easy to prepare at home!
–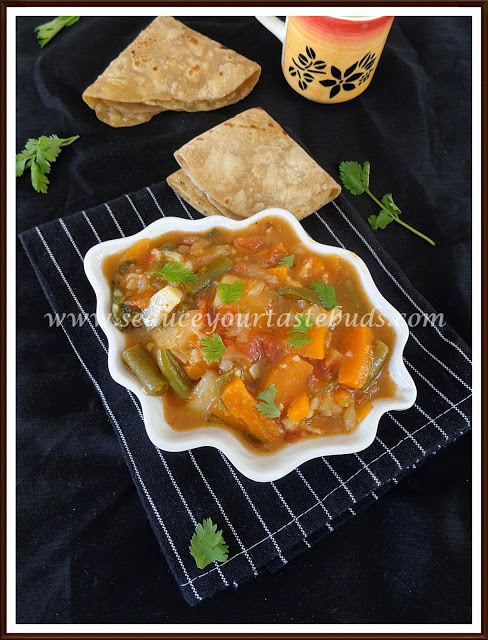 Ever since Pradnya shared the Kohlapuri masala, I have been using it in dry curries and gravies. This masala is from the Maharashtrian Cuisine and is a flavorful blend of spices.
I used this spice mix to make the famous kohlapuri masala with vegetables. The kids were first wondering about the mix and later after a few bites with Roti liked it a lot and I have made it a couple of times after this too!
I used:
Mixed vegetables – I used Carrot [1], Beans[10],potato[1], cauliflower[1small].You can also add green peas if available.
Onion-1, large, finely chopped
Garlic-2 pods, chopped
Ginger- 1″ piece, chopped
Tomato-1, chopped
Capsicum,1,small ,julienned
Kohlapuri masala – 2 teaspoons [adjust to taste]
Salt to taste
Coriander leaves to garnish
Oil- 1 tablespoon
Take the chopped vegetables in a pressure cooker and cook al dente. Once the pressure releases, strain the vegetables and keep aside. Use up the liquid in soups / store in refrigerator to use in the place of vegetable stock.

Heat oil in a pan and add the onion and saute till translucent.Add ginger and garlic and cook for a few seconds. Then put in the tomato and after a minute add capsicum and stir. Add a cup of water.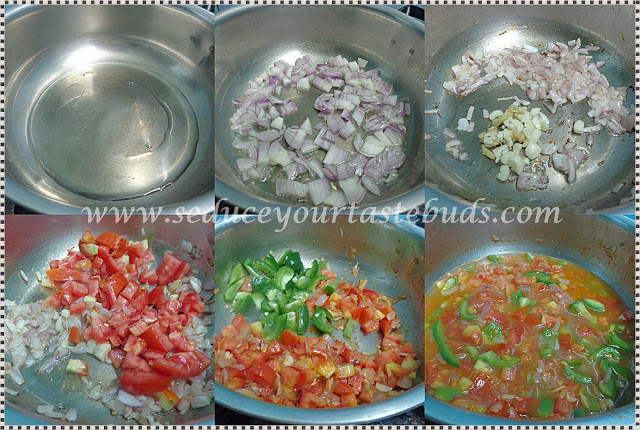 Once the mixture comes to a rolling boil, add the kohlapuri masala and salt.mix well. Tip in the vegetables and simmer for 5 minutes till it thickens a bit and comes together. Finally add chopped coriander leaves and remove from heat.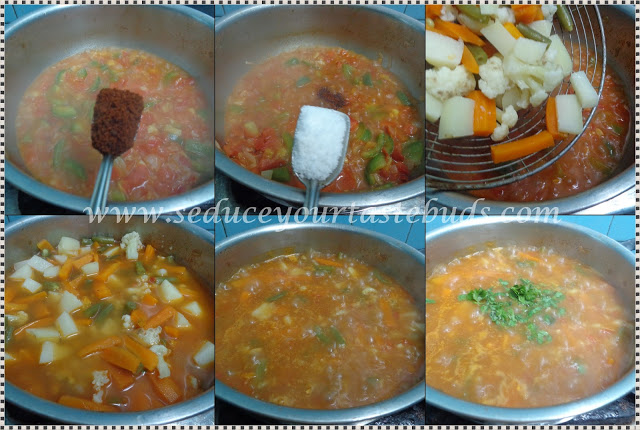 Serve with curry with Roti / Chapathi…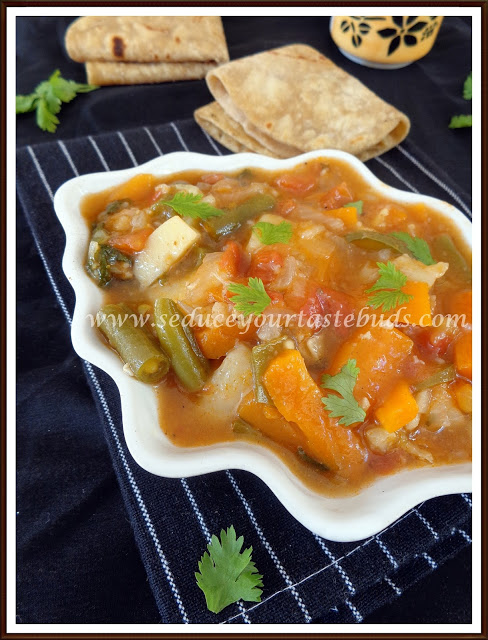 Bon Appetit….