As a regular follower of the blog, you might be aware that we, the members of the Blogging Marathon group, meet every two years.
For those whose are landing here for the first time, Blogging Marathon or BM is a blogging event started by Srivalli , where we take up themes and post 3 recipes a week through out the month and do a full month of blogging in April and September. Just a few months shy of the 25th edition we planned to meet up and that became something we always look forward to.
The first meet was at Ahmadabad .You can read all about our 25th edition celebration here –Day 1, Day 2, Day 3..The #50th edition celebration meet was in Chennai and here is what happened on Day 1, Day 2, Day 3.
This year we had planned to meet up in Delhi. The 50th edition celebration was supposed to have actually taken place in Delhi, but due to my little 'drama' , which the girls so well remember,the venue got shifted to Chennai!
So this year too, as always, lots of emails were exchanged, 1000's of whatsapp messages flew back and forth, tons of planning were done. This year, Srivalli, Vaishali, Veena, Gayathri, Archana,
Ritu , Sowmya Ramanujam , Pradnya and Preeti  took part in this meet.
We had planned for color codes for dress for each day and it was fun shopping for those colors that I did not have. The tickets were booked almost3 months in advance and we were eagerly waiting for the day to arrive.
I was excited beyond words[as always!!] and looked forward to catching up with the girls whom I met the last couple of times and new ones – Ritu, Sowmya and Preeti.
The meet was for 3 days but the girls had planned to do a side trip before the meet so that we can visit Vrindavan and Agra. I had joined the side trip group.
The dress code for the day was Grey/ black / brown.
Unlike the first meet where I literally ran into the airport to catch the flight, I started early and leisurely settled into the lounge and was as eager as my kiddo to board the flight.
The flight took off and I settled down with a book and a cup of coffee wanting to catch up with my reading challenges. As Lil dude dozed off, all I could do was being eager to land in Delhi!

As soon as I landed in the Delhi airport, my joy knew no bounds! Srivalli called up to say all of them were waiting for me outside as I was the last one to arrive.
With the trolley in hand and Lil Dude by my side, I was searching for my team, when all of a sudden a hand tapped me from behind and asked me if I was PJ! Since I am better known as PJ in my group , I was sure that it was one of us but could not guess who it was!
I sure gave a weird look of confusion and trying to guess the person and this look is forever embedded in the hearts of my buddies! Finally I came to know that it was Ritu and then clumsily I got introduced to Sowmya and since I had seen Preeti's pic earlier I was able to recognize her.
In my eagerness to get to the airport ahead of time, I had skipped breakfast and had coffee twice before I landed in Delhi. So my tummy started throwing hunger tantrums.
The girls had arranged for lunch and I was ready to dig in. My kiddo fell head over heels in love with that soft peas paratha and I loved that salad and the rajma chawal[was too hungry to click that pic!].
Since it was getting late, I had my lunch in the van that was supposed to take us to the side trip. Once my tummy was content, I started chatting with everyone. It was an instant take off with Sowmya and we kept talking non stop for a while.

Maybe because I skipped breakfast or due to too much of excitement,I started getting a very bad headache. All I wanted to do was to sleep for a while so that I can recover and join the fun.
Some of us got down at a pakora stall to buy some snacks but the smell of food itself made me nauseous! I felt like kicking myself.
Back in the van, Gayathri started decorating the yummy chocolate cake with ganache and though I really wanted to take a bite of that chocolate goodness, my headache thought otherwise.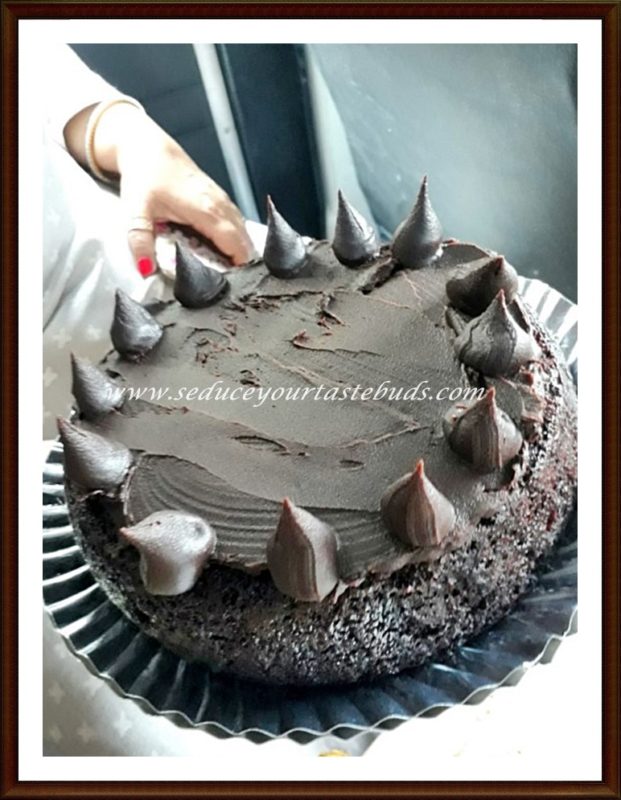 Finally at the back seat I managed to sleep for a while and woke up refreshed.I joined the chit chat and all I can remember now is that bad road and some nice gossip!
It was really late when we reached Vrindhavan. We made a quick walk to the temple but in between some of the girls lost their way. So another one went in search and we thought we would miss the Lord's Darshan. Luckily we were soon reunited and had an awesome Darshan in spite of the huge crowd. That one thing alone made the trip to Vrindhavan worthwhile.
Once outside, we decided to explore the street side shops and started with food!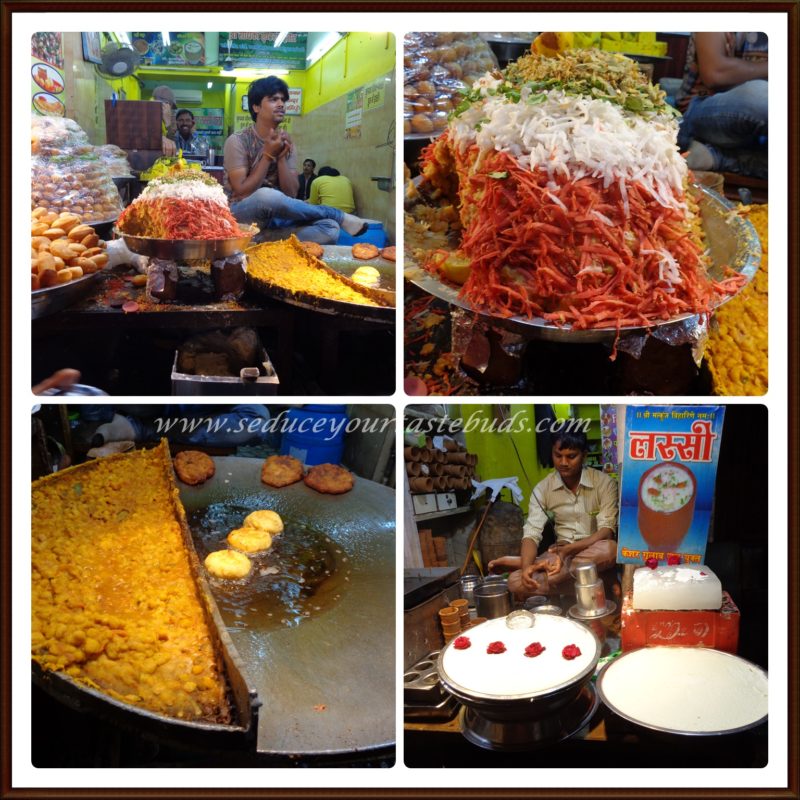 And then later we moved on the shops that sold stuffs for decorating the idols and stuffs needed for pujas.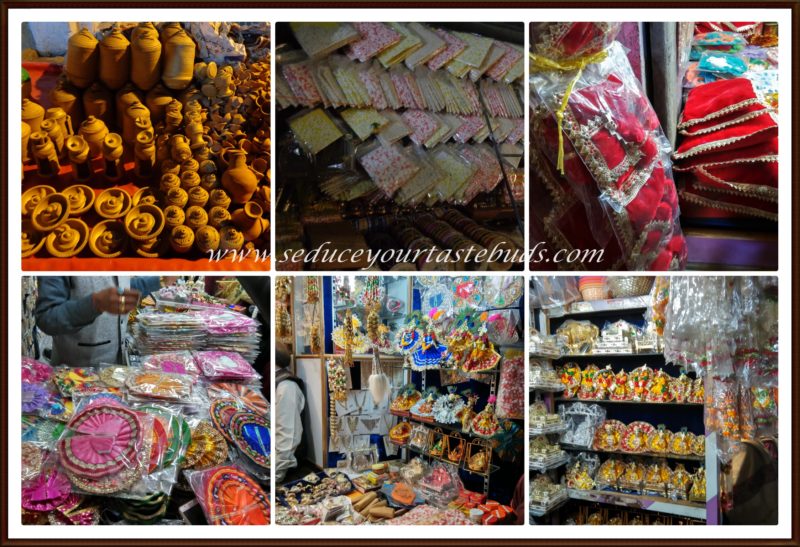 Since we had to reach Agra, we hurried to the van and started off to our destination.On the way we stopped at Vaishali's cousins house.
In spite of arriving there very late, her family members took such good care of us. We were showered with such a lot of food that was so loving served . The dishes came straight off the stove and the way they treated us made us feel like we have known the family all along!
We were served us homemade  Kachoris ,one of the best I have tasted so far and it was served with Aloo Ki Raitha. Her cousin told us that these was the Mathura Special Kachori Aloo Ki Raitha combo and we even got the recipe from him!. There were fruits served topped with a special spice mix that the family makes, some nuts and then Pindi Chole Batura and bread toasts.Though it was so late in the night, we had no hesitation or shyness in indulging in those authentic dishes that were made specially for us!. [Pic courtesy – Srivalli]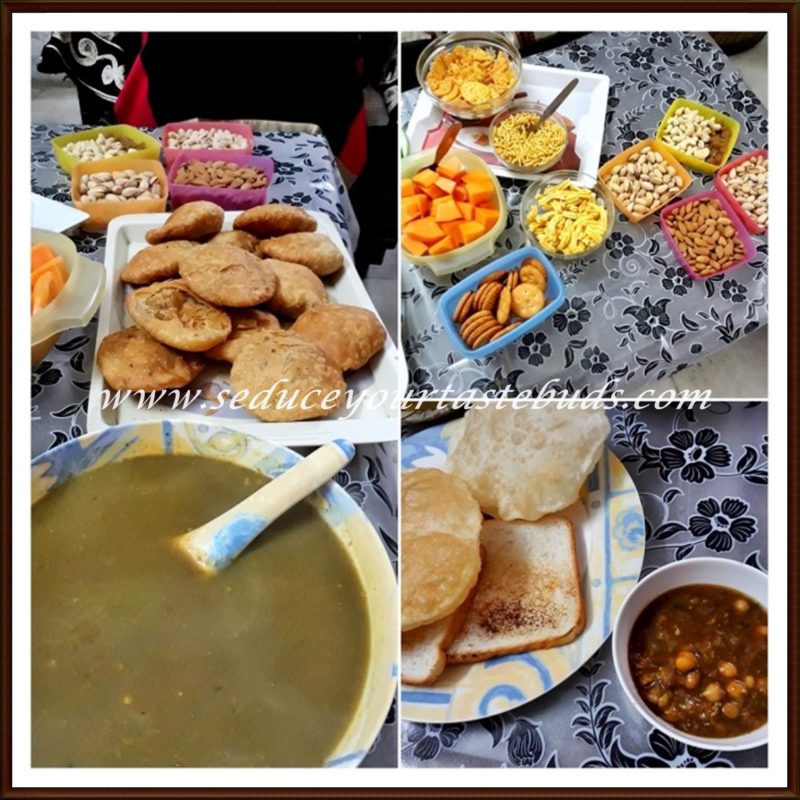 It was almost midnight when we reached the villa in Agra. We settled into our rooms and then one by one started gathering in Vaishali's room.Princi as we fondly call her recollected her school days and it was such a nice bed time story!
We were then asked to sleep and wake up as early as possible so that we can catch the sunrise at the Taj Mahal. Without a mood to get into bed, we still tried to rest and be fresh for the next days event.
The next day we got dressed as planned in spite of the few few hours we slept . We packed our bags ans started off to see the Taj Mahal.
The dress color code was shades of green and even the kids followed the code.
I had visited the Taj Mahal during a college trip and at that time we spent less time there and then more importantly the group was intent on having fun rather than sight seeing!
So this time I wanted to see everything there and we also hired a guide to take us through the history and archeological wonder of the Taj Mahal.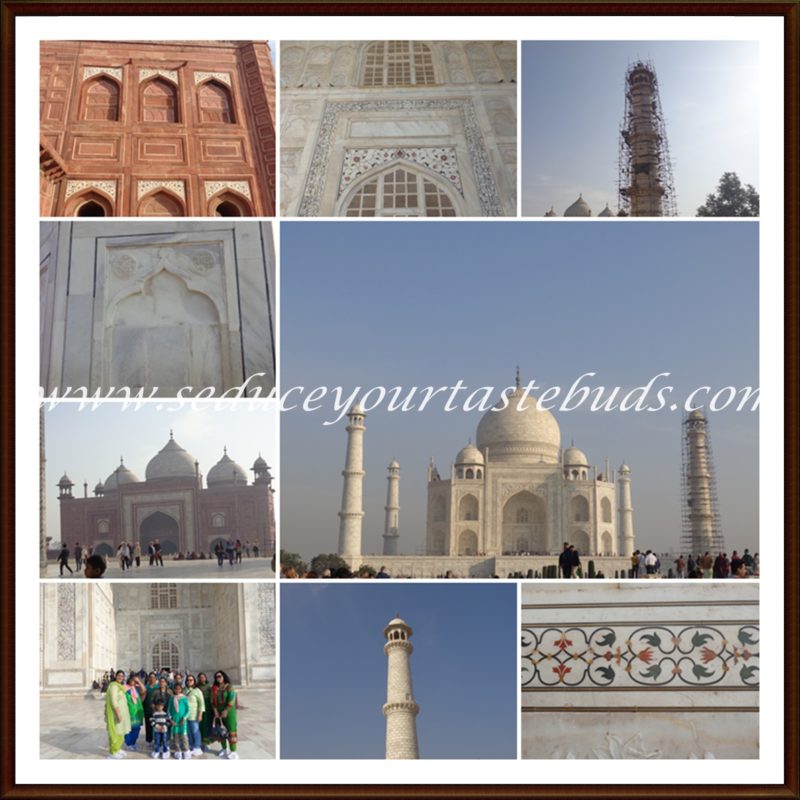 I clicked hundreds of pics and enjoyed the views. Lil Dude happily tagged along and kept asking questions about the place.
Once the sight seeing was over, we did a little shopping for souvenirs and started off towards Delhi.
But on the way we stopped at a place to have a sort of brunch or rather to enjoy the local food.Vaishali's cousin took us to a famous joint -Devi Ram Sweet Stall to enjoy the famous Kachoris. We had Kachori, Badai with Aloo ka Jhool, Kaddu ki subzi, Malai Samosa, Jalebi, and the most creamiest sweet Lassi I have ever tasted!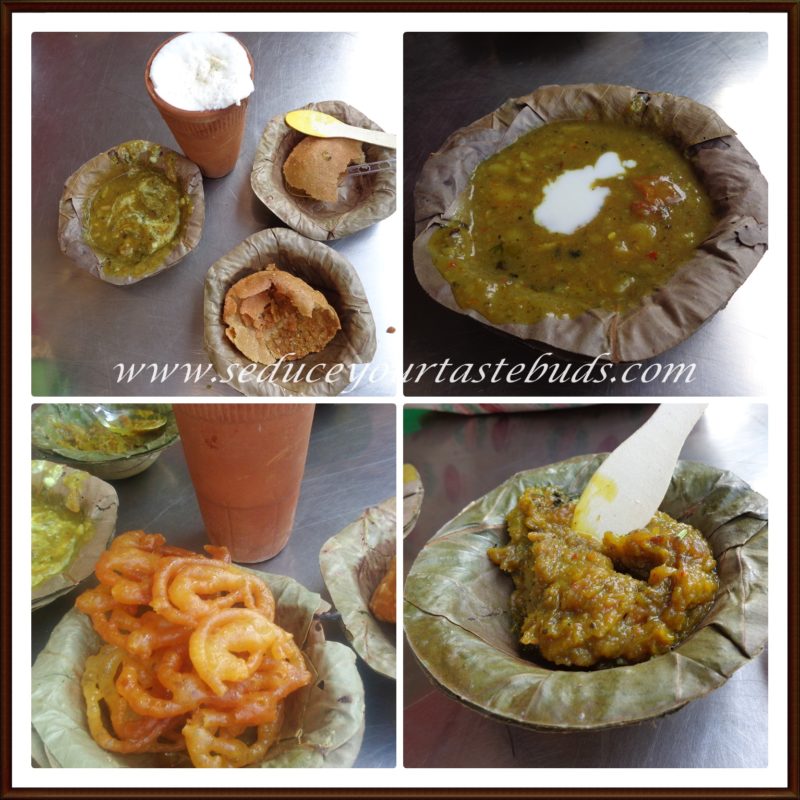 After this delicious meal we began our journey. As usual the chit chat started and we kept munching on snack that all of us got along.
Pradnya, who had not joined us for the side trip, had already arrived and settled down in the villa in which we were going to spend the rest of the 3 days.
After settling down in our rooms we went out to do a little shopping / sight seeing.
We visited the Dilli Haat and the spice bazaar ..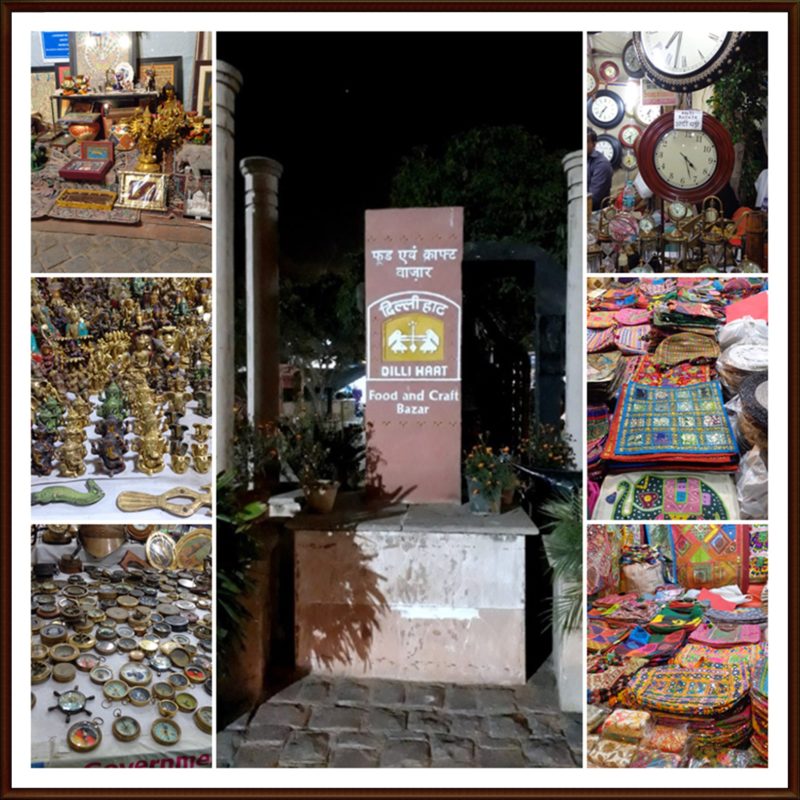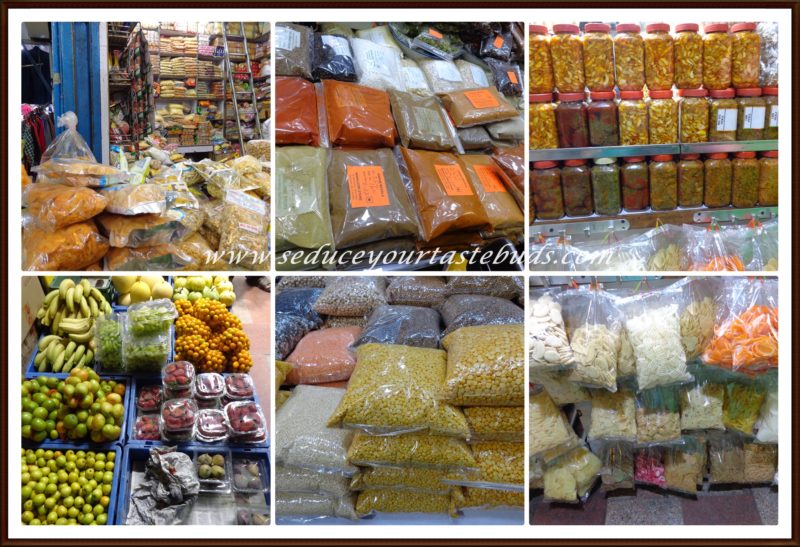 While some shopped for stuffs, the rest kept clicking at all the goodies. I am sure people would have wondered from which planet we had landed as we even kept clicking a Chaiwala!!
That night we had dinner in the terrace. It was a bit cold, yet we enjoyed the outdoorsy dinner. We packed the cookie bag that we were going to hand out for the participants of the workshop that was planned.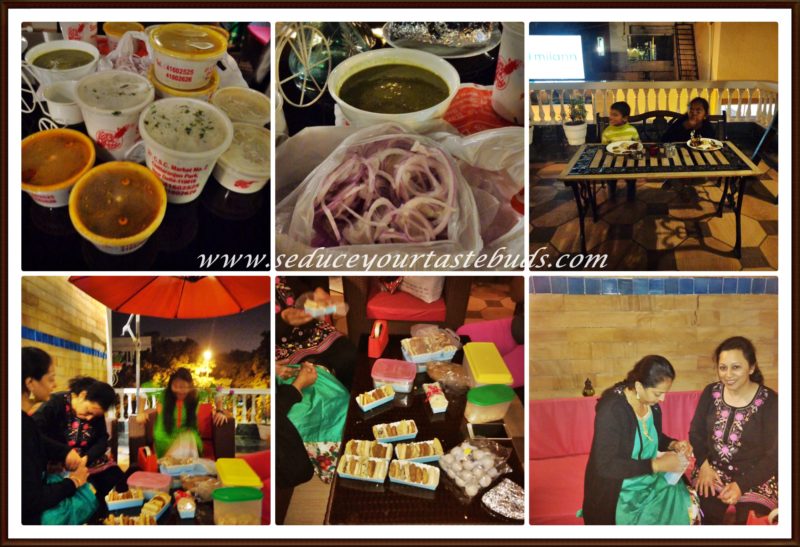 After a really tiring day, we finally decided to go back to our rooms to rest. Gayathri and I shared a room and in spite of the long day, both of us ended chatting and slept way past mid night!
This is my part of the story for Day 1 and 2. I will be back tomorrow with some awesome food and fond memories about Day 3.Do come back to read…