This combo of Vegetable sevai and sambar is one of my favorites! And luckily the kids too share this feeling!
Sevai is nothing but freshly pressed rice noodles that is quite common in  South India. Freshly ground rice batter is steamed and pressed through the sevai press to get these string hoppers. Nowadays, these are available in the shops as well. The ready-to-season packs can be used immediately.They can be seasoned with any flavor that you like.
This combo is such a simple dish to pack. The sambar can be made at very short notice in the pressure cooker and that saves a lot of those precious morning minutes!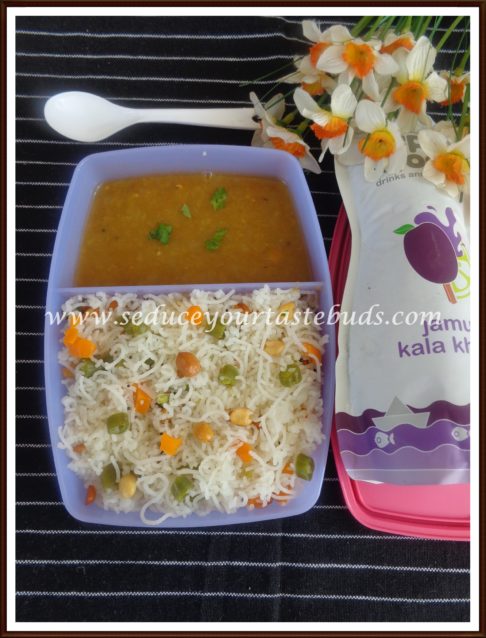 In the Lunch Box
Juice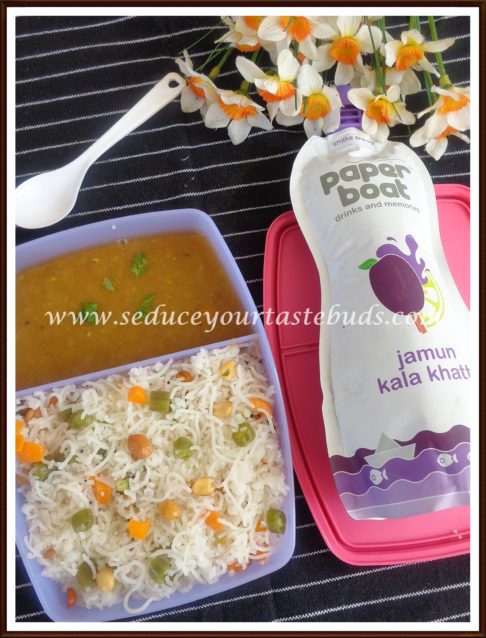 Pre- prep:
The vegetables for the sevai can be cooked and stored in a container in the fridge.
Similarly the sevai can also be made the night / evening before. Remove it from the fridge as soon as you wake up and steam it / microwave it before seasoning. Sprinkle some water before steaming.
If ready-to-season sevai is available and you feel it is hygienically prepared, you can use that also.
Vegetables for the sambar can be cubed and stored in the fridge.
Note:
I use stainless steel boxes to pack the kids lunch.The ones used here are for the clicks only 🙂