Blogging Marathon # 75
Day – 16
Name of the Bake – Poppy Seed Cookies | Polish Manh Kichlach
Country – Poland
Until I baked these cookies, which was around 4pm today, I had no idea what to bake for the letter P. Of course, I had a list with a whole bunch of cookies written against each alphabet, but when I got down to reading the recipes for the ones under P, I was not sure which one I will be baking.
Then I looked up for ingredient names under P and was relieved to see poppy seeds and then went about looking for a poppy seed cookie!
Manh is poppy seeds in Yiddish.With the batch of black poppy seeds from Priya, these cookies came into being.
It was getting dark and I had to click them before the natural light fades. So with minimal setting, these delicious bites were clicked and later polished off happily!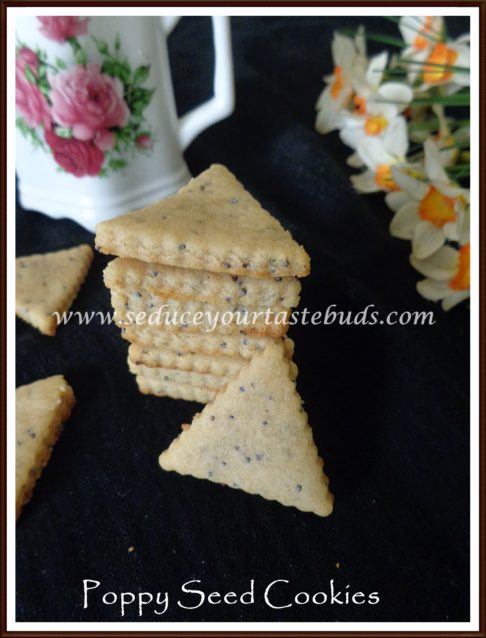 History / Origin:
Just like the ANZAC bikkis that I baked earlier for this series, this one too has a connection with the wars and army boys.
These cookies are said to have originated with the Eastern European Jews. Back in those days, these were baked to pack off with the men going to the war.One of the reason was that it would remain fresh for long and not too sweet either.
Now these cookies are baked for Purim and other Jewish festivals and feasts.
Some sites that I referred say this is of Polish origin while a few mention it to be of German origin.
These cookies are baked as round ones .Since I had a lot of round cookies in this edition, I made this triangle shaped cookies so as to break the monotony.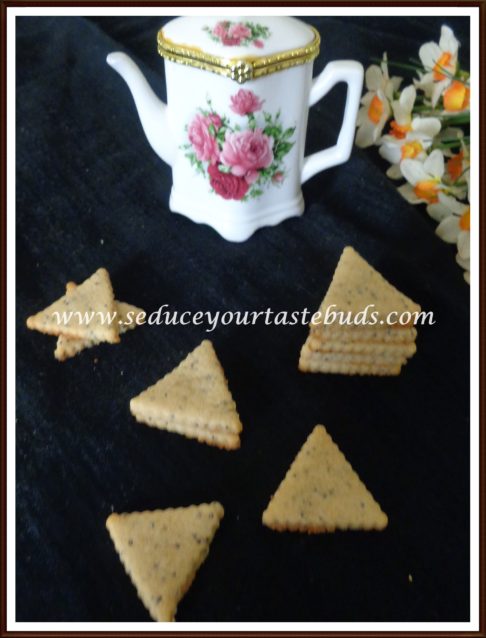 How to make the Poppy Seed Cookies:
I used:
Whole wheat flour – 1 cup
Powdered sugar- 1/4 cup
Poppy seeds- 1/8 cup
Lemon juice- 1 teaspoon
Baking powder- 1/2 teaspoon
Salt- a pinch
Oil- 5 tablespoons
Ice cold water – as needed
Mix together flour, sugar, poppy seeds, baking powder and salt in a bowl.
In another bowl, mix oil and sugar.
Add this to the dry ingredients and fold in gently.
If the mixture is too crumbly, add ice cold water, spoon by spoon, mixing after each addition. The mixture should not be too wet.
Form a ball of this dough, cling wrap and refrigerate for an hour.
When ready to bake, roll out the dough into a sheet and use a round / square/ in my case a triangle cookie cutter.
Transfer the cut out cookies onto a baking tray lined with parchment paper.
Bake in a pre heated oven @ 180 degrees for 10 minutes / until the sides are golden brown. The baking time will vary depending on the size and thickness of the cookies.
Let the cookies rest on the tray for 5 minutes. Then transfer them onto a cooling rack.
Serve with coffee / tea / store them in air tight containers.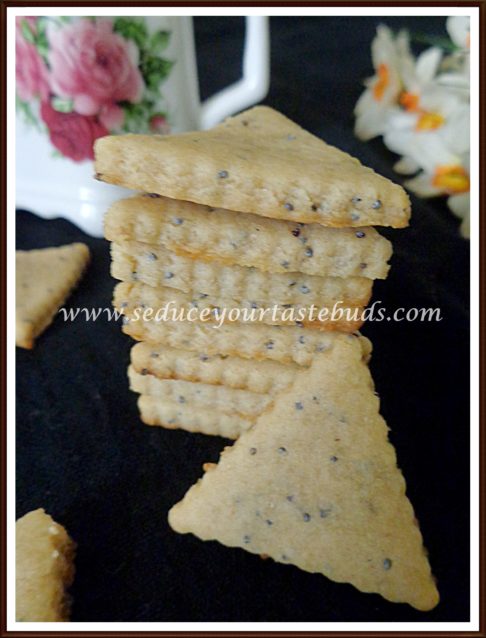 Note
These cookies are meant to be slightly sweet and with a hint of lemon flavor. So do not add too much of sugar. Adjust the quantity of lemon juice based on the tartness of the lemon used.
A few recipes that I looked up also mentioned the use of a teaspoon of lemon zest. I did not add it.
Check out the Blogging Marathon page for the other Blogging Marathoners doing BM# 75
Loading InLinkz ...