This vegetable pulao is an easy one pot meal. Right from my school time, this combo has been my favorite!Now the kids love it so much that I make this quite often.
With loads of vegetables, this one is really healthy . Since it is prepared fully in the pressure cooker, the cooking time is less and so easy to prepare for the lunch box as well.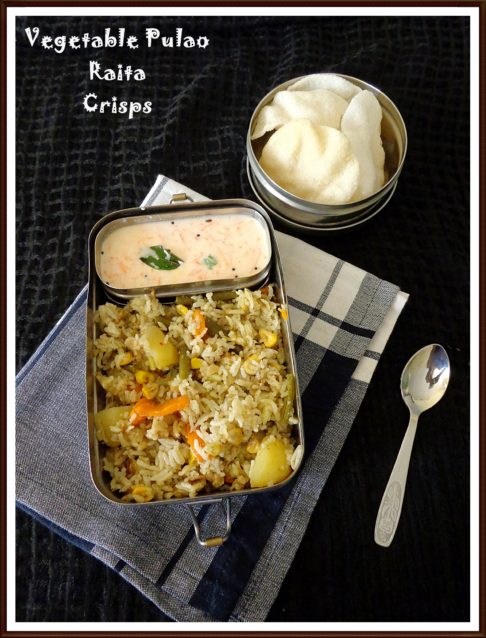 In the Lunch Box
Crisps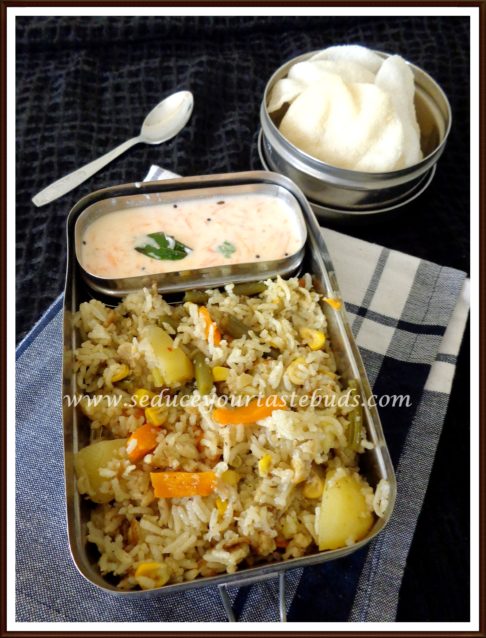 Pre-prep – things that can be made ahead[the night before] :
Chop all the vegetables and store in a ziplock back / container. Leave it in the fridge the night before
Carrot[for raita] can be grated and stored in the fridge.
The crisps can also be fried ahead and stored in air tight containers.
Note:
For the raita, take lukewarm milk in the lunch box container, add salt and mix. Add grated carrot,seasoning/tadka and a little yogurt starter [ the previous day's curd] and sprinkle a little chili powder / chaat masala.Cover and keep in the lunch bag. The curd will set by the time the kid has lunch.