For a long time now, I have been wanting to do a lunch series just like the kids lunch box series. I have been clicking simple lunches and teh more elaborate ones and they are just waiting in the drafts.
This month Srivalli announced Weekday lunches as one of the themes for Blogging Marathon 77, I chose this theme for Week 1.
This theme definitely pulled me out of the laziness and here is the first thali of this series. The next two days will also feature similar lunches and even after that I am planning to post the other lunch menus on a regular basis.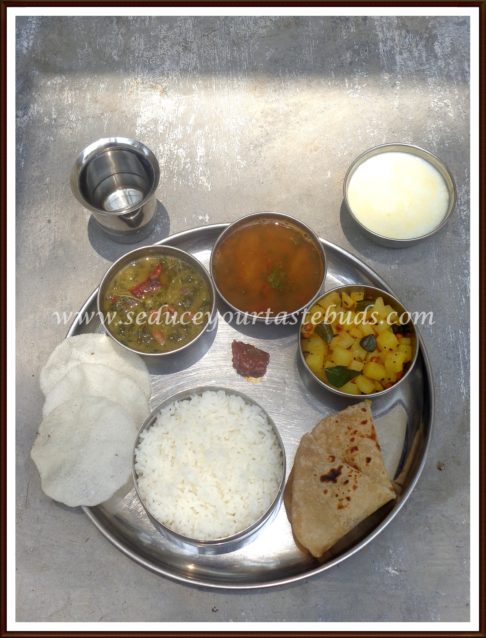 Lunch at home is a simple affair with a basic sambar / kootu, a rasam and a vegetable.Sometimes I get very adventurous and prepare something elaborate but that used to be reserved for the weekends. Now weekends are so busy with veena classes throughout the day that a simple meal itself look elaborate for me!!
This lunch was clicked a few months back.
On this menu..
Rice
Soppiuna Kootu / Keera Kootu
Quick rasam [made in a pressure cooker]
Simple Potato Curry
Homemade Yogurt
Chapathi
Pappad
Mango Pickle
The kootu is very simple to make. The spice powder/ paste acan be prepared the day before / night before and kept in the fridge. Since teh dal and the greens are cooked together in the pressure cooker, the dish gets done fast.
Similarly, the rasam is also made in the pressure cooker and hence needs no supervision.
The potato curry is my kids' favorite and I make this quite often.Half the dish is done in the microwave and teh seasoning is done on the stove top.
I added the chapathi from the breakfast and made it look like a hotel style thali.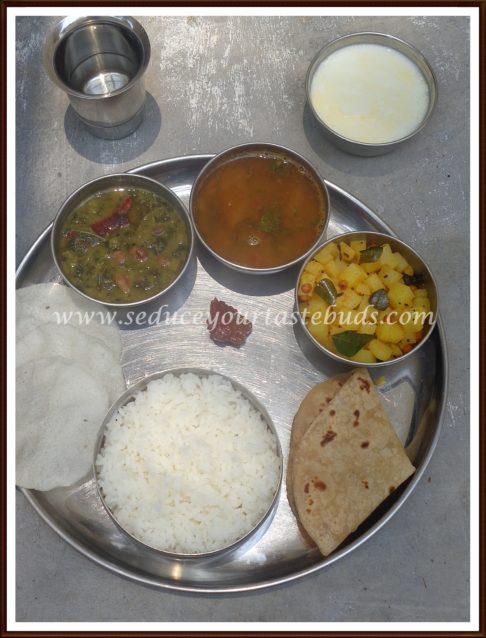 Check out the Blogging Marathon page for the other Blogging Marathoners doing this BM#77