The third thali or meal menu in Blogging Marathon #77,Week 1,Day 3 is a family favorite. A simple meal that can be put together with a little pre preparation the day before.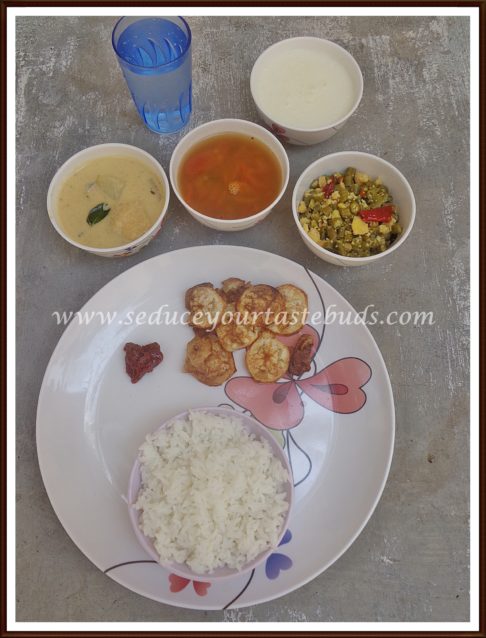 Rice
Pusanikkai[Pumpkin] More kuzhambu
Nellore Rasam
Beans Paruppu Usili
Raw plantain chips
Nellikai Thokku [Indian Gooseberry pickle]
Homemade yogurt
More kuzhambu and paruppu usili is a great pair! The more kuzhambu or the south Indian version of khadi is really simple to prepare.
Paruppu usili is a vegetable and dal dry curry. the dal can be soaked and ground the night before, thus making the preparation of the meal easier and quicker.
Nellore rasam is somewhat similar to our cumin pepper rasam [Jeerige menasu saaru / Jeeraga milagu rasam]
The banana chips can be made ahead and stored in an airtight container.
Gooseberry pickle was made when the tree in our backyard gave us a surplus produce. though it does not keep for months, this thokku can be kept in the fridge and used within a couple of weeks.
When oil and red chili powder quantity is increased, the shelf life also increases. Best to keep it refrigerated and use a dry spoon to take the piuckle / thokku.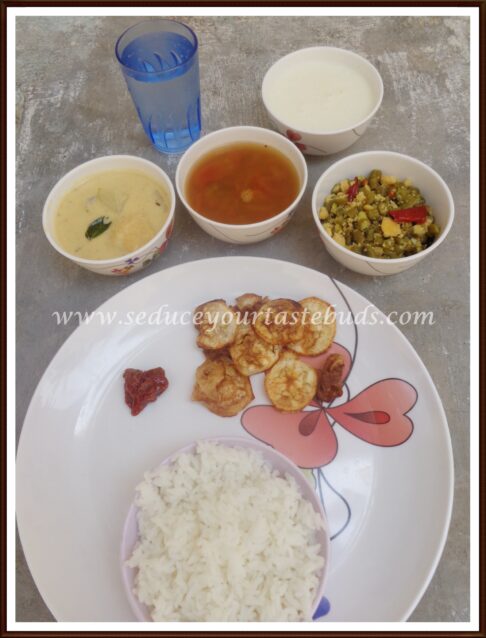 Check out the Blogging Marathon page for the other Blogging Marathoners doing this BM#77