A few years back, I was a part of a cooking group where we used to cook dishes from region that we do not belong to .The group was divided into the north and the South team depending on where they hail from. The members of the opposite group pose challenges each month to the other group and the challenge is to prepare and post it.
On one such challenge, we were given recipes to a number of Rajastani dishes and asked to prepare a few or all of them.
Being an over enthusiastic type, I took a plunge and made all the dishes on the list.Here is what was done..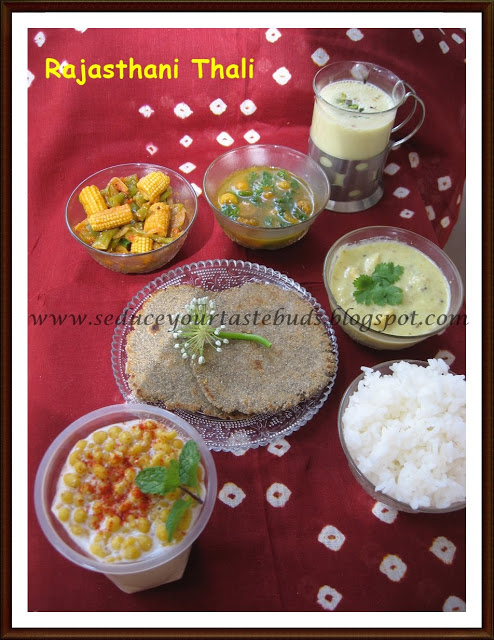 The dishes are
Kesar Malai Lassi
Panchmel Ki Subji
Rice
Bajiri ki roti
Gatte ki khadi to go with rice
Dhana wadi / Mung wadi and Coriander leaves curry
Matta / Boondhi Chaas
What was an awesome meal!!
The main post on this Rajastani thali talks about the cuisine of Rajastan and also the method of preparation of all the above mentioned dishes. So be sure to drop by and check out the tasty post..