Quick and Easy Carrot – Beans Porriyal with step by step pictures.
Whenever I make vegetable stir fries, I try to make what ever the kids prefer, at least most of the times that is how it goes.
Instead of struggling with a new type of vegetable or a new taste in the stir fry, the ones that they are used to goes into their tummy without much fuss.
Trying out new vegetables and flavors started by giving them their favorite vegetable and a small dose of the new one.
Now that the kids are a little older, I encourage them to try out new tastes and flavors, which they do willing with a small dose of encouragement.
Their tastes have changed through the years but their love for this combo- carrot and beans has not changed.
This can be made in the pressure cooker, so it takes very less time to get done.
Carrot and beans curry can be a part of lunch or you can even have it like Lil Angel does- place a portion of the dry vegetable curry in a chapathi, roll it up and enjoy! The choice is yours.
I made this as a part of a lunch menu a long time ago.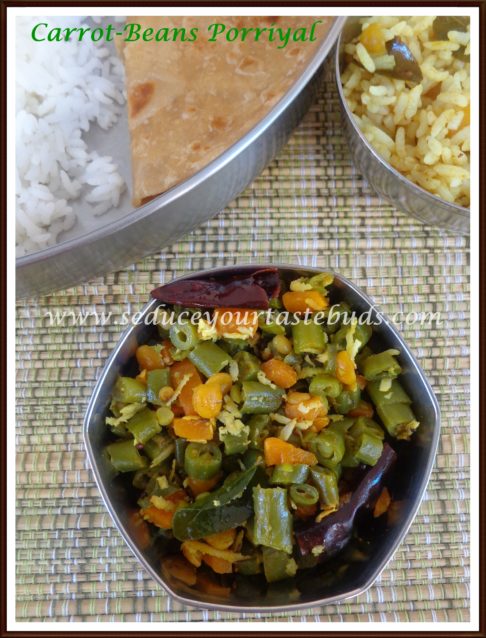 How to make Quick and Easy Carrot – Beans Porriyal :
I use:
Carrot- 1/4 kilo
Green beans – 1/4 kilo
Mustard- 1/2 teaspoon
Urad dal, split- 1/2 teaspoon
Channa Dal- 1/2 teaspoon
Red chili -2, broken
Curry leaves- a few
Turmeric powder- a large pinch
Grated coconut- 2 teaspoons
Oil- 1 teaspoon
Salt to taste
Peel and chop carrot.Trim and chop green beans.Keep aside. Heat oil in a pressure cooker and add the mustard, channa dal, split urad dal, curry leaves and red chilies.

Once the mustard pops add the chopped vegetables. Add salt and 2 tablespoons of water.Add turmeric powder.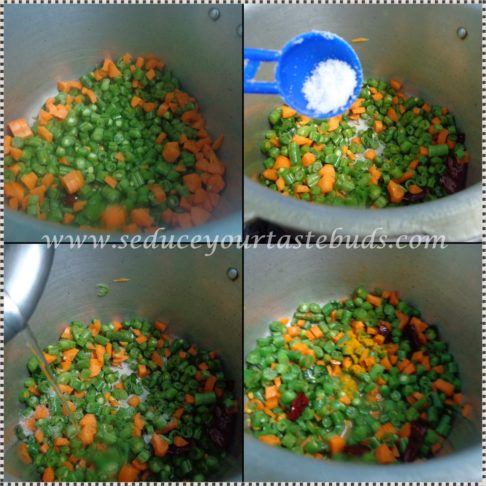 Mix well, cover and pressure cook for 2-3 whistles / till done. Once the pressure releases, add the grated coconut, give it a mix and the curry is ready to be served.

Here is the meal in which this curry was a part..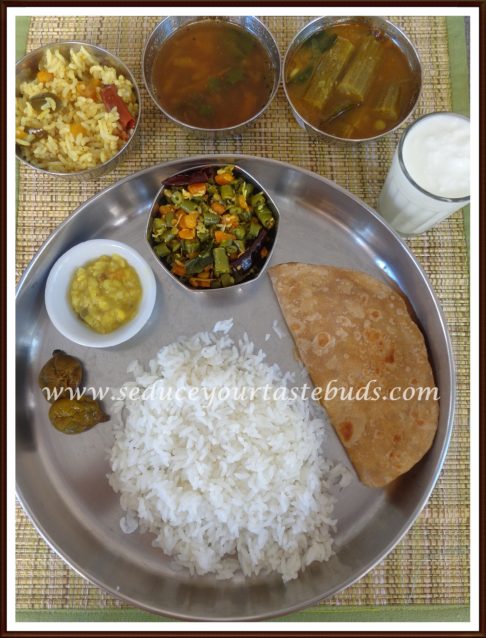 Note:
If there is remaining water after opening the cooker, heat it up again and cook uncovered till the water evaporates.
Do not pressure cook on high flame, I cook it on the small burner in my stove.
The cooking time may vary.
Check out the other Dry vegetables curries that I have posted so far by clicking the link..