Years ago, when Lil Angel was a tiny tot, mom used to make this simple potato stir fry every time we went home. This was the only curry that she used eat!
And she used to do that in her own pace, picking up the small pieces one by one, slowly chewing it and finally swallowing it. This would sometimes go on for an hour till the bowl was finished!
She liked to have it with rasam rice and curd rice and then sometimes this curry would be her lunch!! Thank God, I have passed that stage of wondering what her tantrums for food would be for each day!
Somehow, in between we stopped making this often. Her tastes became diversified and she began tasting most of the stuffs I made. Thank God for that!!
Then suddenly a few months ago, all of a sudden,she recollected eating this potato curry and asked mom to make it for her.
Mom was beyond happy to make this for her dear grand daughter. So once again we have started making this and now we have another fan for this dish .Who else but Lil Dude!!
This takes just a few minutes to prepare and makes a quick side to go with lunch menu. We cook this in the microwave and season it on the stove top. Yes, that too can be done in the MW but we do it in the pan!
How to make Simple Potato Stir-fry
I used:
Potato-1 , large
Mustard- 1/2 teaspoon
Cumin seeds- 1/2 teaspoon
Channa dal – 1 teaspoon
Curry leaves- a few leaves
Asafoetida powder- a pinch
Turmeric powder- a pinch
Chili powder- 1/2 teaspoon [ adjust to taste]
Salt to taste
Oil-1 teaspoon
Peel and chop the potato into small cubes. Cook it in plenty of water in a microwave proof dish till done. I microwaved it for 7 minutes. Once done, drain the water and discard it.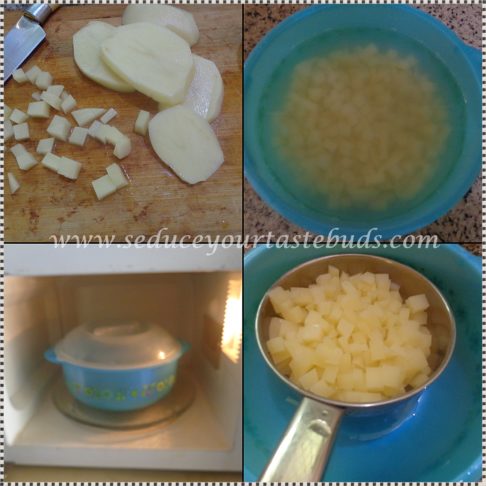 Heat oil in a pan and add the mustard, cumin, channa dal, curry leaves and asafoetida powder.

Once the mustard pops and the dal turns brown, add the cooked potato. Put in the chili powder, turmeric powder and salt. Give it a mix and cook on low flame for a few minutes.

Remove from pan and serve as a side with the lunch menu.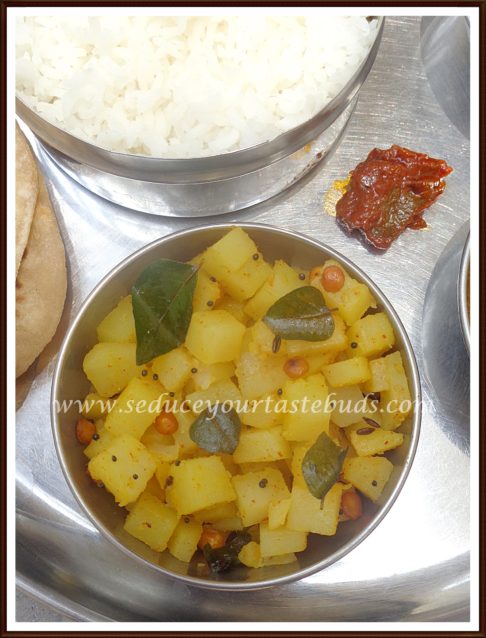 This was part of the lunch series that is featured here.Do take a look.