Mint Chutney Sandwich Recipe
A couple of weekends back, the kids wanted something nice for the evening snack. I had a loaf of bread and bread with jam / peanut butter sounded too routine.
But that is what the kids love, especially Lil Dude. I took a chance and made this sandwich with mint chutney and the kids were blown away by the taste!
I was too happy to see Lil Dude, a picky eater, ask for more!What else would I ask for!!
Actually, this sandwich came to mind when I remembered a similar sandwich being sold in a food fest at school.  I was probably in class 2 or 3 at that time and never knew what a food fest was but asked mom for some money as our class teacher said we could buy food.
Mom did give me and when our class teacher took us to the food fest, the smell assaulted my senses! Being a vegetarian, there were smells and sights that I had never known before.
Seeing a confused me, a senior from our school helped me buy something that I would like.And yes, it was this sandwich!!
I was still doubtful if I should eat it and so I took it home to get mom's approval and then had a bite!
I still laugh when I recollect this incident and think of that Senior who was so helpful!!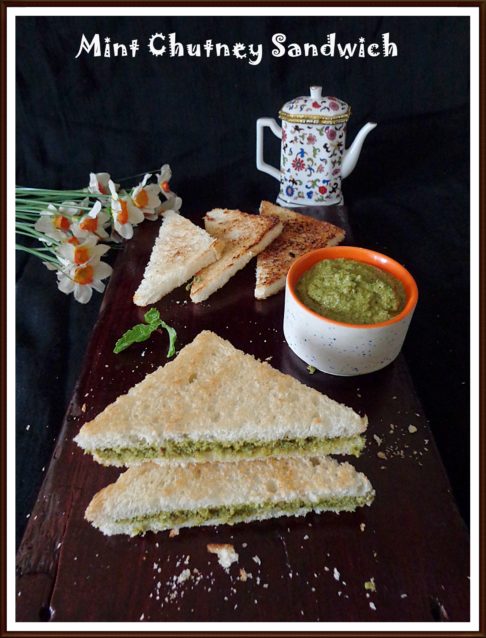 To make the Mint Chutney Sandwich I used:
Bread slices – 10 number
Butter-3-4 tablespoons
Mint leaves-from a small bunch
Coriander leaves- a fistful
Grated coconut – 2 tablespoons
Red chili- 2,small [adjust to taste]
Tamarind-1″ piece
Oil-1 teaspoon
Salt to taste
Heat oil in a pan and saute mint leaves , coriander leaves and red chili for a few minutes on low flame.
Add grated coconut,tamarind and mix once and turn off the heat.
Once it is cool, grind to a paste adding salt and very little water. Transfer the chutney to a bowl.
Butter the bread slices and toast them.
Spread a teaspoon of the chutney over the toasted slices, sandwich them and cut into desired shapes / serve as such