2 Ingredient Peanut Ladoo Recipe with step by step pictures
One evening a few days back, the three of us, the kids and I, were bored. We did not know what to do. The kids somehow managed to get into a mini fight and the duo were into a deep argument as to who would be the owner of the very tiny pencil that they had just discovered beneath the sofa cushion!
As much as it seemed amusing , I took that opportunity to slip away from the scene and was looking for something to do while these two forgot to bother me.
I entered the kitchen with this months theme [protein rich dishes] in mind and went around opening and shutting the steel containers looking for the protein rich ingredients.
A sudden brainwave prompted me to make these ladoos of which I even posted a short video on my Instagram account. Then I went on to make 2 more varieties of ladoos and all these were done within 15-20 minutes!!
When I came out of the kitchen, the kids seemed to have come to some sort of agreement on the pencil situation and were in deep conversation about some teacher in their school. It was indeed a sight to behold!
Satisfied of making 3 recipes in a short while, I stored them in containers after the taste testing so that I could click pictures the next day.
So here comes this easy breezy peanut ladoo that is rich in protein from the peanuts and also iron rich as I have used jaggery. It is gluten free and vegan. No ghee or oil is used and just two ingredients and less that 5 minutes of your time to make these delicious bites.And best of all no cooking involved and no sugar syrup consistency requires checking! What more can we ask ?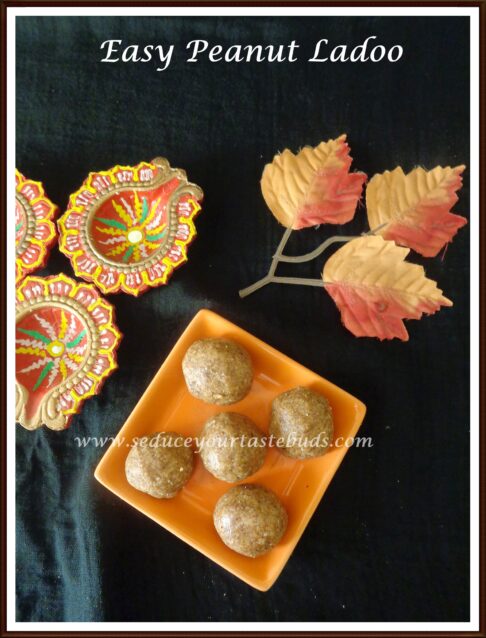 Step by step method to prepare 2 Ingredient Peanut Ladoo Recipe
Remove the skin of the peanuts bu rubbing them between your palms. Take it in mixie jar.

Add powdered jaggery and give it a go in the mixie. DO NOT over do as it will become peanut butter. Grind it in short bursts. Transfer onto a plate and shape into ladoos. It does not require milk / ghee to hold the shape. The oil from the peanut will do that job.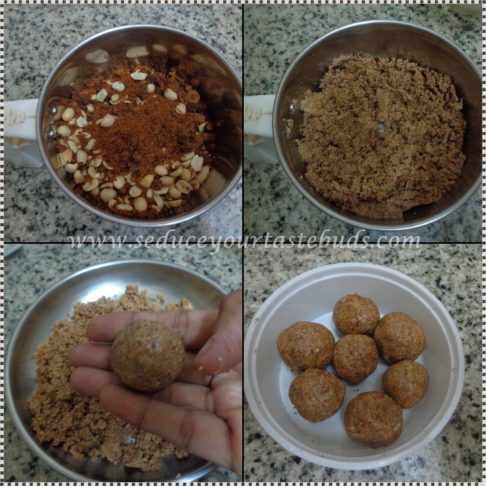 Serve these quick ladoos immediately / store in an air tight container.
Note:
You can use jaggery / cane sugar [Karumbu Sakkarai]and adjust the quantity to suit your taste.
If skinless peanuts are available, you can use that. Saves time.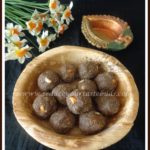 Oats Sesame Ladoo
A quick dessert that is also Vegan and Gluten Free

Ingredients
1/2

cup

Oats

1/8

cup

Powdered Jaggery

1/4

cup

Black sesame seeds

15

numbers

cashewnuts

1/2

teaspoon

Oil
Instructions
Fry cashews in oil .Break into small bits and keep aside


Dry roast oats on low flame till a nice aroma arises. Keep aside to cool.

Take sesame seeds and jaggery in a mixie jar and grind in small bursts to combine. Add roasted oats and run the mixie in short bursts to combine.Transfer the mixture on to a plate

Add the broken cashew bits and mix. Make ladoo out of this mixture and store in an air tight container.

It does not require milk / ghee to hold the shape. The oil from the sesame seeds will do that job.
Recipe Notes
You can use jaggery / cane sugar and adjust the quantity to suit your taste
Check out the Blogging Marathon page for the other Blogging Marathoners doing BM# 80
Loading InLinkz ...