Bookworms & Jellybellies by Ranjini Rao and Ruchira Ramanujam – Book Review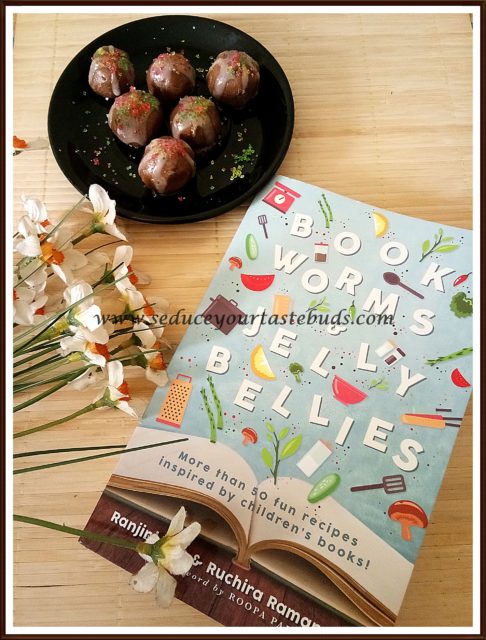 Whenever I used to read the books by Enid Blyton, I used to dream of the food that the famous five / Secret seven relished. I used to imagine how it would look like,seated on a brightly colored carpet on a slope , with a basket full of goodies and the kids enjoying the homemade snacks and drinks!
Now, this imagination has been brought to life with this book – Bookworms & Jelly Bellies by Ranjini Rao and Ruchira Ramanujam!!They are also the authors of the book – Around the world with the Tadka Girls.
The cover says – More than 50 fun recipes inspired by children's book and that one line itself was enough to interest my 9 year old!
The book starts with an introduction and a forward by Roopa Pai, then comes the table of content.There is a page – Highlights, talking about the book and the recipes.
A very colorful kitchen gear page follows, which has the color pics for all the gadgets used in the making of recipes in this book! My kiddo loves this page!
Then there in an instruction page where there is everything from telling the kids to wash their hands before trying a recipe ,how to go about a recipe, all through to washing up the used dishes and wiping off the counter top!Isn't that sweet!
This book is divided into 3 parts / categories based on the kids age.
3 – 5 years
6 – 9 years
10 – 14 years
The recipes in the first category are very simple to prepare. The ones in the second and third category can be done by kids with a bit of parental help/ supervision
My thoughts on this book:
It is a very colorful book and there are color photographs for all the dishes. This is one point that my kids drooled over.Hop over to my Instagram post to see what I meant!
Along with the recipes are the stories from which the dishes were inspired. A gist of the story is given on one side and the recipe on the other side-A joy ride through your childhood favorite reads and a treat for the tummy!
Apart from this , there are also colorful pictures and drawings of the book that has inspired these recipes.
The recipes can also be categorized as light snacks, meals and grab and go kind of dishes.
Almost all the recipes are vegetarian and just a few have eggs in them. And even for those substitutes have been given.
The recipes are based on age and their kids skill level and hence my kids were able to try out a couple of recipes!
The ingredients used are healthy – like using whole wheat flour, jaggery, fruits,vegetables,paneer etc
There are quite a few baked dishes that I myself would like to try out.
 Another interesting point to note is that the instruction for recipe preparation is written in a very simple and clear manner- one that can be understood by kids in the mentioned age group. There is absolutely no ambiguity in the language or the instruction.
Apart from me being fascinated by the pictures and the recipes, there is something else that caught my fancy.There are notes, fun facts,related trivia,reading recommendations on each page.
The book is everything from soup, salad, cookies, cakes, pies, milkshakes,popsicles, juices,cakes,ice creams…… And all these are surely something the kids will love to try out.
There is actually so much information packed in these pages – the stories, recipes, pictures and the above said extra stuff as well!
So, once this book went into my 9 year old daughter's hand, she refused to part with it and immediately started drooling over the pictures. Her 5 year old brother joined in and soon the two were arguing on which dish needed to be prepared first!
Lil Angel read through all the stories and used to keep returning to the book to steal a glance at one of the goodies .
It has now become a well thumbed copy and boasting several food stains in several pages, a proof that  many recipes were tried and the pages were read and re-read while munching on one of the dishes!
My wish to have a book of recipes relating to a story has been fulfilled by these two delightful women and my kids will surely be cooking more from this book .
My recommendation:
Do go for this book. Whether you kid cooks or not is another issue, the main point being, you will surely love this book and it is bound to bring back all those childhood memories of reading the books mentioned in the recipes.
Final word – If you love to cook and read, don't even give it a second thought. Order you copy now!!
Here is one simple recipe that kids can try out. It is this simple chocolate truffles that you can see on the picture at the start of this post . It was prepared in 2 minutes and vanished into the little tummies in one minute!!
Wonky Cookie Truffles inspired from Charlie and the Chocolate Factory
My kids used:
Chocolate cream biscuit – 10
Peanut butter- 2 tablespoons
Icing sugar- 3 tablespoons
Milk – a few drops
Colored sugar – for decoration
Take the biscuits in a mixie jar and powder finely
Transfer it into a bowl and add peanut butter.Mix well to form a dough.Add more peanut butter if needed
Shape into small balls and place on a plate / tray.
Mix icing sugar with a few drops of milk and prepare a smooth glaze.
Drizzle this over the prepared truffles and decorate with sugar sprinkles.
Let glaze set before serving.
Isn't that easy breezy!
There are several such easy dishes. So don't forget to buy your copy and your kids will eagerly try out all these recipes.
At a glance :
Title – Bookworms and Jellybellies
Authors – Ranjini Rao and Ruchira Ramanujam
Publishers – Hachette India
Genre – Cookbook / Non Fiction
Pages – 130
Price – INR 399/-
For more book reviews click this link – Book Bites. This also happens to be the 50th book that I am posting a review for in this blog!