Seyal Phulka Recipe with step by step pictures
I remember making this  7 years ago on a chilly evening,in China,for an event called tried and tasted.
There were so many events going on back then  and I used to take part in many of them.It was just 2 years since I had started the blog and there were not this many blogs back then.But there were quite a few popular once which I used to visit often.But when I went back and checked those blogs a few weeks back, most of them have stopped posting!
Anyway, I made this seyal phulka from Alka's blog and  along with this I tried quite a few dishes as well from her blog.
It was a chilly evening  and the hot seyal phulka was like a piece of heaven ! Lil Angel and I loved it so much.
Since then, it has become a regular at my place and whenever it is cold / rainy I make roti's just to make this dish even though I know that it tastes best when made with leftover rotis! Over the years I made very slight changes and this is still the best go to snack /meal when we have left over rotis.
This post is being updated with better pictures .What you are going to read below this pic is the original post I published on Sept 20th 2010.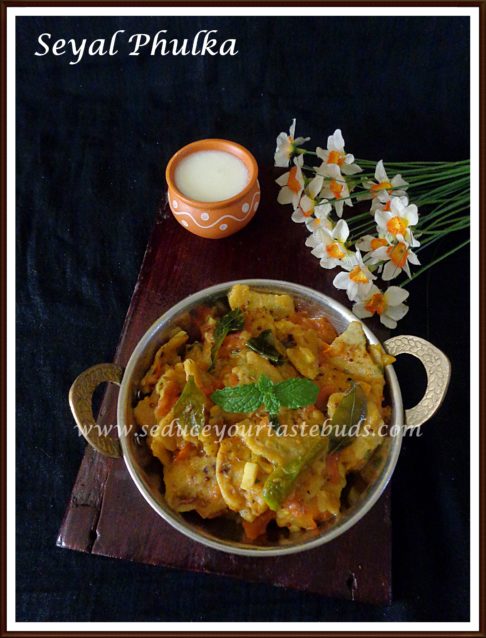 I have been drooling over the recipes @ Alka's Sindhi Rasoi from the time I made Seyal Pav,a very delicious way to use leftover buns.
After that I had bookmarked quite a few recipes to try for Alka has recipes that are easy to prepare and yet simple.Finally the time has come to make them all coz Ria who is hosting Tried and tasted for this month has chosen Alka's Sindhi Rasoi.T and T is an event started by Zlamuska and carried on by Lakshmi.
This recipe makes use of leftover chapathi and it is cooked in a tomato based gravy.I had this for lunch a couple of days ago and have fallen in love with it.Thanks for the yummy recipe Alka.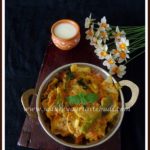 Seyal Phulka Recipe
Left over roti cooked in a delicious garlic flavored tomato gravy
Ingredients
5

numbers

Chapati / Roti, roughly torn

1

teaspoon

Oil

1

teaspoon

Mustard seeds

5

pearls

garlic, chopped

A

few

Curry leaves

2

numbers

Green chilies, slit

2

numbers

Tomato, chopped

1/2

teaspoon

Sambar powder/ Coriander powder / garam masala

A

pinch

Turmeric powder

Salt to taste

Coriander leaves to garnish
Instructions
Heat oil in a pan and add mustard, garlic, curry leaves and green chilies

When the garlic turns light brown, add the tomato

Add 1/2 cup of water, sambar/ coriander powder / garam masala , turmeric powder, salt and bring to a boil

Lower the flame and the torn roti pieces and mix. Let it cook on low flame for a few minutes till teh liquid is fully absorbed

Remove from heat and add a squeeze of lemon juice. Mix and serve garnished with coriander leaves.
Recipe Notes
The quantity of water depends on how 'old' / dry the roti is . Fresh ones need lesser water and dry ones need more, so add water accordingly.
Step by step method to make Seyal Phulka Recipe
[Adapted from – Here]
Heat oil in a pan and add mustard, garlic, green chilies,curry laves. When the garlic turns slightly brown ,add the tomato and give it a stir.

Add 1/2 cup [adjust to the quantity of the roti. If it is too dry, you may need to add more]. Add a little sambar powder / garam masala , turmeric powder and salt .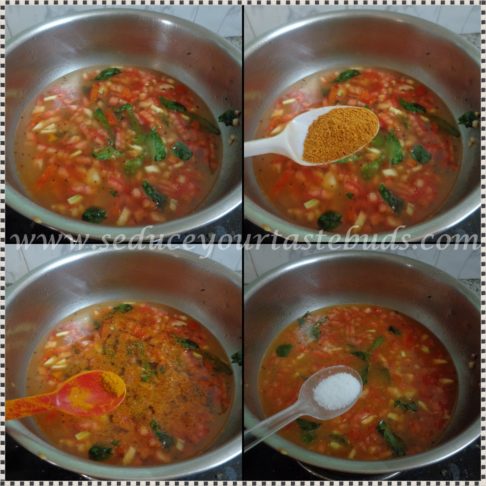 Let it come to a boil. Add the torn roti / chapathi pieces and mix.Cover and cook on low flame till water is fully absorbed. If you feel it is too dry as soon as the roti is put in, add more water. Cook for a few minutes. Remove from heat, add a squeeze of lime and mix.

Serve garnished with a handful of coriander leaves. I used mint leaves here.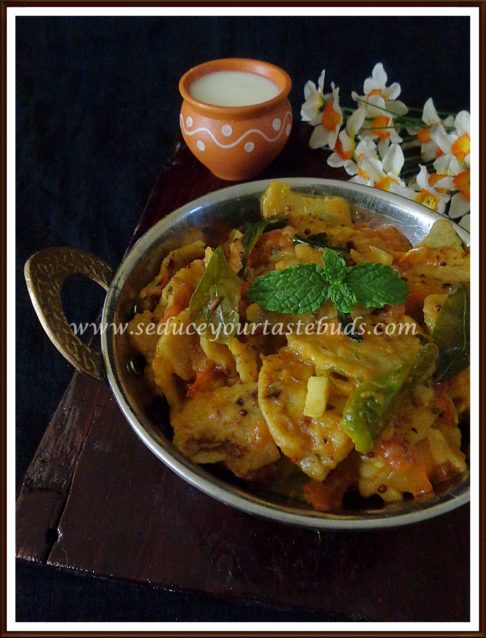 I must confess something here.I was able to eat more number of chapathis this way than eating them as such.It was so tasty!So I suggest that if you are making this at home,always make some extra or else you will be left with an empty bowl before you can even think of tasting this dish!
Bon Appetit…