Simple Vegetable Rice Recipe
Some of the posts in my drafts have been sitting around for too long! So I am trying to clear the drafts by posting them one by one and this is one of those!
This month I wanted to publish a post everyday but somehow at the end of the day, I am too tired to sit and think of an intro to write for the post.Let me see if I am able to post one on each day for the coming days.
Coming to today's recipe, this rice is made with vegetables and flavored with idli milagai podi [made with black urad dal] . Though this spice mix is suitable as a side for Idli / dosa, I have used it to flavor tiffin dishes as well. I have prepared a Ghee podi idli and also a raw plantain curry with this spice mix.
So, naturally, I knew this spice mix would go well as a flavoring agent with rice and hence used it in this rice dish too.
My kids love this dish and hence I pack this for their lunch box as well. They prefer less spicy foods, so I add a couple of spoons of the spice mix. Add more of the spice mix / use red chilies in the seasoning for a spicier version.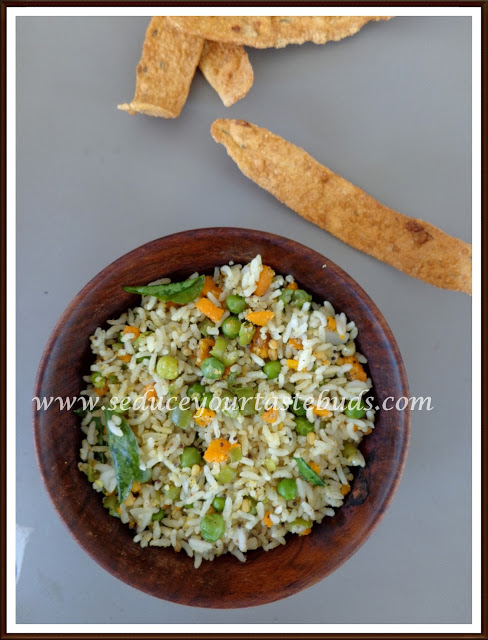 How to prepare Simple Vegetable Rice Recipe
I used:
Rice- 1 cup, cooked, grains separate
Mixed steamed vegetables- 3/4 cup [I used beans, carrot and peas]
Onion-1,small, finely chopped
Mustard-1/2 teaspoon
Cumin seeds- 1/2 teaspoon
Urad dal-1/2 teaspoon
 Idli milagai podi – 3 teaspoons / as needed
Oil-1 teaspoon
Curry leaves- a few
Salt to taste
Heat oil in a pan and add the mustard ,cumin seeds and urad dal.
When the mustard pops and dal turns brownadd the curry leaves and onion
Saute till the onion is translucent.
Now put in the cooked rice, vegetables, idli milagai podi and salt.
Lower the flame and ix well. Let it cook for a few minutes for the flavors to blend.
Remove from heat and serve with pappad / raita.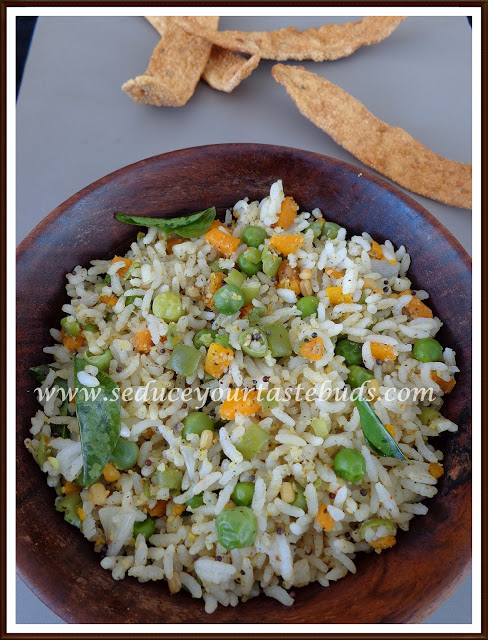 Note:
Increase the spice mix to suit your taste
Any other spice mix / pav bhaji masala and even sambar powder can be added to this dish for flavoring.
For a spicier version add a few red chilies along with the mustard and other seasonings.
Left over rice can also be used here.