A Hundred Little Flames – Book Review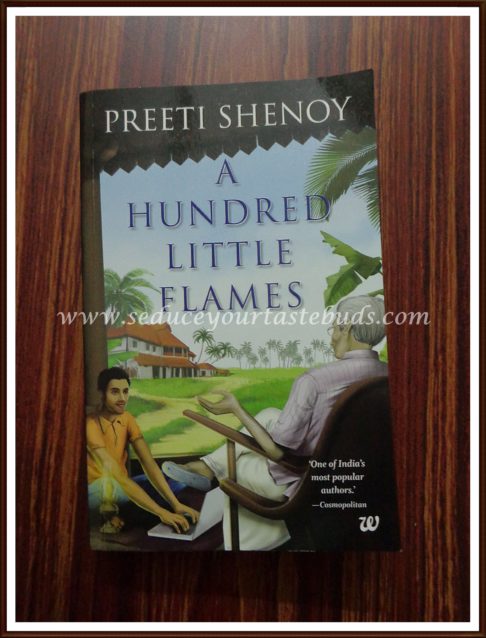 At a Glance….
Title:A Hundred Little Flames
Author: Preeti Shenoy
Publisher: Westland Publications Ltd
Pages:361
Genre :  Fiction
Format : Paperback
ISBN :978-93-86850-42-3
Price– 299/-[I got a copy for review from the publishers]
The book was sent to me with a letter from the author written in invisible ink! Cool right!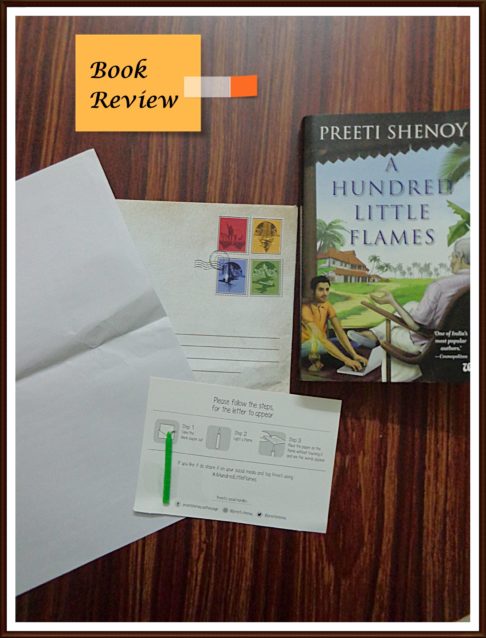 The candle revealed a hand written letter!!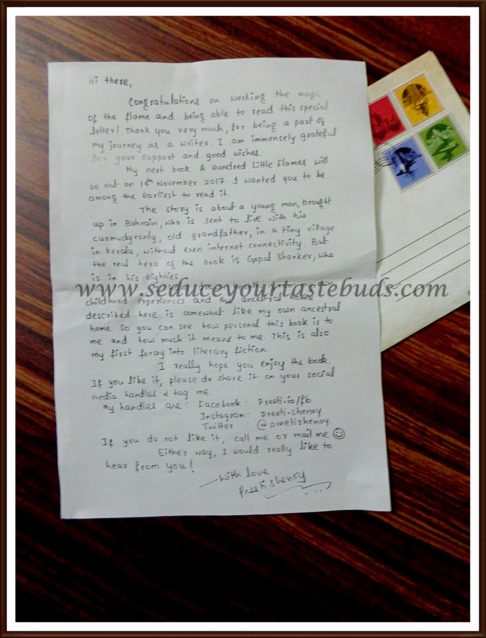 Ok, now about the book…
This novel talks about the relationship between two people of different generations who meet for the first time and how they get along with each other.
The book starts with Ayan attending an office party and getting to work next morning. At the same time, his grandfather who lived several thousand miles away had a fall. Little did they both know that these two events would change their lives forever!
Ayan is asked to resign as there was some controversy in the party he attended and in spite of no fault on his part, he is forced to resign his job. Though the job was not something he loved and had taken it just to please his father, he is left wondering how to get back to the job hunt because of the reasons he quit the previous one.
Ayan's father Jairaj sends him to Kerala to take care of his grandfather,Gopal Shanker. He reaches there and finds a sleepy,idyllic village without internet connection!
Slowly Ayan and his grumpy grand father start bonding and get along well until Jairaj intervenes and starts meddling within the relationship.
Ayan reads his grandfather's diaries and gets to know all about Gopla Shankar's past which tugs his heart. He decides to do something about it and tries his best to accomplish it.How he does that and is he successful is the climax of the story but I am not going to give away the ending!
My thoughts on the book:
The story clearly shows the situation of the elderly in the present days! They are left behind to take care of themselves while the children are in high profile, high paying jobs in foreign countries!
The kind of connection the fathers and children of different generations have between them can be seen here.
The relationship between Ayan and Gopal are portrayed well. The pain Ayan feels when Jairaj betrays them can be felt.
Also the bond between Gopal and Rohini is very touching. It clearly shows how things were in olden days. Not able to marry the woman he loves and getting back to her after a long time and their friendship is really emotive.
Ayan reading the diary / journal of his grandfather takes us to the times when snail mails were the only means of communication and all the emotions that Gopal and Rohini went through could be felt through those letters and journals.
The places have been described in great detail that it feels like we are literally walking through the paddy fields in Kerala or taking a stroll in the streets of Pondicherry.
Family bonds, the betrayal, greed, Jairaj's dominating character, Ayan's new found friendship with the guys in the village,Velu's character have been very well painted.
The simple language helps us connect with the characters
Some of the scenes in the book could be left out and I found Ayan's routine in the village a little repetitive
As the story proceeds, I was sort of able to predict the ending but it still left a lump in my throat. I really wished it had ended differently, but if it had, then there would be no thrill in the read.
Somewhere after the first 100 pages, the story gains momentum and as the plot proceeds, I could not put the book down. I needed to know how the ending would be ,in spite me guessing it,and I sat way past midnight to finish the book
The pivotal characters – Ayan and Gopal and even Rohini remained with me even after I finished the book!
My verdict:
It is a different kind of story line involving family relationships, how things used to be years back, a walk through rural India[Kerala], etc. It is an emotionally laced tale of people from two generations, a regular Indian family that we can connect to. If you like to read stories on family relationships, not over-the-top kind of love stories, then go for it. It will keep you hooked and leave you with a heart break and yet makes you feel it ended well!