Hot Chocolate with Moroccan Flavors Recipe
For the past few years, I have been buying books like crazy. Any book sale or a cart with books attract me like iron to magnet.
There are so many books around here and at any given time, at least one member of the family can be seen with a book.Reading sort of runs in the family so  I am not to be fully blamed for the happenings! Between the living room and the dining room, there are at least half a dozen books of varying genres scattered around.
On the living room table, sofa, below the sofa cushion,on the floor beside the sofa, dining room shelves and even the dining table!And then whenever the climb the stairs to the bed room, mom warns me to tread carefully! The stairs now look like a bookcase with rows of books occupying half the length of the steps! Let us not even talk about the books in the bedroom!
No, I am not bragging about my books or my fondness in this post! Then why all this you may ask! Well, after buying books on the bulk and stocking them up everywhere, I have made a conscious decision to stop buying books starting next year. Sort of like a New Year Resolution.
I first intent to read the hundreds of books that still lie unopened.It is surely going to be tough resisting the urge to buy but the lack of space is really getting on everyone's nerve including mine.
As I was gathering those books lying around the house, I thought I could use it as props for the days post as I was totally clueless on how to click the hot chocolate that I was planning to post.
The post for the day is a delicious hot chocolate with Moroccan flavors.I was not really sure how well this recipe would work out so I made only one cup to check the taste and decide if I could go ahead posting it.
I liked the flavors but not sure if my kids will accept the new flavors in their cup of hot chocolate.
This one is flavored with Cardamom,cinnamon and orange. I am not a huge fan of cinnamon and cardamom so I used less of it but have given the quantity that would work well. Adjust the spices to suit your preferences though.
This post is for theme of the week – Moroccan dishes in Blogging Marathon #83,week 1 ,Day 3.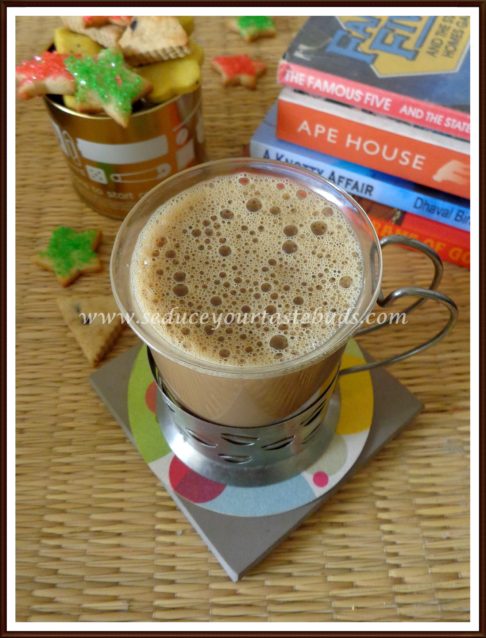 Step by step method to prepare Hot Chocolate with Moroccan Flavors
I used:
Milk – 150ml
Orange peel,grated- 1 tablespoon
Cinnamon powder- a pinch
Cardamom seeds from 1 pod
Chocolate chips- 1/4 cup
Sugar as needed
In a pan , heat milk on low flame.
Add grated orange, cinnamon and cardamom.Simmer for 3-4 minutes.
When it comes to a boil, strain the mixture and return the milk to the stove.
Simmer again and add sugar and chocolate chips.
Stir till the chocolate melts.
Serve hot immediately.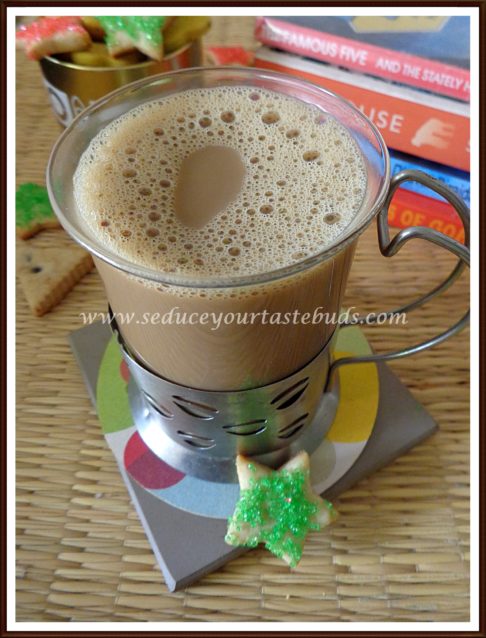 I have also posted a few other  recipes from Morocco . Do check them out.
Check out the Blogging Marathon page for the other Blogging Marathoners doing this BM#83