Kids Breakfast Ideas #1 – PB & J Sandwich,Milk and Fruit
This is one series that has been on my mind for a long time. Breakfast is the most important meal of the day and most often kids tend to skip this meal because they have to rush off to school.
I am on the lookout for simple and quick dishes to serve the kids for breakfast and I am starting this series with a classic dish!
PB&J Sandwich or the peanut butter and Jam sandwich is one of the most popular dishes among the kids.
When in a hurry during the rush morning hours, this is one of the dishes that I make for the kids before they head off to school.
Given that bread is omnipresent in our bread box, the kids prefer this over the other dishes! When this is paired with milk / any beverage the kids like an a small fruit, it forms a filling breakfast!
So check out the other Kids breakfast ideas…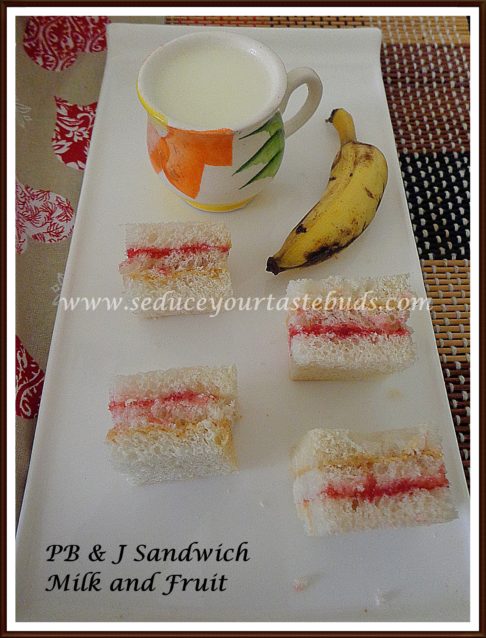 Everyone knows this dish! Spread jam and peanut butter on individual slices and sandwich them together. Serve them as such or cut them into squares or triangles.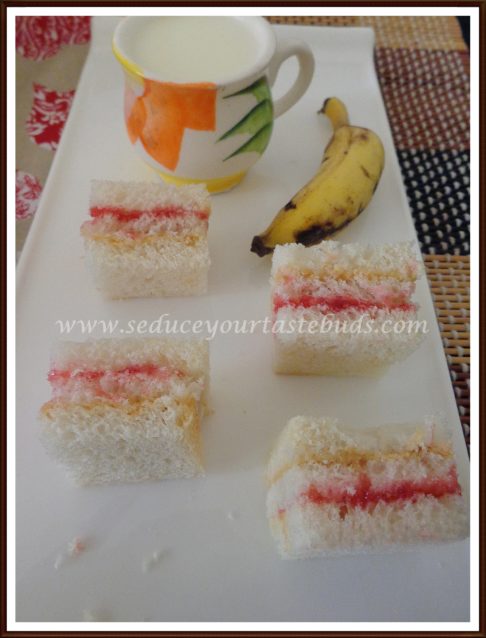 This breakfast idea is for  Blogging Marathon #83,week 4 ,Day 1.
Check out the Blogging Marathon page for the other Blogging Marathoners doing this BM#83
And also for Srivalli's kids delight event that I am hosting here with the theme – Quick / Innovative kids breakfast dishes.