Kids Breakfast Ideas #3-Multigrain Porridge Bowl
This is one desi breakfast that is slowly becoming popular. A few years back , I posted a multigrain porridge/ Sathu maavu Kanji mix recipe on the blog. The recipe is from my SIL and was given to my kids as weaning foods.
It is hearty and filling.But as they grew up, their taste buds refused to like this healthy porridge and went on to try some other tastes
Now I am trying to make them like this porridge by serving it in a colorful way with fruits and nuts and in a bowl!
The porridge mix powder can be made ahead and stored in an air tight box and keep well for weeks, months when stored in the fridge.
On busy mornings, all one needs to do is make the porridge and top it with the kids favorite toppings / serve as such. I have used banana slices, melon seeds, chia seeds, tutti frutti, cashew bits.
And again there is the liberty of adding milk or using water alone.
I have used karumbu sakkarai / Cane sugar instead of regular white sugar.
So check out the other Kids breakfast ideas…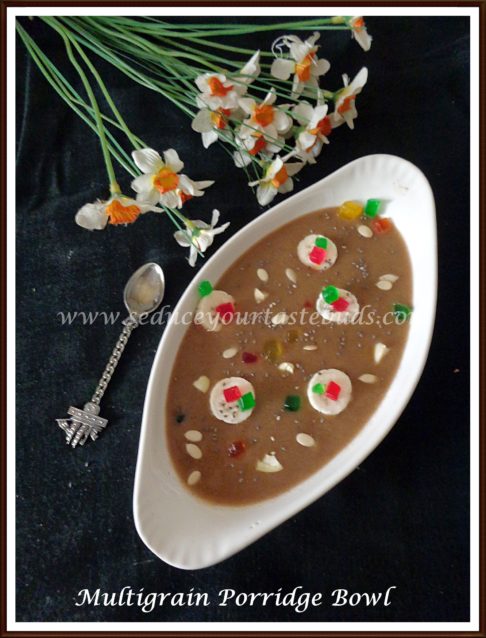 Breakfast….
Multigrain Porridge topped with fruits and nuts of the kids choice.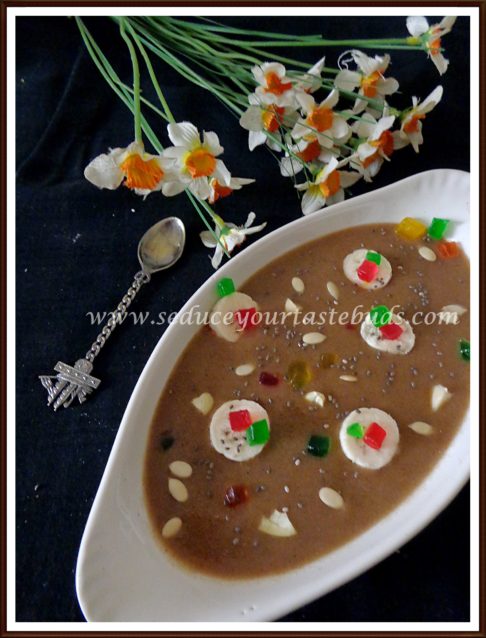 This breakfast idea is for  Blogging Marathon #83,week 4 ,Day 3.
Check out the Blogging Marathon page for the other Blogging Marathoners doing this BM#83
And also for Srivalli's kids delight event that I am hosting here with the theme – Quick / Innovative kids breakfast dishes.