Turkish Soldier Button Cookies Recipe
I came across these eggless Turkish Soldier Button Cookies Recipe a long while back when I was looking for something different to bake for the kids.
The kids loved the idea of jam centered cookies and were all in praise of these baked goodies.
It is  basically a jam thumb print cookie and I have used raspberry jam here. You can use any jam that you have in hand.
A batch of basic eggless cookie dough was used to make these cookies.
There another version of these jam thumb print cookies without butter,made with peanut butter.You can check it out too.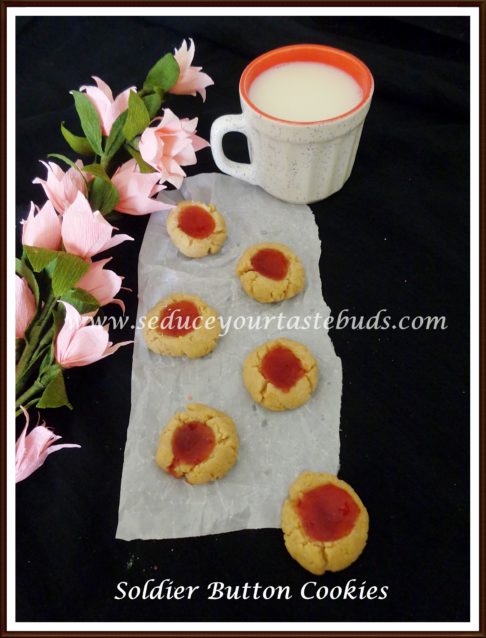 Here is how to make the Turkish Soldier Button Cookies Recipe
I used:
Basic eggless cookie dough – 150 grams
Raspberry jam- a few teaspoon,mixed with a little warm water
Line a baking tray with parchment paper.
Divide the dough into small equal sized balls.
 Place them on the baking tray and gently press them
Make a small depression in the center of each cookie .
Bake in a pre-heated oven for 8-10 minutes / till done
Remove from oven and while still hot / warm fill the depression with jam.
Cool on a wire rack.
Serve / store in an airtight container.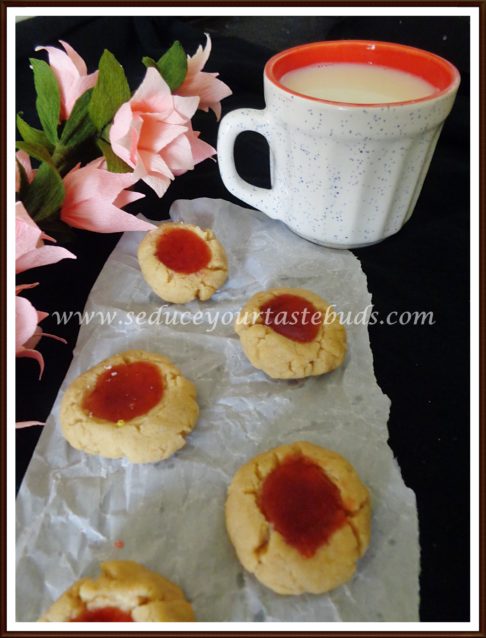 Note:
The cookies can be baked after filling the depression with jam.But it should not be over filled as the jam will over flow and it will become messy
The cookies will be soft on baking. It will become crunchy on cooling .So do not over bake.
You can use nay flavored jam.
This is part of the Bake-a-thon 2017 
Loading InLinkz ...